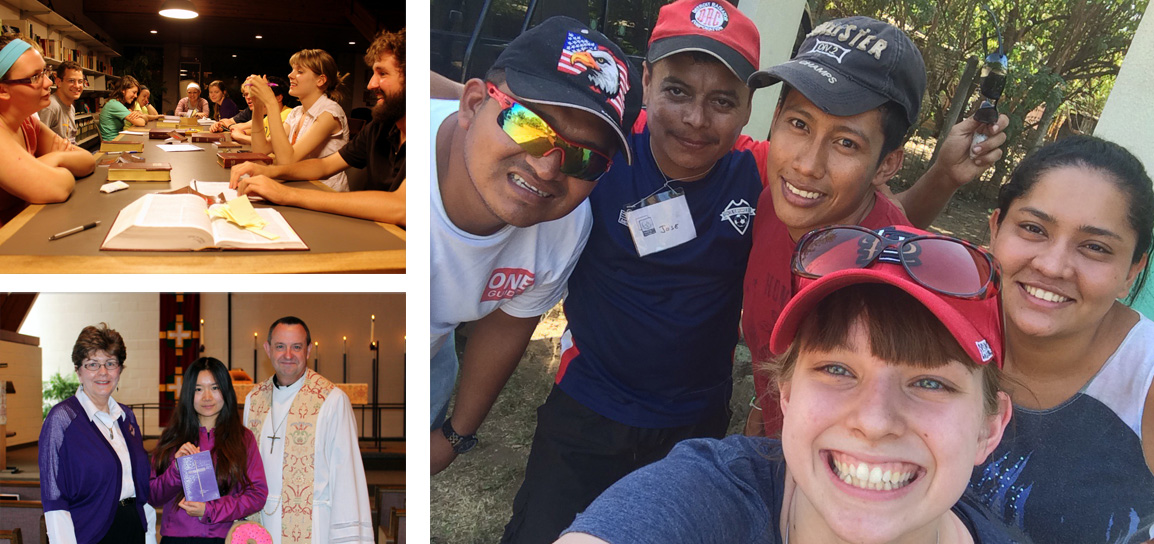 by Megan K. Mertz
When Aaron Uphoff and Joshua Rusert went to college in 2005 and 2006 respectively, neither expected to become an LCMS pastor. Uphoff was in the process of applying to flight school to fly helicopters for the Army National Guard, while Rusert was studying psychology, history and religious studies.
Yet in July, both men were ordained and installed at their first parishes — Uphoff at Good Shepherd Lutheran Church in Randolph, N.J., and Rusert at Trinity Evangelical Lutheran Church of Freistadt in Mequon, Wis.
Keeping the Faith through LCMS U
Both found support during their collegiate years and guidance in understanding the Lord's call through their local LCMS campus ministry.
"My first year, some of the guys found out I was a Christian and that I took my faith seriously. They didn't really like that," says Rusert, a native of St. Louis who graduated from the University of Missouri at Columbia, Mo., in 2010.
But through Campus Lutheran Church in Columbia, Rusert was able to make Christian friends. He also met Pastor Kent Pierce, who mentored him once he decided to attend seminary.
"Getting through that helped strengthen my faith," Rusert says.
"I never heard the Gospel articulated so clearly until I heard Pastor Burdick's preaching and teaching from the book of Galatians and the great comfort that came from that, knowing that my sins were fully forgiven for Christ's sake. So I decided to become a Lutheran." — Rev. Aaron Uphoff
For Uphoff, who comes from a family of farmers in Beason, Ill., college was a time to explore his beliefs. Although he was raised Methodist, he spent his freshman year at Western Illinois University in Macomb, Ill., visiting different Christian churches.
His last stop was Immanuel Lutheran Church and Student Center, where he attended Pastor Michael Burdick's Bible study.
"I never heard the Gospel articulated so clearly until I heard Pastor Burdick's preaching and teaching from the book of Galatians and the great comfort that came from that, knowing that my sins were fully forgiven for Christ's sake," Uphoff says. "So I decided to become a Lutheran."
Later, at the urging of friends, he began thinking about becoming a Lutheran pastor.
After graduating from Western Illinois University, Uphoff spent nine months serving in the military in Afghanistan before attending Concordia Theological Seminary, Fort Wayne, Ind. On May 20, 2013, Uphoff was finishing his vicarage in Norman, Okla., when a tornado devastated the nearby town of Moore. Upon hearing the initial TV reports, he immediately traveled to the area and prayed with everyone he could.
"Quite simply," he says, "we were created to be in fellowship with God and that restored union is only possible through Jesus Christ and the forgiveness of sins. As part of that Christian community at Immanuel, I was able to participate and receive it, and that enabled me not only to deal with the ups and downs of college but with the ups and downs of life."
Raising Up Servant Leaders
Campus Lutheran Church in Columbia, Mo., and Immanuel Lutheran Church and Student Center in Macomb, Ill., are town-and-gown congregations, where a town church intentionally reaches out to students at a nearby college or university. Immanuel's student center, which is owned by the LCMS Central Illinois District, is a separate building less than a block from campus.
Both ministries offer an 11 a.m. Sunday morning worship service, a favorite of late-rising college students. There, students can mix with grandpas and grandmas, young children, couples and people of all ages who make up the body of Christ.
"That's one of the things I found very attractive about the student center. It wasn't segregated by age," says Uphoff, recalling the important relationships he formed with Immanuel members. "It's a very tight-knit community."
Each ministry also holds activities specifically for college students. These include a weekly Bible study, social events and mission trips to places like North St. Louis, New Orleans, Alaska, Taiwan and Nicaragua.
"We shouldn't just look at campus ministry as a place to serve students," Burdick says, "but we should work to find a way for students to be servants too."
That's why both ministries encourage students to serve on the church council, contribute musical or artistic talents, serve as mentors to younger students or participate in servant events. Pastor Kent Pierce of Campus Lutheran Church also sends students to the LCMS Missouri District's leadership-training events.
Last summer, Campus Lutheran Church's student group continued its weekly Bible study via Google Hangouts, which enabled students who had gone home to participate online.
Despite the positives, both Burdick and Pierce recognize that campus ministry is not without its challenges. Students come and go. They don't always follow through with their commitments. The work rarely pays for itself.
However, the Synod is responding to these challenges. In 2013, LCMS Campus Ministry rolled out LCMS U, an initiative to expand and support ministry on America's college campuses. In May, the Synod also called the Rev. Marcus Zill to serve as the director of LCMS Campus Ministry and LCMS U. He is the Synod's first full-time, dedicated staff person for campus ministry since 2002.
"Yes, there are certainly challenges in building, maintaining and expanding campus ministry, but the great need and opportunities for mission and ministry exponentially outweigh them," Zill says. "The Gospel, our love for the young people of the Church and the endless evangelism opportunities that present themselves on our nation's campuses compel us to meet those challenges."
Dedicated people like Burdick, who has been at Immanuel for 17 years, and Pierce, who has been working in campus ministry for 15 years, continue to rise to the challenge as well.
"We've had the chance to form quite a few students for ministry," Burdick says. "Even better, a lot of students get shaped for nonpastoral ministry.
"You love to hear that they are active lay members doing ministry and raising their kids in a Christian home."
To congregations considering starting a campus ministry, Burdick offers some advice.
"Embrace it," he says, "while realizing it's going to have frustrations.
"It costs money that you won't see in terms of offerings. But these are the future leaders of the Church and of the world. It really does justify itself."
Learn more: www.lcms.org/lcmsu
Get Involved!
According to the National Center for Education Statistics, there are 4,599 postsecondary degree-granting institutions in the United States. With all these colleges, community colleges and universities, there is probably one in your area. Here are some ideas about how you can support campus ministry in the Synod:
Write letters, send care packages and pray for the college students from your own congregation.
Fill out a "Campus Link" form (www.lcms.org/forms/lcmsu-campuslink) for your congregation's young people. By providing this information, the LCMS can help connect students with a campus ministry in their area.
Partner with an existing LCMS U chapter to support this important work. Find one near you: www.lcms.org/lcmsu/map
If there are no LCMS U chapters in your area, consider starting one. Contact the Rev. Marcus Zill, director of LCMS Campus Ministry and LCMS U, at marcus.zill@lcms.org.
Megan K. Mertz is a staff writer for LCMS Communications.