by Melanie Ave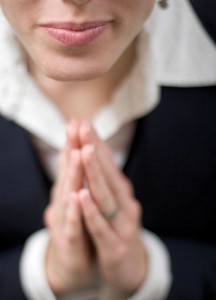 When the Rev. Russ Sommerfeld heard about the struggling pastor, he wanted to help. The pastor was suffering from depression so severe that he had to leave his called position.
So the LCMS Nebraska District president reached out to the LCMS' Soldiers of the Cross, a program that provides financial support for the spiritual and physical well-being of current church workers.
The LCMS Nebraska District and Soldiers of the Cross agreed to help the pastor and his wife maintain their health insurance for nine months so the pastor could receive the treatment he needed.
Sommerfeld said the assistance came at the right time and helped the pastor through a difficult period.
"He's working his way back," Sommerfeld said of the pastor. "He's serving a vacancy. He's teaching a class. I expect him to fully recover."
Soldiers of the Cross and Veterans of the Cross are two LCMS mercy programs that help faithful pastors, teachers and other church workers in financial crisis.
Soldiers of the Cross, in partnership with the worker's district, provides transitional or emergency financial assistance and pastoral care to current church workers affected by health problems, employment interruptions and other emergencies.
Veterans of the Cross supplements low or inadequate pensions of retired church workers or their widowed spouses to help them afford the cost of necessities such as medication, food and utility bills. Veterans of the Cross is funded by the LCMS Office of National Mission and is administered by Concordia Plan Services.
In 2013, 98 Soldiers of the Cross grants were given. Veterans of the Cross assists about 50 people each year.
"We want to invest in the well-being of our church workers and to lighten their load," said the Rev. Dr. Carlos Hernandez, director of LCMS Church and Community Engagement, who receives requests and facilitates the granting process. "We want to relieve their worries about how to feed their families, provide them housing or buy their medications."
Sometimes Soldiers of the Cross funds are granted to retirees or their widows until their Veterans of the Cross applications are processed by Concordia Plan Services, typically a three-to-four-month process.
The average assistance provided through Soldiers of the Cross is between $1,000 to $1,500 and is meant as a one-time stipend, although in 2013, the average amount distributed was $2,169. The assistance is given through districts, which match the grants given to workers on a 50-50 basis. Veterans of the Cross stipends are approved annually and continue as long as need is demonstrated. The average monthly support is between $500 and $1,000.
"If it weren't for Veterans of the Cross, a lot of our older pastors would have to keep working or rely on public assistance," Hernandez said.
For both programs, the number of requests for help has increased in recent years because of tough economic times, Hernandez said. The incomes of church workers have been stretched by illness, layoffs and other financial crises.
A few years ago, Hernandez said he received three to four requests for help a month. Now, he said, it is common to receive three to four requests per week.
One LCMS deaconess, who was laid off from the hospital where she worked, received help with her health coverage. Without health insurance, she could not afford her prescribed medications and, therefore, her health was at risk.
"Thank God for the Soldiers of the Cross ministry and the assistance I applied for and received when I most needed it," she wrote.
Another worker, a pastor, received help after his house caught on fire. His family was left homeless. "Soldiers of the Cross, partnering with my district, responded with amazing quickness," the pastor wrote.
Another retired pastor and his wife, who were about to be evicted from their rental home, needed help with food. An emergency Soldiers of the Cross grant was approved the very day it was requested and delivered by the district president.
Sommerfeld said he often hears from church workers who are saddled with college loans, living check-to-check, when a medical emergency arises. Some workers are in between calls when they discover they need help.
"What I like about … working with these funds," Sommerfeld said, "is we can really pay attention to the human needs of these workers."
Melanie Ave is staff writer and social media coordinator for LCMS Communications.
Learn or give: