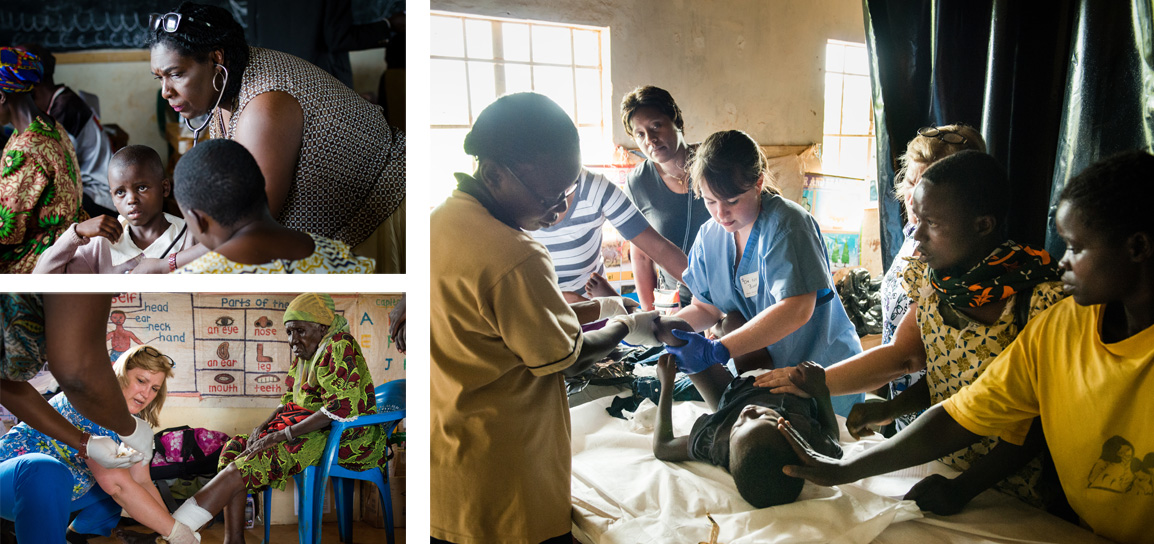 by Erik M. Lunsford
On a rough, muddy road in rural East Africa, a bus stumbles on the path and sinks into the ground. The driver spins the wheels. Children run to the spectacle, and men appear to help from thickets of banana trees. The equatorial sunlight heats the air.
On board, 14 members of an LCMS Mercy Medical Team (MMT) from different LCMS congregations around the United States disembark and watch as volunteers try to help free the bus. There is no other choice but to walk with their supplies to a school down the road for the first day of a week-long medical clinic in western Kenya.
After MMT members went door-to-door introducing the clinic the previous day, word spread quickly through the small villages surrounding the school. By the time the volunteers walk to the clinic from the stranded bus, a queue has already formed outside the registration tent.
The first patient arrived with tattered clothes and yellowed eyes. Approximately 2,000 patients would be treated during the week.
In the corner of a rustic schoolroom, Dr. Katie Butler of Boxford, Mass., listens intently to a patient. She kneels before a little boy and drops her gloved hands to her lap. Her green eyes are full of compassion and sincerity. Gold cross earrings dangle from her ears. Her path as a trauma surgeon, carved by the Lord, brought her to Africa.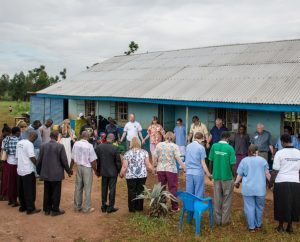 Some time ago, Butler wasn't happy. She was miserable at work and rarely at home for her infant son, Jack. She was asking God why He had given her a passion for surgery and 10 years of training. She prayed fervently for change.
Several months later, Butler was singing a hymn during worship when she abruptly stopped. A vision pierced her consciousness.
"I actually saw myself in Africa working on a mission, providing care to the people," she says, recalling how her pastor then preached on the call to serve. "I sat there dumbfounded and scared."
At home, she filled out various medical team applications but always stopped short of the mailbox. Later, a church worker introduced her to the Synod's Mercy Medical Teams. She submitted her application and prayed.
The LCMS called. She would be better suited for a trip to Kenya, the voice said.
"OK, Lord, I get it," says Butler. She was heading to Africa. "It was really a call to serve that came to me for reasons I don't quite understand, but was very clearly saying, 'Go, I brought you this way for a reason and a purpose.'"
At the clinic, Butler treats wounds, diagnoses tropical diseases and works with her fellow medical team members to diagnose and treat residents.
"I'm just grateful to have the chance to interact with these people who are just surviving by the sweat of their own brows," she says. "Their faith is all they have … this has been life altering for me, and I just hope to do some good."
Under a hot awning, everyone can hear the hearty voice of Tom Andrews carry through the bustling clinic. In Swahili slang, the former EMT greets patients: "Jambo, jambo." Anxious children and parents laugh.
"At that one moment you can create a lot of trust," he says. He takes patients' vitals before passing them toward the doctors and nurses.
Andrews, of Wentzville, Mo., cracks almost constant quips, but he doesn't jest at the path God used to lead him to the team. "God doesn't pick people that can do what He wants them to do, He picks people and gives them the ability to do what He wants them to do."
Raised Catholic, Andrews recently came to The Lutheran Church—Missouri Synod.
"We never opened a Bible," he says. "I never really believed in God until I was 59 and a half years old." In the Kenyan hotel lobby, he pauses for a moment and shakes his head. "I'm just so astounded of where my life is."
The Mercy Medical Team program, coordinated by Jacob Fiene, manager of LCMS Health Ministry, works with international partner churches to "offer American medical and lay volunteers an opportunity to use their God-given talents and vocational skills to demonstrate Christ's mercy and love." But it isn't the primary purpose of the trips, he says.
"Every team works through an international partner church body and an international LCMS mission office to ensure our acts of mercy are directly connected to the Gospel and the ministries of the local church. The local church plays a substantial role during our medical clinic and continues to meet the needs of the people in their community after we have left. We are there temporarily to help those who are sick and in need of human care, but also to open doors for local church leaders to offer long-term care for both body and soul."
Each year, the LCMS sends out about eight teams of approximately 12 volunteers per team. Volunteers choose whether to fundraise for the trip or pay for it from their own funds.
At the clinic, Madison McKinney, a 19-year-old college student at the University of North Carolina at Chapel Hill, is rarely seen without a smile. She works in the pharmacy of the clinic and checks vitals on incoming patients. She sees firsthand the lines of suffering people.
"You don't realize how bad it is until you see it and you hear it," she says. "You look into someone's eyes, and they try to smile at you but because they're so sad and suffering so much… It's so much sickness and health problems that aren't being taken care of that need to be, and there's so much more to be done than we can do."
Volunteers worship with a local parish of the Evangelical Lutheran Church in Kenya and hold nightly devotions amongst the team. They share stories of a loss of power at the hotel, or no power, or no hot water, flaming showerheads, traveler's sickness, outhouse bathrooms and — of angst to some — very little, if any, Internet access. Some comment on the African specialties of chapati and cornmeal ugali, while another smacks a cockroach with a shoe.
One rainy night, the Rev. Dr. John Juedes, pastor at Messiah Lutheran Church in Highland, Calif., shares stories from his 24 past mission trips.
"When I talk to people about mission trips, almost everyone has the reaction of thinking 'this isn't a good time for me to go,' and they're always right, and this wasn't a good time for me to go either," he says. "But what I find is if you decide to go in spite of it not being the ideal time, you'll still find an ideal blessing at the end of it, and that's the thing I find really encouraging. I encourage people not to wait for the ideal time; just look for any time in which they can volunteer to make a mission a part of their lives and be blessed through that."
Juedes said the concerns many volunteers have are whether they will be safe and whether they can pay for the trip.
"I think it's true that God always does provide, and friends and people from your church and others do want to be a part of missions; and if they're not able to go, they want to be a part of helping someone else make that trip and experience a mission. They feel a part of that mission … they're accomplishing it with you."
And while safety is a concern, he says, it shouldn't be an obstacle. "The Lutheran Church—Missouri Synod looks after you and protects you."
Learn More

Print page