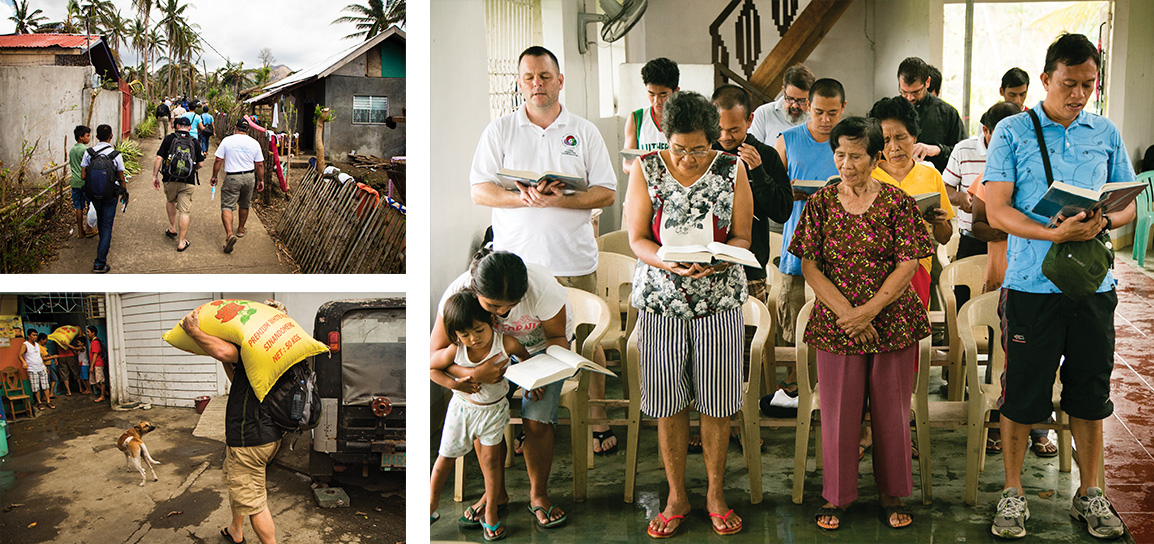 By: Erik M. Lunsford
Sean Harlow, LCMS missionary to Taiwan and the Philippines, descends from his seat atop gas cans in the van's trunk, dons a floppy military-style hat and lands with a pair of flip-flops on the debris-strewn ground of Tacloban City, Leyte province, Philippines. He carries a bag of rice, bound for hungry families of Christ Lutheran Church.
Across the street, body bags lay in a sloppy row. "I have never seen the degree of destruction that I found in Tacloban," Harlow said after delivering rice following Typhoon Haiyan in November 2013 as part of the initial LCMS disaster relief effort. "Even though it was very hot, I felt a chill come over me, which coincided with the sense of death and destruction that surrounded me from all angles and directions."
As part of his role as a career missionary, Harlow serves and the assistant to the president of the Lutheran Church in the Philippines (LCP).
An average student in a family of four brothers, Harlow grew up in a home rich in Christian discipline, participating in nightly prayer and devotionals while his father studied to become a pastor in St. Louis.
"I loved reading and memorizing the Bible, singing Christian songs and learning the difference between being a lover of Jesus and a lover of the world," he said.
Harlow easily grasped biblical concepts, and he knew he wanted to share them with others.
Following graduation from Lutheran North High School in St. Louis and Concordia University, Ann Arbor, Mich., Harlow enlisted in the U.S. Marine Corps. He fought in the Persian Gulf twice during his five years of military service.
Harlow said his military career helped him prepare emotionally and mentally for disaster relief work.
"Being able to show compassion and mercy to those in need is incredibly important," he said, "but it is also important to not let the situation become overwhelming or overbearing,"
On Nov. 8 Typhoon Haiyan killed more than 5,000 people on the island of Leyte and surrounding islands that make up the Philippines. The storm displaced millions and wiped out entire communities.
Although he was attending a fall retreat at the time of the storm, Harlow quickly researched the affected area and found friends and LCMS partners who were suffering from the disaster. He coordinated with the LCP Disaster Response Leader Rev. Antonio Reyes and helped prepare for the arrival of the LCMS Disaster Response team from the United States.
When the St. Louis-based response team arrived in the Philippines, Harlow traveled with the group from Manila via plane to Cebu City then onto Ormoc on the island of Leyte. Traveling by boat at night, Harlow marveled when the boat pulled into port.
"We could all sense the destruction that surrounded us in the dark," he said. "We could see the bare skeletons of many coconut, banana and palm trees that were destroyed by the storm."
One night during the trip spiders walked across Harlow as he slept outside in the rain. During the day, he worked behind the scenes for the LCMS Disaster Response team, scouring nearby cities for supplies and coordinating transportation.
"I love that my job is always an adventure of responsibilities that lead to serving Jesus and others through being a witness, showing mercy and building relationships with both those who know or don't know the Lord."
Missionaries around the world are not only engaged in witness but are often called upon to lead and bear mercy in their regions.
Harlow said he is saddened at the horrendous devastation from Haiyan but said he cherishes the opportunity to help others who have lost everything.
"I feel that this is what the Lord has called me to [do]," he said.
 Learn More: