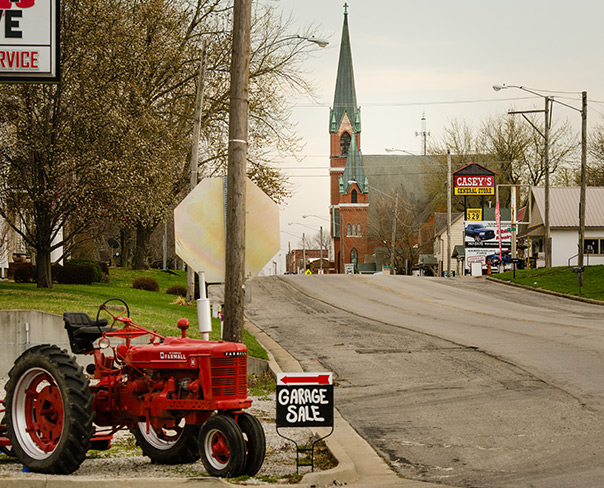 by Adriane Heins
"It ain't Mayberry anymore!" exclaims the Rev. Luke Brown, pastor of St. John's Lutheran Church in Aliceville, Kan. He's speaking of people's perception of rural and small-town America, that iconic place immortalized in Norman Rockwell paintings where everyone knows the difference between a Holstein and a Hereford, where retired men meet downtown for weak coffee and donuts each morning and lemonade stands are perched on every corner.
But the perception isn't necessarily the reality. "Rural and small-town areas are changing," he admits, "and there is significant poverty, ethnic group changes, stresses on families, crime, deteriorating infrastructure and housing, limited access to health care and mass transportation and other challenges."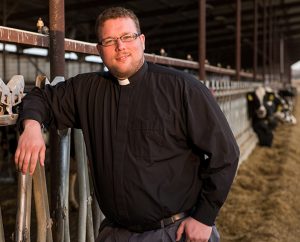 Brown would know. The pastor of an "extremely remote parish" in Kansas, he shepherds a congregation in a community where the population sign reads 25.
But the challenges in rural life are more than just ones of travel, weather and agriculture.
The church has its share, too.
The Rev. J. Patrick Niles, Associate Pastor of St. Paul's Lutheran Church in Concordia, Mo., explains, "In a larger city or a suburban context, it is easy to assume that there is a constant mission field in which you can 'do' ministry … . You lose this perception in many small towns."
"So often we measure the success of a church and the ability or competence of a pastor by church attendance," Brown says. "In a rural and small-town environment that can be discouraging." In these areas, "Funerals may outnumber Baptisms 2- to -1 and the Sunday school may have a small handful of kids no matter what the pastor does."
That's why Brown and his congregation have both been helped by and are actively involved in LCMS Rural & Small Town Mission (RSTM), a ministry of the LCMS Office of National Mission, which is the Synod's effort to "support congregations in rural and small-town settings in the work to which God has called them."
And on the flip side, Brown and his congregation are exactly the reason RSTM is focusing on the triennial theme of "Strong Faith. Fervent Love," a purposeful emphasis on the gifts Christ has given in His Word and Sacrament, and the way in which those gifts embolden Christians to bear witness to Him no matter where they live.
Just as important
As rural and small-town congregations rediscover how the Lord is at work through them to serve their neighbor, new questions arise.
"We have many who drive 10-15 miles to worship at St. John, so the unique question for us is, 'How do you serve your community when you really don't have a community?'" Brown asks. "We talk about cross-cultural ministry, and while all ministry is cross-cultural, doing ministry in a rural and small-town context can be working in a vastly different culture."
That's when RSTM comes alongside.
"While there is no one picture of what a healthy, revitalized rural or small-town church looks like, they will share a very distinct and important set of characteristics," explains the Rev. Todd Kollbaum, director of RSTM. "These congregations will primarily be outwardly focused. They will not be so concerned with how they can protect themselves … but will consistently be striving to engage those around them with the Good News of the Gospel."
Understanding this is a game changer for many small-town churches. "We can be sure of God's activity in our midst for the exact same reason we can be assured of His activity anywhere else," Niles says. "Do his people gather together around his His Word and Sacrament? Are sins forgiven? Are people being taught to daily die to sin and through baptismal grace rise to new life in Christ? … "Yes!"
"Jesus spent time in rural areas," Brown agrees. "Our mission is just as important as what happens in the biggest church in the Synod."
For members of St. John's that mission — the desire to serve both their fellow members and the community around them — flows from what happens in the Divine Service on Sunday morning.
"Jesus spent time in rural areas. Our mission is just as important as what happens in the biggest church in the Synod." — the Rev. Luke Brown, pastor, St. John's Lutheran Church, Aliceville, Kan.
A healthy, revitalized congregation is a "congregation rejoicing in who the Lord has called them to be," explains the Rev. Bart Day, executive director of the LCMS Office of National Mission. "They won't measure themselves against others. Revitalization is about daily dying and rising in Christ."
Healthy congregations "will be faithful, receiving God's gifts, showing love and mercy to those in their community, sharing the Gospel with those who are still in darkness," Day says. "They will be the body of Christ in the building and out of the building."
"Their daily vocation will be shaped by the Cross."
Understanding the value and worth of a congregation in this way sets a refreshed tone for work in rural areas.
"Many new pastors are placed in rural and small-town churches and may see them as stepping stones to the big time and to glory," Brown says. "That may happen, but my hope is that they just relax, enjoy where they are, love and serve the people in their church and their community, respect and honor their traditions and history, celebrate small victories, and know that God is at work just as much in a rural and small-town church as in a big suburban church."
No 'One-Size-Fits-All' Model
Encouraging the revitalization of congregations in "Strong Faith, Fervent Love" in rural and small-town areas may seem like "an insurmountable endeavor," Kollbaum confesses. But RSTM staff witness just the opposite. "This is why we have placed all of our time and resources in assisting and equipping congregations through their respective districts to handle these challenges."
It's worth it, he explains, "so that we do not lose our presence in what makes up over half of our Synod's congregation and membership. It would be a travesty to cease to be able to deliver faithful Word and Sacrament ministry to what has become a most vulnerable and often underserved part of our mission field."
St. John's is proof. Working with RSTM has caused Brown and his congregation to change how they view themselves, their congregation and those around them.
"I visited with a pastor who kind of hung his head and said his church had increased attendance from 20 to 22 in the previous year," Brown recalls. Brown's response? "Wow! That's a 10 percent increase!"
Brown also assisted with an "Engaging Your Community" event, hosted last spring in the LCMS Kansas District.
"It was an invitation and encouragement to be more outward focused rather than inward focused," he explains.
Focusing on Christ's gifts of Word and Sacrament and the gifts that flow from them can and does change how rural and small-town churches understand the Lord is at work in them to serve others. This, in turns, helps congregations "let go of preconceived notions of what a 'successful' congregation must look like and instead embrace that there is no 'one-size-fits-all' ministry model and rejoice in the fact that they are the Body of Christ in that place to do the work He has called and equipped them to do," Kollbaum says.
"It can be easy to get into ruts, to grow discouraged or complacent, to feel isolated and that nobody knows if you're even alive," admits Brown, who says that much of the life together of a rural congregation "nobody else will ever see and probably won't be appreciated by the world."
But, he says, "God sees."
Plus, "We have the promises of God that tell us His Word will not return to us empty," Niles says. And that, it turns out, is even better than the stuff of Mayberry after all.
Adriane Heins is executive editor of The Lutheran Witness.