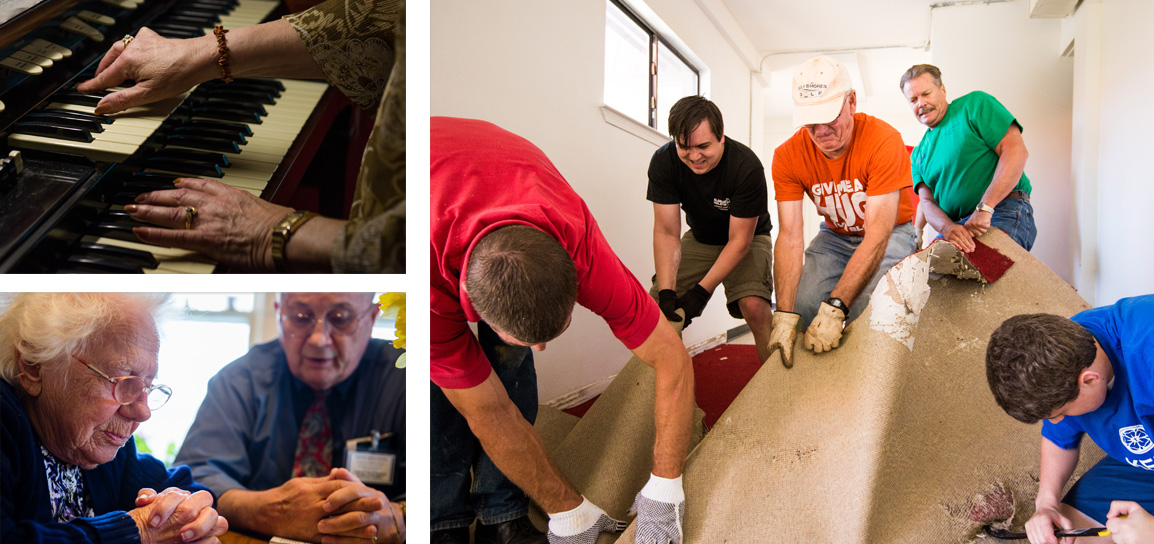 by Megan K. Mertz
"I want to make sure someone there knows that in my lowest and most miserable time that your pastor showed a great deal of compassion and sacrifice to help a complete stranger regain his faith and find hope." — Timothy, a former inmate of the U.S. penitentiary in Marion, Ill., wrote in a letter about the care he received from an LCMS pastor while imprisoned
In 2013, Timothy, whose last name is being withheld to protect his privacy, hit rock bottom.
The 47-year-old was serving time in a U.S. penitentiary in Marion, Ill. He also was struggling with legal and financial issues when — worst of all — his beloved father died suddenly.
"At the time," he later wrote in a letter, "I really did not know how to go on any further."
In desperation, Timothy contacted The Lutheran Church—Missouri Synod International Center in St. Louis, even though he was not a member of the LCMS. His "highest hopes" were to be added to a mailing list or to find a supportive Christian pen pal who could provide some outside perspective.
But in His infinite wisdom, God provided far more.
The LCMS Office of National Mission forwarded Timothy's request to the Rev. Mark Surburg, pastor of Good Shepherd Lutheran Church in Marion.
With the help of a retired prison chaplain, Surburg obtained permission to visit Timothy. Once a month on Saturday mornings, the two men sat opposite each other in the prison's visiting room to talk, study Scripture and pray.
In between visits, Surburg kept in touch with Timothy by emailing him sermons and devotional materials.
"I went in not knowing what to expect at all," said Surburg, who had never provided pastoral care in a prison before.
"But to me it was a no-brainer. Here was someone who wanted to hear the Gospel, who needed to hear the comfort of Christ."
A year later, Timothy learned that he was going to be released early. As he prepared to return to his home in another state, he wrote letters to both Good Shepherd and the LCMS International Center to express his gratitude for Surburg's pastoral care.
"I am not sure at times how to fully or properly express how much some things have touched me," Timothy wrote. "So I want to make sure someone there knows that in my lowest and most miserable time that your pastor showed a great deal of compassion and sacrifice to help a complete stranger regain his faith and find hope.
"I assure you that I seek to turn my experience into something that can help others."
Timothy's story is powerful. But it is not unique.
It is just one example of how men and women, through their volunteer service, can touch lives beyond their church doors!
"Through love serve one another," counsels Paul in Gal. 5:13. Jesus Christ first served others by dying on the cross, freeing sinners from sin and eternal damnation, and so He calls His people to joyfully serve those around them.
The LCMS offers a myriad of service opportunities that range from serving at the Lutheran elementary school around the corner to providing much-needed medical care to underserved people around the globe.
"The Church's life of mercy and love of neighbor are part of our baptismal calling. We have been baptized for these moments of life when we are all reminded that we really are quite weak and powerless," said the Rev. Bart Day, executive director of the LCMS Office of National Mission. "In the midst of suffering, the Law does its work.
"As the baptized body of Christ, we serve our neighbor, our communities, our country, our world. As The Lutheran Church—Missouri Synod, we collectively care for all who are in need."
Surburg described the prison as a "very imposing place." But by visiting Timothy, he was simply doing what he was called to do as a pastor.
"I really was the representative of Christ's Church going to see him and ministering to him in that way," Surburg said.
Service Opportunities
Below is a sampling of service opportunities within the LCMS. Learn more at www.lcms.org/themes/july.
Lutheran Early Response Training (LERT) — Learn how to be better prepared to show Christ's love to the community when a disaster strikes.
Mercy Medical Teams — This short-term volunteer program provides opportunities to volunteer abroad in a variety of clinical and health-related settings.
Parish Nursing — This program prepares nurses for a unique blending of professional nursing and spiritual caregiving.
Recognized Service Organizations (RSOs) — The Synod's RSOs offer a wide variety of service opportunities. (Contact RSOs directly to learn about specific needs.)
Lutheran Schools Consulting Services (LSCS) — In this program of LCMS School Ministry, consultants help strengthen and revitalize Lutheran elementary schools that are struggling so the mission of sharing Christ can be more effectively accomplished.
School Leadership Development Project (SLED) — Each year, Lutheran school administrators who have completed SLED volunteer to mentor current participants. SLED seeks to equip potential Lutheran elementary school leaders through intense training over the course of an academic year.
Lutheran schools — Lutheran schools around the country are often in need of volunteers. (Contact LCMS schools directly to learn about specific needs.)
Chaplains — Opportunities sometimes arise to provide chaplaincy at local hospitals, prisons or in other settings.
Urban & Inner-City Mission — Urban ministries around the country may have volunteer opportunities in your area.
The 72 — Team members of The 72 are trained evangelism volunteers available to congregations to help them begin, revitalize or expand their outreach ministry. This is accomplished by equipping their members to connect people to Jesus Christ by the power of the Holy Spirit and then to connect them to the congregation, where they will be assimilated into ministry, loved and cared for, and nurtured in their Christian faith with Word and Sacrament ministry.
LCMS Servant Events — LCMS Youth Ministry organizes Servant Event opportunities for youth and adults in every region of the country. The servant events run the gamut from construction to human-care projects. This summer, 72 LCMS Servant Events were offered.
National LCMS Youth Gathering — There are many opportunities for college students and adults to volunteer at the 2016 National LCMS Youth Gathering in New Orleans.
Lutheran Youth Corps — This new opportunity will launch its pilot program in summer 2014 and its full program in 2015. It will offer high school or college graduates, working in teams with church workers, the chance to spend a year engaged in domestic service, all from a uniquely Lutheran perspective.
LCMS Young Adult Ministry — LCMS Young Adult Ministry organizes several Servant Events throughout the year. This summer, events were held in St. Louis and San Diego.
LCMS U — Volunteer with your local campus ministry, or start a new LCMS U chapter at a college or university near you! (Visit www.lcms.org/lcmsu/findcampus to find a chapter near you.)
Gospel Seeds — Individuals are needed to mentor other congregations going through the "Planting Gospel Seeds While Serving Human Needs" program.
Short-term missionaries — Volunteers are needed to serve alongside LCMS missionaries and partner churches for one week to six months. Short-term missionaries have served as pastors, nurses, doctors, teachers, business managers, camp counselors and in many other crucial positions.
Short-term teams — Teams of three to 20-plus people are needed to serve for one to two weeks in various locations around the world. Teams might hold Bible camps, organize outreach events or complete construction projects.