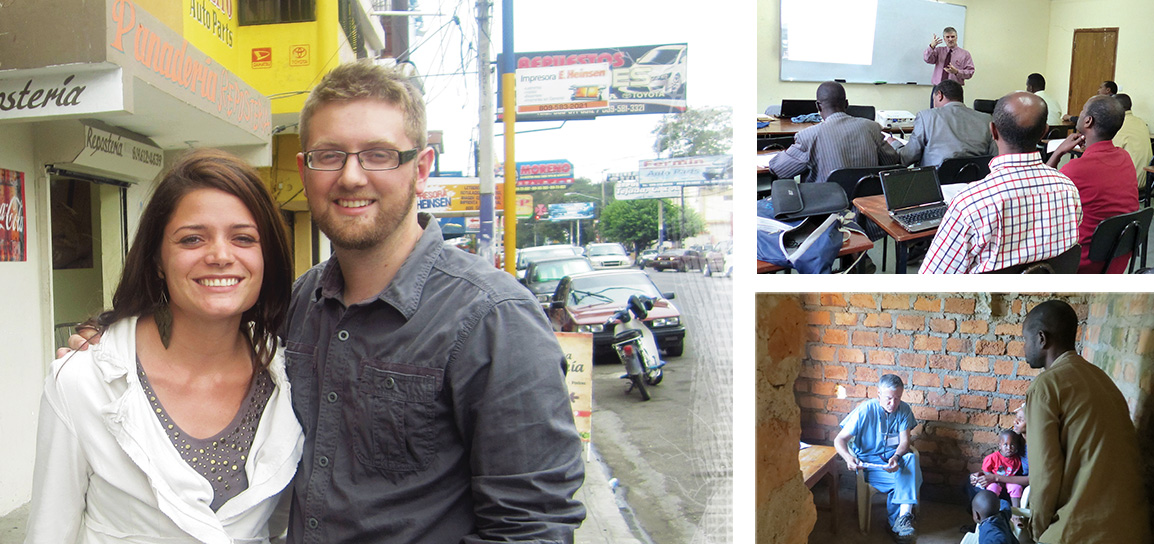 By Melanie Ave
The 21st-century missionary is a skilled and trained individual who comes from all walks of life, often lives in a city and helps LCMS partner churches do what missionaries have always done: share the Gospel of Jesus Christ.
One month into their marriage and fresh out of college, James and Christel Neuendorf packed their earthly possessions into a handful of suitcases.
They were leaving Michigan to become LCMS missionaries in Panama.
That was five years ago.
So much has happened since then, said James, a creative outreach specialist, and Christel, a business manager, for the LCMS Latin America region.
The couple, both 28, said God has used their experiences on the mission field to shape them just as much as He has shaped others reached through their ministry.
"You get to be with people in some very dark places in their lives," said James Neuendorf, now based in the Dominican Republic. "You see some very ugly things and there is nothing romantic about poverty, violence and sin. The enemy is very real and he makes people hurt and hurt a lot.
"It's rough going through the thorny ground, but then you think about what you are doing and Who you work for and it's almost like you won the lottery to be doing this."
Despite Neuendorf's enthusiasm, missionary work is not for everyone, said the Rev. Dr. Edward Grimenstein, director of LCMS Missionary Services.
It is a sacrifice as well as a spiritual and physical commitment, Grimenstein said. Today's missionary is much different from missionaries of the past.
The 21st century missionary is a skilled and trained individual who comes from all walks of life, often lives in a city and helps LCMS partner churches do what missionaries have always done: share the Gospel of Jesus Christ. The LCMS places two main types of missionaries — career missionaries, who serve five years or longer, and Globally Engaged in Outreach (GEO) missionaries, who typically serve one to two years in five regions around the world.
"A lot of people think we're going to parachute some person in with a Bible and they're going to walk through a village and tell people about Jesus," Grimenstein said. "That situation just isn't a reality on the ground."
Because many people already have been reached with the Gospel, the image of a missionary sharing Christ with children in a mud hut is not the most accurate picture, he said. God's Word is frequently shared while teaching adults English or helping children in the schoolyard.
That was one thing that surprised Caitlin Worden, 24, a deaconess intern who is serving as a GEO missionary. She works with children at the Casa de Misercordia — Castillo Fuerte, a community center in Lima, Peru.
"My living conditions have been the easiest part of being a missionary," said Worden, a student at Concordia Theological Seminary, Fort Wayne, Ind. "The city of Lima is a modern city."
In a recent newsletter to her supporters, Worden included a picture of herself and members of a visiting short-term mission team enjoying a study break from Worden's daily four-hour Spanish class.
"Thankfully, they still have Starbucks here!" she wrote.
Field-driven mission work​
With the changed landscape of mission work has come a greater need for educated and skilled missionaries. Missionary job titles include careers such as theological educators, teachers, business managers, medical workers and project managers. One LCMS missionary in Papua New Guinea is an electrician. Another in Eurasia is a farmer.
LCMS missionaries include church workers and non-church workers, those who are married and single, retirees and new college graduates, and couples with several young children and others with grandchildren.
"I need people who can teach English," Grimenstein said. "I need people who can run mercy projects. I need people with business experience. I need people who are willing to do more of the grunt work, people who are willing to get down and dirty with manual work.
"We need a wide variety of people and skill sets."
It is the field — partner churches and other entities abroad — that determines the type of missionaries needed from the LCMS.
The Rev. Carl Rockrohr and his wife, Deaconess Dr. Deborah Rockrohr, began new positions in Ethiopia in 2013 after the fast-growing church in Africa requested help with theological education. The couple had been serving as missionaries to South Africa.
Carl Rockrohr is now serving as dean of the school of theology at the Mekane Yesus Seminary of the Ethiopian Evangelical Church Mekane Yesus, the second-largest Lutheran church in the world. The church has 8,000 congregations, but only 3,000 ordained pastors.
Rockrohr is overseeing the training of 3,000-plus pastoral students. In August, he "led the graduation procession and was the leader of the graduation program," the couple wrote in a newsletter. "How happy were the … graduates and their families!"
In Latin America, James Neuendorf develops resources for laity, and generates and promotes the creative expression of the Lutheran confessional faith using local resources. He also produces multi-media resources such as books, films, websites and Web video series for missionaries and national churches to use in evangelism.
Being flexible, he said, is an important skill for a missionary.
"We have committed to lifelong, eternal service to the Gospel and the Lord of that Gospel, with all of our gifts and abilities that He has given us and every moment of our existence," he said. "This is not a temporary thing or a stage in our life. It's not two years of the Peace Corps as a resume booster."
Steps to missionary life
The process of becoming a missionary typically takes about two months. It often begins with an application, which is followed by a series of phone and in-person interviews and an assessment by a counselor to make sure the missionary-to-be would fare well overseas and work well in team environments.
The candidate must pass an interview with one of five LCMS regional directors, a face-to-face interview with the Office of International Mission in St. Louis and a review by the LCMS president's office.
It is then up to the LCMS Board for International Mission to formally issue a call to church workers or a solemn appointment to non-church workers. Once accepted, missionaries attend an orientation, offered twice a year.
They can then begin fundraising. Once missionaries raise 75 percent of the funds necessary to support their first year of service, they are deployed to the field.
Phil Jaseph, 23, a graduate of Lehigh University, will soon head to Nairobi, Kenya, where he will serve as a communication specialist for Africa. He has been reading about the African culture, finishing vaccinations and fundraising.
The prospect of raising money was stressful at first, he said, but God has provided.
"There have been great days and difficult days, but I have experienced a big shift in perspective during preparations for service," Jaseph said. "I had two or three other missionaries remind me that God's work, done in God's time in God's way, will never lack God's supply."
Grimenstein said the importance of missionaries, even in this technology-saturated world where many people are a cell phone or Internet video message away, cannot be understated.
"It comes back to St. Paul," he said. "Faith comes by hearing. We cannot and must never downplay that relationship between people and the speaking of the Gospel. It takes time and it takes warm bodies of people who are willing to sacrifice for that Gospel to be spread."