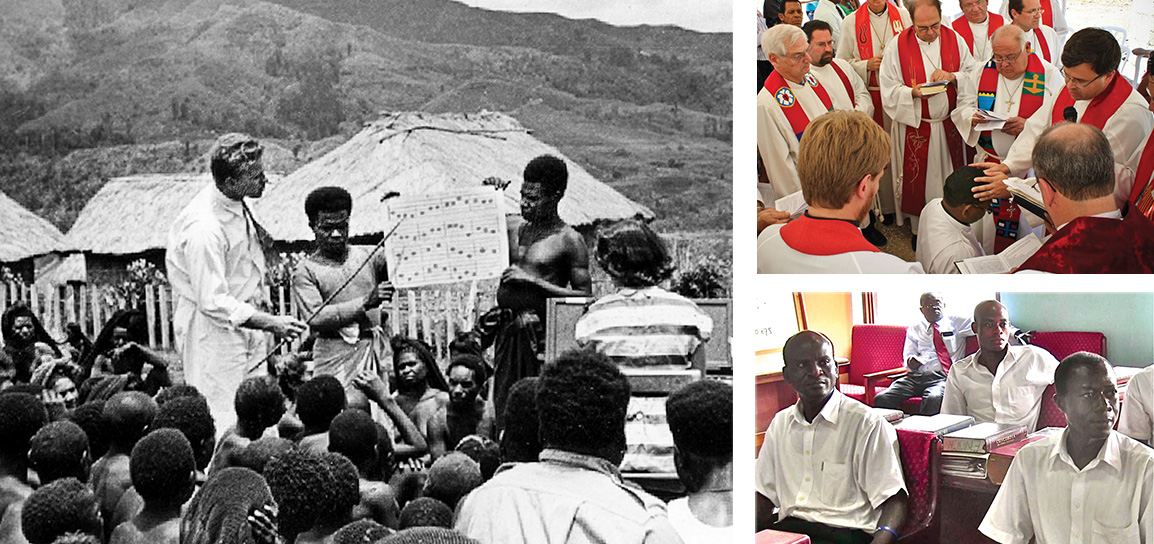 by Rev. Dr. Albert B. Collver III
What does modern day mission work look like? Would you describe an image of men clad in khaki and pith hats, slashing through thick vegetation, living in mud huts and teaching and preaching the Gospel to indigenous peoples?
If so, you've given an 1895 kind of answer. That was the year that the Rev. Theodore Naether, the first LCMS missionary, was sent to India. Pastor Naether was only 27 years old when he and his family made the long journey overseas by steamship. After ten years of sharing Christ's forgiveness and peace with sinners, he died of the plague surrounded by his beloved congregation. His work laid the foundation for our first LCMS partner church, the India Evangelical Lutheran Church, which today has hundreds of thousands of members and a vast system of schools and mercy institutions.
Or maybe you would describe a time before the mid-nineteenth century — the early modern period (the past 500 years) — which often evokes the black-robed priest living in a Native American village, teaching the rudiments of the Christian faith to natives while trying to survive in harsh conditions.
Perhaps the first thought you have is boarding an airplane to fly to a Latin American country, speaking the Gospel while passing out eyeglasses or building shelters for homeless people, a more recent reality. Each of these images helps illustrate the changing face of mission work in the Church today.
Our concept of 'mission work' developed over the past 300 or so years. The Church followed where Christian, European countries explored and settled. The late eighteenth and particularly the nineteenth century also saw the rise of international mission societies. These lay groups organized to send pastors and others with various skills helping to spread the Church to the four corners of the earth.
Today, the face of mission work, although connected to these past efforts, looks very different. Inexpensive airfare, cell phones and the Internet connect people from different cultures, lands and languages who interact in a way inconceivable to earlier generations.
Church groups can easily board an airplane, traveling to the furthest reaches of the globe to teach Vacation Bible School to children in Mongolia. In places where no church existed 100 years ago, some of the largest Lutheran churches on earth now reside.
The mission field can now also be found in parts of America that have become the home of entire African communities, who only a generation ago would have only been found in the heart of Africa.
Yet, the goal of mission work is always the same: to bring the Gospel of Jesus Christ to sinners.
Today, the Lutheran Church—Missouri Synod accomplishes this work in several ways: Church planting—establishing a Lutheran altar and pulpit—continues to lead our activity in places where no church exists. Where we have an existing partner church, LCMS mission efforts are focused on providing specific resources that will help sustain, revitalize and strengthen the partner church as it proclaims the Gospel. Together, the local, indigenous church, our missionaries on the ground and the Office of International Mission staff work to determine the best way to approach the work on the field.
Help us Train our Pastors
Today, the number one request coming from our LCMS partner churches worldwide is, "Help us to train our pastors." Our reputation for robust theological education that fully equips a man to shepherd a flock is recognized around the globe.
How we enhance and strengthen theological education depends upon the location and setting. It might involve providing scholarships for men to study at a local or regional seminary like we do in Argentina where nine Latin countries send their students. In Africa it might involve providing assistance at a missionary training center as we do in Togo or sending a recent seminary graduate to a local Bible school. Or perhaps it involves sending a pastor with a Ph.D. to teach for a few months to strengthen a partner church faculty, as we are doing now in Ethiopia. Parish pastors who can provide administrative and teaching support to a partner church seminary are also requested.
Providing long- term theological educators is another way the LCMS is instrumental on the mission field. Although intensive short-term courses are appreciated, the most frequent request we get is for people who can teach for several years.
In Siberia, Russia, for example, the Rev. Dr. Alan Ludwig, serves as a theological educator. He has taught seminarians, preached at local Lutheran congregations and assisted in building up Lutheran pastors in the region since 1998. Dr. Ludwig writes: "Missions means planting churches. For many reasons—including political, economic, and cultural ones—this can better be done by trained Russians. It is better to equip 10 Russian pastors than to send 10 American pastors. This will help insure the continuation of the Lutheran Church in Russia and other territories. Long after foreigners have left, the church will have strong, confessional leaders."
The Lutheran churches in Africa are requesting our theological educators to help train more pastors to serve the hundreds of new congregations being formed. The Rev. Dr. Carl and Deaconess Deborah Rockrohr, missionaries in Ethiopia, currently assist with theological training. Dr. Rockrohr instructs seminarians desiring to be pastors at the Mekane Yesus Seminary in Addis Ababa, while Deaconess Rockrohr helps to teach theological courses for women considering vocations within the Church. They write: "The EECMY has set big goals for itself. Concerning the seminary, the church wants to expand the new graduate program so that in five years there will be 200 M.A. students and up to 30 doctoral students. The challenges to reach these goals are immense. … Despite the challenges, the students are very eager to learn!"
In Madagascar, there are not enough pastors to serve the more than one new congregation that opens each week. Can you imagine it? A new congregation serving between 1,000 and 3,000 people opening every week! In many cases, congregations or preaching stations are served by evangelists; men who still require theological and practical training.
Many Skills
LCMS missionaries are often focused on supporting, revitalizing and strengthening Lutheran churches around the world, frequently serve as "Aarons," holding up Moses' hands. They assist our partners through a variety of ways; ways specifically requested by the partner, such as bringing in doctors and nurses, or people to teach English as a second language, or by finding skilled workmen to complete various construction projects. These lay missionaries, serving alongside pastors and deaconesses, have been sent with almost every imaginable skill and profession—accountants, doctors, nurses, schoolteachers, farmers and other laborers.
What is the face of missions in 2013? Your answer depends on where in the world; our LCMS missionaries are serving and what they have been given to do for the Church in that place. But no matter where they are or what their vocation may be, our LCMS missionaries work is always done at the foot of Christ's cross and focused on Witness (proclaiming the Gospel), Mercy (showing love and compassion to people in need) and Life Together (having a community of people gathered around Jesus).
The Rev. Dr. Albert B. Collver III is director of LCMS Church Relations and assistant to LCMS President Rev. Dr. Matthew C. Harrison.
Learn more: "www.lcms.org/international