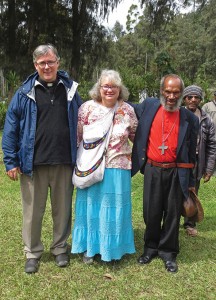 "There is so much work to do here," wrote the Rev. Jeffrey Horn, an LCMS career missionary to Papua New Guinea, in a recent newsletter. "Preaching Christ crucified. Teaching good doctrine. Preparing solid new Lutheran pastors. Edifying pastors and evangelists in the field. Confronting false doctrine. Protecting the little sheep. Building relationships."
Horn and his family arrived in Papua New Guinea in August, where they have continued the work first started by LCMS missionaries to the country in 1948.
Horn serves as a theological educator, teaching new pastors at Timothy Seminary, the seminary of LCMS partner church, the Gutnius (Good News) Lutheran Church. He also travels around the country and offers continuing education to pastors and evangelists in the field, many of whom have been working for years with very few educational resources to help them through challenging times.
After their arrival, the Horn family spent the first few months learning Pidgin, a common language used by the country's different tribes. Now Horn is preaching in that language and he will begin using it in the seminary classroom in February. He also plans to study Enga, the language of the Enga people, with whom he works.
His wife, Lora, and their two children, Chris, 17, and Maggie, 11, are adapting to their new life in the Highlands. Lora homeschools Chris and Maggie, tends a garden, leads a women's Bible study at the seminary and plans to begin teaching an English class next year. Chris has started learning how to play the guitar, while Maggie makes friends everywhere she goes. The family also has adopted two cats and a dog.
"Almost everything is new," Horn wrote. "You have to learn how to go to the market, how to cook new foods, how to deal with having electricity for only a few hours a day, how to drive, how to do banking, how to deal with bugs and other critters, and many more things."
Despite the challenges, Horn says the family has pulled together and the work among these brothers and sisters in Christ is worth it.
"There are many faithful Christians here and they are excited to work together," he reports. "They are grateful for the ongoing commitment the LCMS has made to work with them to strengthen the church in Papua New Guinea and spread the Gospel."
Megan K. Mertz is a staff writer for LCMS Communications.
Learn more: