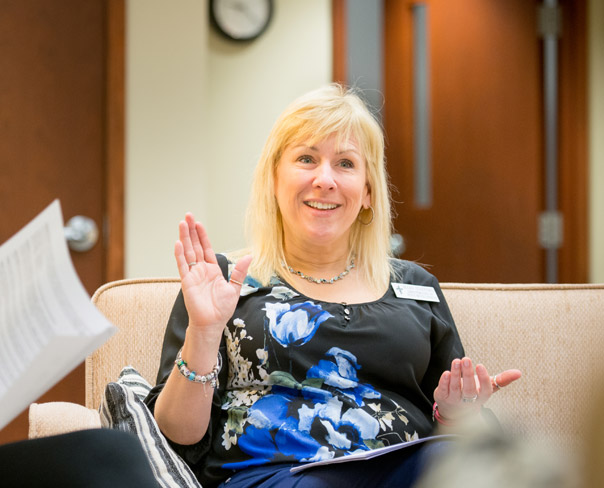 by Roger Drinnon
Brookfield Lutheran Church (BLC), Brookfield, Wis., has been revising and improving its confirmation classes and other educational offerings since 1999. The parish's Director of Christian Education (DCE) Mary Stafford answers some questions to provide insight.
1. How were you led to this ministry?
I was blessed with opportunities to be active in my home church, Mount Olive in Des Moines, to grow in my faith in Jesus, which shaped me as a person gifted with leadership and administration. My calling was affirmed in my undergraduate studies at Concordia University Chicago (CUC), as I looked for opportunities to use my gifts. Ultimately, it was my personal faith relationship with Jesus that brought me to where I am today.
View photos
2. How and where did you get the necessary education?
I graduated from CUC with a dual certification as a DCE and elementary education teacher. I greatly appreciated my studies at CUC, where I grew in understanding of Lutheran theology and especially the Bible.
3. What are the joys inherent in this type of ministry?
Being in the Word of God with the opportunity to share the Good News with others is amazing. Honestly, it is the joy that fuels my tank daily! I am charged when small groups of youth or adults are in conversation over Scripture, sharing questions, insights and reflections.
4. What are the challenges?
The greatest challenge for all of us is ordering our lives to remain centered in the Word while maintaining a regular relationship with the faith community. So much fills our time, our minds and our lives to distract us from what is most important in life.
5. What about the revision to confirmation and other educational offerings at your parish?
Changes in our confirmation program began in 1999 following [a holistic] evaluation. What resulted was an overhaul of the plans for confirmation. … Changes were made in the goals, the number of years for confirmation-based instruction, the number of confirmation/celebration events, the handling of first communion, the timetable for implementation, etc.
6. Are there any notable teaching approaches you want to mention?
Life in Jesus Youth. The program comprehensively covers the developmental years of our youth in order to achieve long-term results. … Besides Sunday mornings, the program also includes personal spiritual activities, servant trips, a mission trip, discipleship events, personal testimonies, service opportunities in the church, Bible/catechism study and memorization, mentoring, and supporting youth fellowship and ministry activities.
7. What's the rationale behind your teaching methods and curriculum used?
First is the concept of disciples. Nurturing disciples is different than "taking a class" or "learning a teaching." It involves the head-to-heart connection that shapes a person. Second is supporting parents in their biblical role of being the primary faith nurturers in a child's life. … Credibility increases when a student hears a consistent message at home and at church. Third is our emphasis on relationships. We intentionally work to build relationships in every aspect of ministry.
8. Do you employ any special teaching or learning concepts?
In our youth program, we have four master teachers who are each training up an additional master teacher successor in a two-year curriculum for a particular level. … Students gather in small groups of peers with an adult small-group leader, who mentors and guides discussions to deeper relevance.
9. How do you compare your parish education now to 10 years ago?
Our approach to discipleship started in 1999 with Pastor Al Klatt, before my tenure at BLC. He had a vision to develop followers of Jesus who grew in faith nurtured by their family, supported by their church community and mentored by master teachers and small-group leaders. I came on board in 2004. My role was to put the process into motion, train up leaders, communicate with families and leaders, and monitor the needs of youth to continue to focus on relevancy.
10. How do you compare your youth education now to what you had as a youth?
In many ways, what we have developed at BLC is not new. We strive to encourage believers at all ages to remember we grow as disciples of Jesus our entire lives. As disciples, we learn how to share our faith every day in simple ways.
Roger Drinnon is manager of Editorial Services for LCMS Communications.