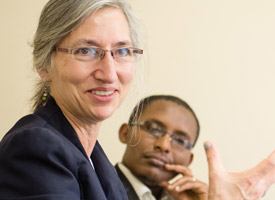 Sandra Rhein has been to Africa 16 times, but she doesn't call herself "a traveler." Instead, she is a deaconess and church musician at Emmaus Evangelical Lutheran Church in South Bend, Ind., who has been called to use her unique combination of gifts in service to Lutherans around the world.
In 2012, she completed a hymnal for the Evangelical Lutheran Church in Kenya (ELCK), an LCMS partner church. Recently, she started working on a hymnal update for the Ethiopian Evangelical Church Mekane Yesus, with which the LCMS has a working agreement.
1. How did you get started on the Kenyan hymnal?
After being asked by the ELCK to assist them, I started making trips to Kenya to worship with the people there. I needed to know what the worship was like. We were assisting them in writing a Kenyan hymnal, not an American hymnal. After getting to know their current hymnal, and where we could strengthen it, we were able to translate 30 hymns into Swahili for the first time. I got to know some ecclesiastical language in Swahili, but I had lots of proofreaders since I was working in a language I didn't understand that well.
2. Did you include some of our hymns?
As a committee, we looked especially at those hymns by Martin Luther and Paul Gerhardt that teach the faith. They certainly don't sound African, but the Kenyans wanted to be connected to the universal Church. They didn't want something that was only Kenyan.
3. What about the liturgy?
The music for the liturgy was lovely, but I couldn't find a written version of it. So I had a pastor sing it over and over, and I transcribed it for the new hymnal. The name of the hymnal is Ibada Takatifu, which means "Divine Service."
4. What was most challenging?
The enormity of the project. It was foreign in so many ways. The challenge was always trying to break it down into steps that were manageable. Also, the communication. With a different culture, you want to be helpful without dictating results.
5. Most rewarding?
The opportunity to serve. As a deaconess, my desire is to serve the neighbor, to bring God's love to them. To be given ways to do that is the most rewarding thing.
6. How long did the project take?
The Kenyan hymnal took almost five years. In 2012, when it was nearly done, I spent a month at the seminary in Kenya with my husband, who is also a musician. The two of us taught music reading classes. It's amazing to meet educated adults who have literally never read a note of music. It was so much fun to help them discover that. We took little keyboards in our suitcases — the toy kind — and lots of batteries.
7. Now you are working on an Ethiopian hymnal?
When leaders of the Ethiopian church and the LCMS began discussions, one specific request was for assistance in a hymnal update. They have formed a hymnal committee, of which I'm a member, and we've begun work on a new hymnal.
8. How will this project be different?
One of the biggest challenges is their language. The language in Ethiopia is Amharic, which uses its own unique alphabet.
9. Why is this work important to you?
Hymnals are probably second only to Bibles in how important they are to Christians and to the Church. Good hymns teach the faith, with Christ at the center. They help unify the Church and give comfort to people. A good hymnal also has liturgy, the Psalms and the catechism. Where the Lutheran church is growing very quickly, as in Kenya, they don't have enough pastors. A pastor might have 10 or 12 congregations. If the people hear a pastor only every other month, then what they are singing preaches to them.
10. What do you hope this work will achieve?
I pray that the hymnal allows the Kenyan Lutherans to receive God's gifts in the Divine Service and worship faithfully. I would love to see some new hymns come from Kenya. Now that they have a strong hymnal, their next generation might produce new hymnwriters to join with those God has given us throughout the world and over the centuries.
Learn more:
Megan K. Mertz is a staff writer for LCMS Communications.