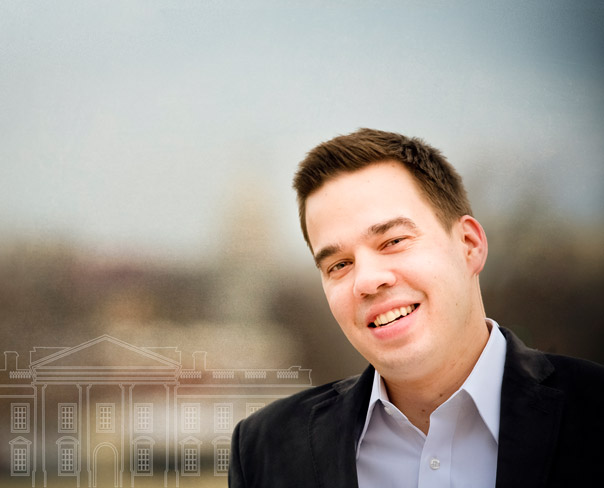 by Adriane Heins
Political consultant and LCMS Lutheran Jordan Gehrke has 15 years of political experience. A partner at Pulse Red Communications, he spends his days inside the Beltway providing strategic advice to candidates like the newly elected Nebraska Senator Ben Sasse, who won the November 2014 election in a landslide.
1. What got you started working in politics?
Our family was very politically involved growing up. My grandfather was very active in local politics, and my dad was a judge. … I started working on campaigns as a kid.
2. Describe what a day at work looks like.
I'd say that no two days are the same, but since 2010, our team has been focused on identifying tech problems in campaigns and trying to solve them. … When actually running campaigns, we combine a lot of these different elements at once and help candidates with strategy, messaging and technology.
3. Recount your greatest achievement thus far in your work.
I felt a tremendous sense of gratitude seeing Senator Sasse sworn in. [Ed. note: Gehrke served as senior advisor to Sasse.] He built a team of big-cause/low-ego people who were involved because they cared about the direction of their country and didn't really care that the experts said we couldn't win.
4. Politics can be intense. How do you make your job fun?
The intense part is the fun part. You have to be wired a little bit differently in order to enjoy this job. You are sometimes forced to make split-second strategic decisions in a stressful environment. It can feel like walking a high wire, but I enjoy it.
5. Describe a moment when your beliefs as a Lutheran collided with your work in the political sphere.
Working in politics, especially campaigns, we constantly have to be mindful of the Eighth Commandment — to explain everything in the kindest possible way. Too often, you see people saying things about their opponents that just aren't true in order to win a battle that day.
6. Why is it important for Lutherans to maintain "a seat at the table" in political discussions?
The ideas and actions taken in public directly affect the way people act and believe at home. … That is not to say that government is the ministry — far from it. But there are issues being debated in the public square every single day that impact us all, and we neglect political life to our great peril.
7. Are there other Lutherans working inside the Beltway?
There are many Lutherans working in all sorts of areas — from Hill staffers writing policy to journalists to members of Congress. It's great to see.
8. How does your church family support you?
I am deeply grateful for our pastor and our church members. They've become some of my dearest friends over the years. It really is like having a second family.
9. If a young Lutheran is considering a career in the political arena, how would you encourage him or her as a brother in Christ?
We need more people who understand that politics is not the center of life. The Framers believed that what made America great is the understanding that all of the truly great stuff that happens in this country happens in the states, not in D.C. … With that said, I also tell people that if they can do good work by running for office or working at the staff level — well, we need people in this vocation who have the right motives and want to reaffirm the American ideal.
10. What's one thing the average Lutheran might be surprised to know about his congressman, senator or president?
Just how hard the job is on them and their families. Members of Congress are often far from home, commuting every weekend, not seeing their kids very much, being challenged in lots of ways. Pray for the governing authorities, indeed! They need it. It's a tough job.
Have a question? Email Gehrke at jordan@pulsered.com.
Adriane Heins is managing editor of The Lutheran Witness and editor of Catechetical Information for LCMS Communications.