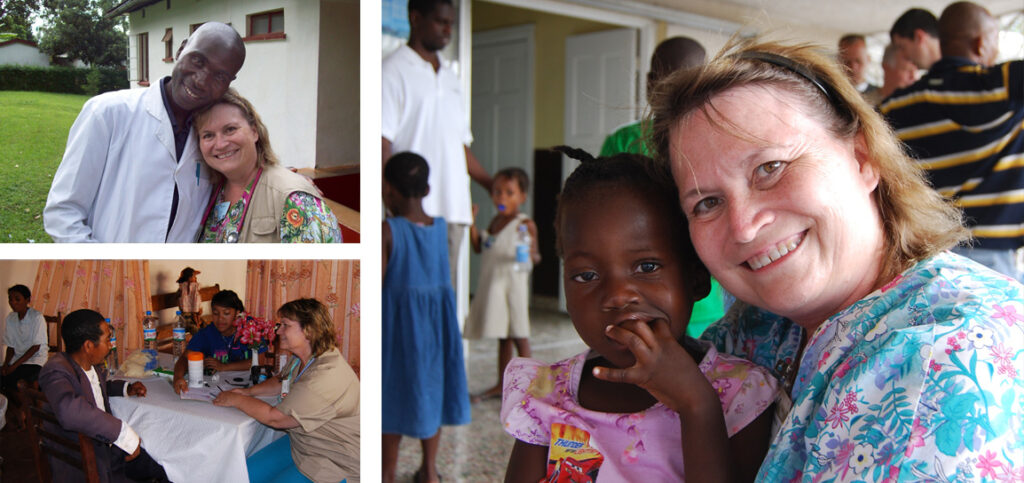 By Megan K. Mertz
When Sharon Thomas goes on vacation, she travels to places that other people usually avoid, like rural Madagascar or earthquake-damaged Haiti. Since 2008, the nurse from Belvidere, Ill., has served on 13 LCMS Mercy Medical Teams (MMT) — and led 11 of those — to provide medical care to underserved people around the globe. In August, Thomas led a team to Uganda, where they treated more than 2,300 patients in just one week.
1. What's it like to serve on a team?
It's a very humbling experience. The first time, you think you are going to do something to help someone. When you get there, you find that you're being served. … It's eye-opening to see that many people learn to adapt without the everyday luxuries that we seem to not be able to get by without. The nice thing about Mercy Medical Teams is you get immersed with the people in the country you are serving.
2. What's most challenging about the experience?
When you know you are encountering someone with a disease or a situation that could be easily treated in the United States, but you don't have access to the care that person needs. We have to learn to accept our limitations.
3. Most rewarding?
What's encouraging, even just in the years I've been doing it, is to see the improvements in health care. We started going to areas that never had medical care at all, and now to see clinics available in the countries offering free care for some things is very encouraging. The world is changing for people in [developing] countries.
4. What types of conditions do you tend to see?
No matter where we're at, we always see parasitic illnesses with diarrhea and nasty wound infections. Also, we see a lot of ringworm and fungal infections. Some of the common things I see in Africa have to do with hearing loss. That's from very, very dry ear canals and impacted earwax. … We also see a lot of cataract disease from living out in the sun.
5. Is there a Bible verse that encourages you?
Is. 40:31: "But they who wait for the LORD shall renew their strength; they shall mount up with wings like eagles; they shall run and not be weary; they shall walk and not faint." When I was 35, I was in an accident and broke my back. The specialist said my future was basically to sit on the couch and eat bonbons. Because I was in horrific pain for several years, I really believed that was my future. But I just decided one day that God didn't let me live through this to sit on the couch and do nothing. So, I started a rehab program … and had a specialized back surgery that turned my life around.
6. What does being team leader involve?
The team leader takes a group of total strangers and brings them together through a common goal. I get to know the team, their strengths and weaknesses, so I don't place them in a situation that's way out of their comfort zone. I make sure they are taking care of themselves.
7. What skills are needed on an MMT?
The biggest thing is a volunteer spirit. If you have that, I can use you in some capacity. We have automated blood pressure cuffs, so I can teach anybody to use that. … We hire local physicians and nurses to round out our team.
8. Who benefits the most?
I definitely think the volunteers benefit immensely. On the trip to Uganda, we had a couple of young children who needed emergency surgery. They didn't have numbers or papers to be seen, but I went out and walked through the crowds that were waiting. God directed me to find these children in dire need. One had a strangulated hernia that could have led to a perforation and death. We were able to get him surgery the next morning. I think of those little lives that we were able to save so they can have a future. They won't remember us at all — although their parents hopefully will — but I will remember them.
9. Are there opportunities for evangelism?
There are. I have many times been with patients that I couldn't do anything for but pray with. We let people know that the Lutheran church cares about them and that their local pastors are there to work with them even after we're gone.
10. What would you say to someone thinking about joining a team?
Step out in faith. I know people who have been hesitant. But once they've done it, they couldn't wait to do it again.
Learn more: lcms.org/mercyteams
Megan K. Mertz is managing editor of Lutherans Engage the World and a staff writer for LCMS Communications.