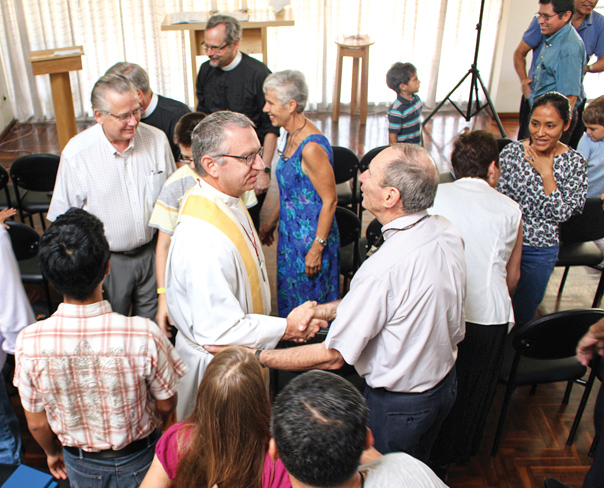 by Roger Drinnon
Pray for your church workers! The Rev. Dwayne Lueck, North Wisconsin District president, says prayer is important for all professional church workers as they struggle with the inherent challenges of their callings. Here he discusses those challenges and how his district strives to help church workers in their ministries.
1. What has been your overall experience as district president?
It is an honor and a humbling experience to serve my Lord and the people of the North Wisconsin District. Every day there are new challenges, whether it be as ecclesiastical supervisor; liaison between the congregations, district and the Synod; or in carrying out the administrative duties.
2. What are some of the challenges your district's church workers face?
The challenges they face, I believe, involve tension between carrying out their call and the challenges in their personal lives. Some of their challenges include:
Being faithful to our Lord and to His Word and the Lutheran Confessions when the culture around us appears to be walking away from what God's Word has to say.
Meeting the expectations of members or parents of school children, or the children themselves, as the expectations are high.
Taking care of themselves and fulfilling their role in their own Christian family.
Coming out of the seminary or college with large debts from student loans.
3. What challenges do congregations face in caring for workers?
For many congregations, income is not keeping pace, so many of our church workers are taking on more of their own health-care costs. There are congregations that are not keeping pace in paying their workers as suggested by district guidelines.
4. Are there issues that put additional pressure on certain church workers and ministries?
In May 2015, we sent out a survey to all our church workers, asking, "Where do you need encouragement in your life/ministry right now?" The top three answers were: getting in the Word (devotional time), handling conflict and teamwork.
5. How does your district deal with these challenges?
Over the years, pastors have received coaching, including for time management and devotional time … . When it comes to conflict, we need a better plan on how to prepare our church workers on how to handle it.
6. Describe your district's overall approach for caring for church workers.
DJ Schult is my assistant who works specifically with our schools in encouraging the principals and teachers … . Pastor Mark Lundgren works with congregations to raise awareness of what their professional church workers are going through and also for ways to encourage and support church workers. Pastor Dan Kohn serves as a counselor for those workers in the district who wish to talk to him on a private basis. Lee Belmas, a retired [director of Christian education (DCE)], now goes around talking with and encouraging DCEs and youth workers.
7. Are there any specific wellness programs/events that you advocate?
I personally believe in, participate in and encourage the [Concordia Plan Services] "Be Well … Serve Well" program, as it encourages good health habits and participation in some retreats. Our workers need to take care of their minds and bodies.
8. Is professional development a factor in caring for church workers?
I believe the majority would prefer to continue their professional development, but many times the ministry demands their time along with time with their family, and so it gets pushed aside. The cost of it can also be prohibitive, and some congregations are more supportive than others for their pastor to receive more education. Hopefully, there is an advocate among the laypeople that encourages their professional church workers to continue their education.
9. What can congregations do to help ensure church workers are cared for?
Take them out to coffee and ask them how they are really doing. Encourage them to take their day off and use their vacation time. Advocate for church workers on a leadership level: elders, board of education, personnel committee, etc. Write them a note once in a while to encourage them. Attempt to at least pay them according to the suggested guidelines.
10. What would you most like to convey to readers regarding church workers?
Pray for them. Encourage them. Ask them how they are doing. Believe in them. Trust them.
Roger Drinnon is manager of Editorial Services for LCMS Communications.