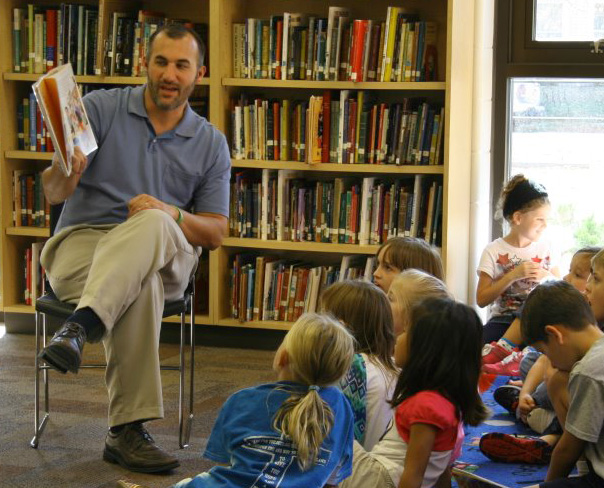 by Megan K. Mertz
Even as a child, Scott Schumacher felt God calling him to serve in the Lutheran school system. After graduating from Concordia University Chicago, River Forest, Ill., Schumacher worked as a teacher and athletic coach before completing his master's degree and participating in the School Leadership Development (SLED) Project, a program of LCMS School Ministry that prepares future administrators for Lutheran schools. Since 2005, Schumacher has served as principal of St. Peter's Lutheran School in Columbus, Ind., and he recently mentored another teacher going through SLED.
1. How did the SLED Project help equip you for your work?
SLED validated where I believed God was leading me. It also provided a scriptural foundation for being a leader. Later, I agreed to be a SLED mentor because I wanted to help someone else who had that same mission placed on their heart. It was a sacrifice of time, but it was worth it.
2. Why are Lutheran school administrators important in the LCMS?
Schools rise and die with leadership. Churches are the same way. As an administrator in the LCMS, I have a huge responsibility to serve faithfully. There are a lot of people who are looking to me for guidance, and there are a lot of people who are looking up to me. But the reward is awesome.
3. What is most rewarding about your job?
Seeing growth in teachers and passion for our school vision. Also, it's very rewarding to see our school help a child with a specific struggle learn how to overcome that struggle in a way that honors God.
4. Most challenging?
Managing time. The expectations are very high, so the balance between being a faithful husband, father and worker in a church is challenging. But I feel blessed, because I have a great support team. Just as one of my jobs as principal is to walk alongside parents, there are people in our church who walk alongside me.
5. If you weren't a principal, what would you be?
A landscape architect. It's really important that principals have a hobby, and my hobby is my backyard.
6. What skills do principals need to be effective?
First of all, patience. There are plenty of opportunities that test your patience. You really have to be the consummate servant, putting others before yourself. Also, being able to model true joy in ministry. Being happy is contagious within organizations, and the principal has to model that. Jesus didn't just come for those who are Lutheran; He came for everybody. God uses Lutheran schools to connect with families and walk alongside them as they go through life. Lutheran schools are a great resource to be able to support families as they raise young people.
7. How have students and families changed during your career?
There are so many more families coming from broken homes and who have so many other challenges. Maybe the needs were there years ago, but they just weren't identified.
8. How does St. Peter's integrate the faith into the school day?
Integrating the faith is an essential part of everything we do. While teaching religion is critical, there are all kinds of authentic opportunities to integrate the faith, like developing a prayer life and even discipline. When students are in trouble, my job is to help them understand it's wrong, lead them to repentance and tell them they are forgiven.
9. What's your favorite Bible verse?
Phil. 4:13: "I can do all things through him who strengthens me." It's hard to be a principal, but God doesn't give us more than we can handle. He gives us Himself through Word and Sacrament. We get our strength through Him.
10. What advice do you have for others considering this career?
The best advice is to take a close look at Scripture and develop a solid prayer life to really discern where God would have you serve. God will provide all the tools you need to be successful. Say "yes" to those opportunities, whether they be the SLED Project or getting a master's degree in administration.
Megan K. Mertz is managing editor of Lutherans Engage the World and a staff writer for LCMS Communications.

Print page