LCMS Yo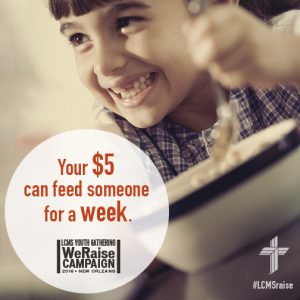 uth Ministry launched a crowdfunding campaign to raise $25,000 to pack an additional 100,000 meals at the 2016 LCMS Youth Gathering next summer. We're over 20% of the way funded and need YOUR help to make this goal a reality.
In 2013, Gathering participants packed 323,000 meals for those in need. In 2016, we hope to pack 500,000 meals to reach half a million people through the simple of gift of a packed meal.
How can you and your congregation get involved? Here are three ideas to get you started:
(1) Pray. Pray for those struggling with food insecurity and those unsure from where their next meal will come. This isn't just an issue overseas in third world countries. Hunger affects millions of Americans every day.  In 2013, 49.1 million youth and adults in USA did not know from where their next meal was coming.  Pray also for how God may be calling you to care for your neighbor in need. Here's one prayer suggestion:
Kind and merciful Savior, when You walked among us You fed the hungry with food for the body. You gave Yourself to be the Bread of Life that we may eat and not die but live in You forever. Bless the preparation and distribution of this earthly food that it may be offered in love to those in need. Through this act of mercy, may many come to know, believe, and rejoice in You as the living Bread from heaven. We ask this in Your mighty name. Amen.
(2) Share. Tell others about the need. Your family, friends, neighbors, congregational members, and social media networks. Find images to share through social media as well as a bulletin insert and downloadable poster here.
(3) Give. Could you give up one fancy coffee drink each week for the next six weeks and donate that money to this food packing campaign instead? One dollar feeds 4 people.  Let's boldly step out in faith to give generously as an act of mercy for our neighbor and in support of youth who will pack the meals next summer.  Give now.