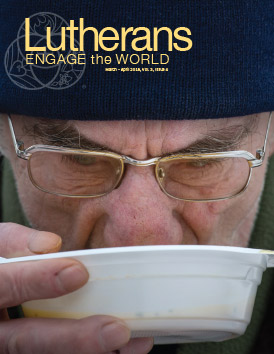 I don't know his name, and it is likely he will never know his face graced the cover of a magazine read by 90,000 Americans. He could be anyone, anywhere, whose situation in this sin-broken world means he doesn't always know where his next meal will come from.
What fills that bowl? Make no mistake, with the nourishing broth is also Christ's MERCY.
This issue explores how together we bear Christ's mercy and defend the blessing of religious freedom in our land in order to more boldly confess Christ in word and deed.
You can read about the soup line and how your gifts and prayers over the years have made it possible for Lutherans in Latvia to provide tangible, life-sustaining mercy as they point their neighbors to the fonts, altars and pulpits of the Latvian Lutheran church, where forgiveness, life and salvation are freely offered.
From our earliest days, we in the LCMS have been focused on bearing mercy. Today, evidence of that is seen across the country as willing hands in congregations come together, often working with Recognized Service Organizations like Lutheran Family Service of Iowa, to care for neighbors in need.
Our presence at the March for Life each year underscores our commitment to defending the most vulnerable in our land. But we don't just march! Read about how a maternity home started by a Florida congregation is showing mercy to women with few other options.
The Church faces many challenges in bearing mercy. But perhaps the greatest challenge for us today is the escalating effort by the government to limit what the Church may do for her neighbors.
Our views are becoming increasingly unpopular with the culture around us. Yet some 475 college students and campus-ministry workers came together to explore how faith in Christ speaks and acts in the face of lifestyles and beliefs often considered too "taboo" for the church.
There's a lot in this issue. Snuggle up with a bowl of soup and have a read!
In Christ,
Pamela J. Nielsen
Associate Executive Director,
LCMS Communications