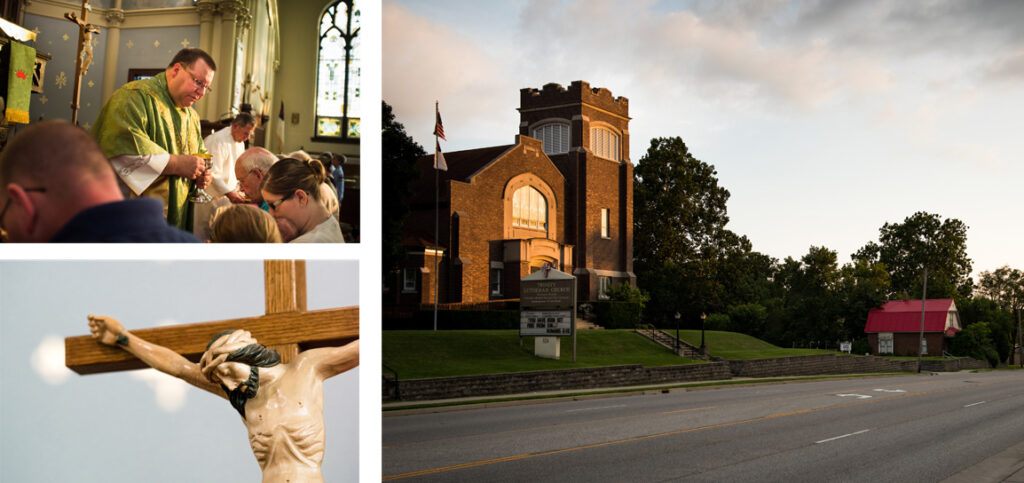 by Adriane Heins
"Trinity is your typical Midwest congregation — largely white, aging, blue collar, many of German descent," explains the Rev. Kent Tibben, senior pastor of Trinity Lutheran Church, Danville, Ill. "We are typical in almost every way."
And yet it turns out that Trinity really isn't. The congregation has a special characteristic — and it's not just that it's 152 years old — of caring for pastors in a unique way.
Helping and Being Helped
Tibben, who was called from the seminary to serve as assistant pastor, soon found himself sole pastor at Trinity. He quickly realized that he would need to rely on the help of other pastors, since the church couldn't afford to call a second full-time shepherd.
There were five other pastors who stepped in to serve and assist. One was retired. But the other four were different. Hurting in large part due to pain and frustration experienced at their previous parishes, they were now pastors without calls or congregations.
One man's call had been rescinded by his congregation. Three others actually resigned their own calls, unwilling to continue undergoing "a difficult time" in their congregations, Tibben recalls.
"The opportunity presented itself — or better yet, the Lord presented the opportunity — for them to help Trinity and for Trinity to help them," he says.
Photo gallery: Trinity-Danville
It was just what the pastors and congregation needed. "The pastors who assisted me were still able to exercise their office by preaching, teaching, administering the Sacraments and caring for souls," Tibben explains, but "without the burden of administrative duties and the meetings where some of the controversy from which they suffered had found its fullest expression."
Beyond the financial assistance provided by Trinity in exchange for the pastors' service, Tibben noticed another benefit: They "had time to heal from the wounds they had suffered in their previous parish experience.
"Serving with me at Trinity allowed them to regain both confidence and joy in doing the duties of their office and to experience a loving and supportive congregation that was welcoming and receptive to their ministry," he says.
The Rev. Mark Miller, president of the LCMS Central Illinois District, believes it was — and remains — a fitting pairing.
"There is a true desire to not let pastors on candidate status languish in limbo or slip through the cracks unawares," Miller says.
And this anything-but-typical congregation serves as a prime example that such care works, especially when a "compassionate fellow pastor and his parish have seen fit to issue a part-time call to serve as a transition, not just to keep someone on the roster, but to help rebuild confidence, make use of pastoral skills and training, to provide some income and give a wounded 'soldier of the cross' a bit of a foundation until another full-time call comes along."
Caring for Hurting Church Workers
Bearing with those who are suffering is at the core of the Christian life, and the Rev. Michael Ruhlig knows firsthand that church workers are not immune when it comes to fear, pain and hurt.
After what he calls "turbulent years" at a parish, Ruhlig resigned his call and began working part-time at Wal-Mart.
He was then approached by Tibben, who offered him the opportunity to teach and preach at Trinity. The congregation eventually extended Ruhlig a call; two years later, he moved on, accepting a call to Faith Lutheran Church, Graham, Texas.
"Trinity, Danville, was a tremendous help for us," Ruhlig recalls. "Their love, care, concern and generosity helped us start the healing process from the conflict and hurt and from leaving our previous congregation."
They may not have even realized it at the time, but the congregation's care had a lasting impact.
"To know and feel the love of the body of Christ is both a joy and humbling at the same time," he says. "To know someone cares is as helpful as receiving what they are offering."
The Same but Different
So why is Trinity not that typical after all? "Instead of engaging in the perennial battle between who has supremacy — the congregation or the Office of the Ministry — I have tried to help my congregation see how the baptized people of God and those called to the Office of the Ministry have different, yet complementary vocations," Tibben explains.
"All of us are called to proclaim the Gospel and to make Christ and His saving work known to our neighbors," he reminds his congregation. "Pastors don't have a better vocation; they have a different one. But every vocation, every daily calling, is holy in God's eyes and an opportunity to serve the neighbor."
"Every vocation, every daily calling, is holy in God's eyes and an opportunity to serve the neighbor." — Rev. Kent Tibben
And Trinity hasn't let those opportunities pass by. The congregation's humble mercy work has already borne good fruit, even as it is once more caring for another hurting pastor. It is Miller's prayer that God would use Trinity yet again, so that "another good pastor, having faced hardship and difficulty as a servant of the Word, may be spared for future work in the Lord's kingdom."
"You don't argue people into respecting and loving the office of pastor," Tibben says simply. "You serve faithfully, and they will come to love the office of pastor. If we can lead our people to see the great blessings that God gives us in the Gospel and the Sacraments, then they will see the great blessing of the office that exists to put the Means of Grace into play for them and for their salvation."
And that, he says, will lead to something just as beautiful — "they will love and care for the man who holds that office in their congregation" — and the most wonderful kind of typical.
Adriane Heins is managing editor of The Lutheran Witness and editor of Catechetical Information for LCMS Communications.