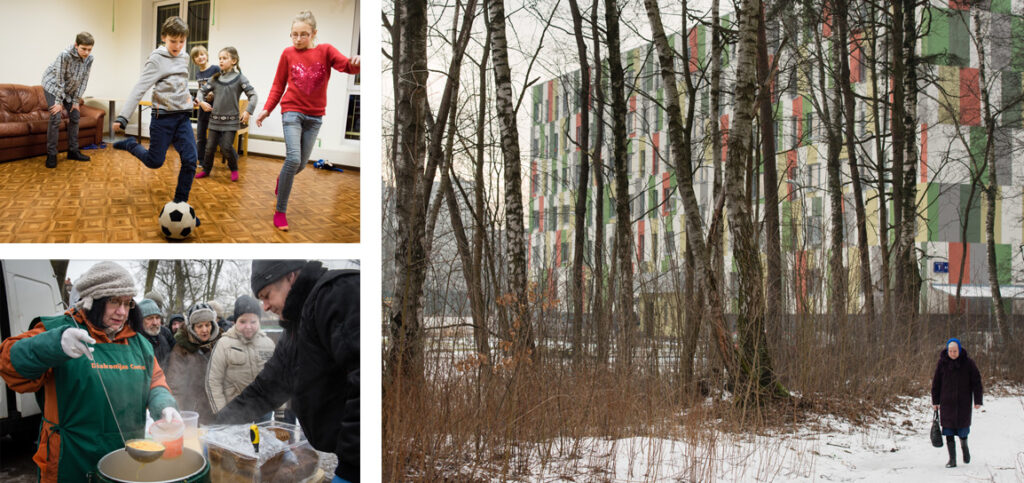 by Erik M. Lunsford
In Riga, Latvia's wintry capital city, frigid waves from the Gulf of Riga lap the shore as confetti-size snowflakes coat the birch trees one February day.
Here, in this former Soviet state, a story of mercy, accountability and flourishing partnerships between church bodies is unfolding.
Inside an unassuming municipal apartment building, oddly like multicolored Lego blocks and noticeably void of ornate architecture, an impromptu chorus bursts into Latvian folk music. After the song has ended, the singers settle back with French press coffee and Piragi meat-filled pastries.
Beaming, a woman on the verge of tears thanks a group of visiting LCMS representatives. Everyone is talking about the benefit of the Diaconia Center mercy site at the complex, which is partly supported by a grant from the LCMS through partnership with the Evangelical Lutheran Church of Latvia (ELCL). It's one of four sites that focus on showing Christ's love to low-income residents.
In comes the Rev. Ivo Kirsis, parish and Diaconia Center pastor. He sports a Sean Connery beard and a charming smile. It's time for Divine Service, and everyone files into a small reception room complete with an altar, crucifix, candles and an open Bible.
Kirsis kneels in prayer, and heads bow in silent reverence. A disabled man leans on his crutches.
One-third of Latvia's population lives at or below the poverty line, according to Ramona Petrika, a staff member at the Diaconia Center in downtown Riga. Emigration is a problem, although it's unlikely a tourist in Old Town would see this statistic as clearly as the amber jewelry and wooden toys dotting the window displays of souvenir shops.
"Diaconia is part of the church," says Inta Putnina, Diaconia Center director. She sips Rooibos tea and adjusts her delicate shawl during conversation. "On Sundays we have service, and on weekdays we go and help the people."
What exactly does diakonia mean? In Greek, it means "service," and the Christian Church through the ages has understood this as bearing the mercy of Christ to those in need. In this case, it also is an establishment that serves the poor, but it's a little more complicated than that. Matthew sheds some light in his Gospel: "And the King will answer them, 'Truly, I say to you, as you did it to one of the least of these my brothers, you did it to me'" (Matt. 25:40).
Truly, it's about people helping people in the context of Christ and His Church, says Putnina.
The Diaconia Center in Latvia has four mercy sites. Two are for children and families, one for children and adults, and the last for adults only. Putnina says the mercy sites serve 123,345 people each year — 23,250 children, 27,500 adults, 70,675 people through soup kitchens and another 1,920 who receive food packages.
Put this into perspective: The LCMS has 2.2 million members, while the entire population of Latvia is 2.1 million. The ELCL has 712,531 members.
The Diaconia Center was established in 1994, and diaconal work with the LCMS began when Deaconess Grace Rao, director of LCMS Deaconess Ministry, started in 2006. She and the Rev. Tony Booker, LCMS regional director for Eurasia, continue the partnership, helping to train diaconal workers and assisting with a new diaconal project directed at the aging population of the Latvian church that resides in rural areas.
"Diaconia work is an act of the church," Booker says. "We're a body of Christ, and we can't help but do what needs to be done as we look around our neighborhood and our backyard. That's how the actions have been driven here, and that's centered through congregations, pastors, through volunteers from congregations … reaching out to their neighborhood and delivering Christ, if you will, both in person and in Word and Sacrament."
A few years ago, the LCMS gave a substantial amount of money to the church for diaconal work. Instead of infusing the money into various projects right away, the Latvian leaders waited for the right time. Now the fruits of their patience have blossomed into projects that "show excellent organizational skills, administrative skills and tremendous accountability."
Booker adds, "This is exactly what we want to encourage in all of our partner churches."
And while there's a worry that faith-based organizations can fall away from the church when nourished by municipal subsistence, the centers here are perpetually bound to the church, not unlike a sneaker shoelace hopelessly knotted together.
Along a street in Riga lined by tall trees and even taller buildings sits the Generations Day Care Center for adults and children. Strong tea swirls, chocolates soften and children pray before supper. They hold hands, laugh and crack jokes together. Some saunter to a side room for soccer, while another boy handily beats an adult in two quick games of pingpong. Lifelong relationships form here, a witness to life together.
But the story of mercy work in the Baltics doesn't end in Riga.
To the south, in the neighboring country of Lithuania, large neighborhoods of Soviet-era housing in various towns still bring to mind the years of oppression — both secular and religious. Snow blankets the rolling hills, ice forms at the fingernails of waves off the Baltic Sea.
The Evangelical Lutheran Church of Lithuania, led by Archbishop Mindaugas Sabutis, is a minority, confessional, liturgical partner with orphanages, soup kitchens and a treatment center for drug and alcohol addicts. A new phase of the addiction program is currently underway. Renovation of a vacant building in rural Garliava will provide a chapel and halfway home for addicts as they transition toward independence.
"We are happy that this part of our mission is very blessed," Sabutis says. "It's about the context of Word and Sacrament in their historical experience of diaconal work."
During treatment, addicts will receive the comfort of God's Word through services to be held at the chapel.
"To come alongside our brothers and sisters in Christ and fellow Lutherans here in the Baltics," Booker says, "and to see them pulling themselves up by their own bootstraps, as we come alongside them and assist them as we're able to, and to see the results now in these later years is fantastic."
Erik M. Lunsford is the photojournalist and a staff writer for LCMS Communications.
View photo gallery