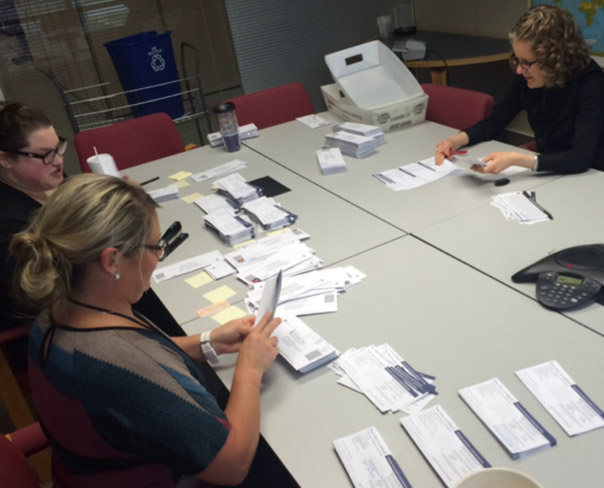 By Mark Hofman
Pardon the quality of this image, but I wanted you to see it. I took it on the spur of the moment using my mobile phone, and it inspired me to write this article.
Late this summer, we mailed a survey to individuals and families all over the country, asking for help in getting to know them better. It was a fairly simple survey that had just three questions and a request to confirm the information we have regarding names, mailing addresses, phone numbers, preferred email addresses and congregational membership.
Perhaps you received one. Perhaps you've filled out and returned similar surveys. Have you, like me, ever wondered if anything is really done with those?
In the photo, you see Brianne Gerzevske, Jill Eggemeyer and Leah Sieveking, three wonderful young ladies from LCMS Mission Advancement who came to me with the idea for this project. They are going through every survey that was returned to us, examining each one and determining what actions should be taken.
Some friends asked for prayers. Some reported address or phone number changes. Some told us a person had passed away. A few expressed specific frustrations that we must work to resolve. Some said, "Keep doing what you are doing!" Surprisingly, some envelopes even included an offering for the work of the LCMS.
Every survey was a gift to us — a gift of very important information about the person or couple who returned it. That information will be appropriately incorporated into our records so we know how to better care for each friend. When that's done, the surveys will be securely shredded into tiny pieces and recycled.
Do you see the envelopes in the middle of the various stacks of surveys? Some had first-class stamps affixed to them. We take those to our local U.S. post office, which will issue a credit for postage to us since the envelopes mailed out were pre-paid. Each of those envelopes represents a $0.49 "gift" to our Synod, and those envelopes add up!
The photo shows one day's worth of surveys. We estimate we have four to six weeks' worth of these to go through. Building partnerships — and building friendships — is so vitally important to our team because Mission Advancement is not about getting money. It is very much about working with and alongside God's stewards all over the United States.
If you took the time to complete and return the survey, thank you. I pray this little report to you, as God's steward, has helped you see how the LCMS also tries to be a steward of His many blessings.
Mark Hofman, CFRE, MBA, is the executive director of LCMS Mission Advancement.