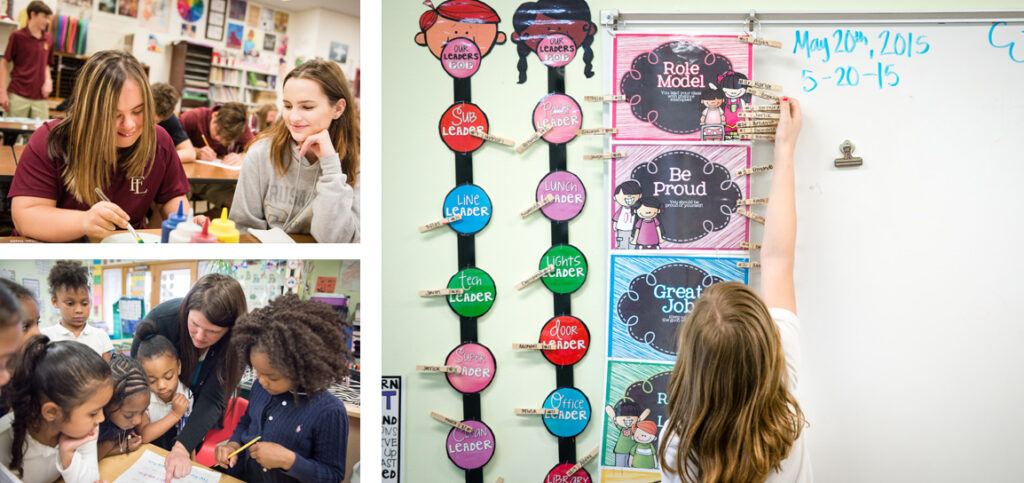 by Roger Drinnon
Whether it's helping children cope with the demands of urban living or helping others rise above challenges they face in learning, Lutheran educators across the nation are there to help.
Here are a few examples of Lutheran institutions where teachers are making a difference:
+ Lutheran Urban Mission Initiative, Inc. (LUMIN)
LUMIN MISSION STATEMENT: "To provide safe, Christian schools focused on educational success, leadership development and spiritual growth."
LUMIN assists urban areas of Milwaukee and Racine, Wis., by providing high-quality educational services through the Wisconsin state voucher system.
"LUMIN was formed in 2002 by a group of LCMS business people and professional educators who were deeply concerned about the decline of Lutheran education in Milwaukee's urban community," said Richard Laabs, president and CEO of LUMIN. "The founders of LUMIN planned to open a new school and develop a cutting-edge model for urban Christian education that could be replicated in other locations. Today, LUMIN operates five LCMS schools in Milwaukee and one Christian school in Racine that serve a combined total of approximately 1,600 students from low-income households."
Laabs said about 10 percent of students in LUMIN schools face unique learning challenges resulting from myriad personal circumstances. LUMIN has a designated professional to evaluate these students to determine their specific challenges and then develop strategies for use by classroom teachers. Other faculty members also help students address barriers to learning, such as those related to health care, social services and counseling.
Laabs said as LUMIN schools' teachers use best practices for urban education, they also ensure students hear the Gospel. Their efforts earned LUMIN the 2014 Fred E. Lietz Mission Project Award, which was presented by Lutheran Church Extension Fund last fall.
"Many students have little, if any, knowledge of Jesus Christ as their Lord and Savior prior to enrolling in a LUMIN school," said Laabs. "In addition to providing students with a rigorous, 'no excuses' academic education, teachers focus on the faith formation and journey of each student. LUMIN schools recognize the value of a good education lasts a lifetime, but a strong faith has eternal consequences."
Learn more:
+ Lutheran Special School and Education Services (LSSES)
LSSES MISSION STATEMENT:
"Centered in Christ, LSSES prepares students with unique learning challenges to maximize their God-given spiritual, academic, emotional and social potential."
LSSES values Lutheran education for all children and provides children who have difficulty learning with the opportunity to attend Lutheran schools.
"LSSES was begun in 1958 by a group of parents who wanted their children with learning difficulties to receive their special education within a Lutheran school," said Judy Schultz, school principal. "LSSES was housed in different Lutheran schools throughout the Milwaukee area, depending on who had space, until it ended up on the campus of Concordia College, Milwaukee in 1972. It remained under Concordia's campus until it became an independent school in 1986."
Schultz said LSSES staff members believe all children have been gifted by God with individual talents and gifts for use in His kingdom. The school takes each child "where they are at," then helps to develop a child's potential while recognizing unique individual attributes.
She said LSSES offers a spectrum of special education services tailored for individual learning needs. One notable program that began about four years ago is called MOSAICS.
"The goal of the MOSAICS program is to develop experiential learning opportunities using the kinesthetic and visual arts as the basis for learning," Schultz said. "Some of the activities include bike riding, hiking, swimming, Tae Kwon Do [martial arts], visits to various art museums, book- making, digital storytelling, etc. These unique experiences and activities allow the students to grow their spiritual, academic, emotional and social potential in new and creative ways."
Learn more:
+ Faith Lutheran Middle School and High School
FAITH MISSION STATEMENT: "Everyone prepared! Everyone saved!"
Faith Lutheran Middle School and High School in Las Vegas established its Mark 10:14 Program to provide an excellent education for middle and high school students with significant intellectual disabilities in an inclusive Christian setting.
"Some brave Christians in Las Vegas set out to begin a junior/senior high school in the 70s," said Dr. Steve Buuck, Faith's CEO. "Our school began in 1979 with 43 sixth- and seventh-graders in rented facilities at First Southern Baptist Church, Las Vegas. In 1998, we bought our present campus on the west side of Las Vegas and have been here ever since. Every year, something has been added to our campus."
Buuck said this is the eighth year of the Mark 10:14 Program, where the school enrolls students with autism or Down syndrome. These students are "mainstreamed" into Faith's classes, whereas in other schools they likely would be segregated into special-needs classes. At Faith, these students also participate in athletics, fine arts, chapel worship, clubs and more.
"All of our Mark 10:14 students are deeply integrated into campus life," Buuck said.
Overall, he said the school's numbers indicate some encouraging trends.
"Ninety-nine percent of our seniors go on to college. In the past three years, our graduates have been accepted into more than 400 universities in all 50 states," Buuck said. "In the Class of 2015, our academic top three students are headed to Princeton, Stanford and Duke. We have 21 seniors who have signed letters of intent to play sports in college next fall. Our fine arts [theater and music] programs are regionally and nationally acclaimed. We have 165 employees who share Jesus with our students each and every day. We average more than 30 Baptisms a year in a January chapel — God's amazing grace certainly is evident here at Faith Lutheran."
Learn more: