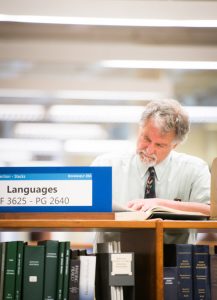 by Megan K. Mertz
He's a college professor who's fluent in ancient languages and an expert in history dating back to Genesis — a Lutheran Indiana Jones, of sorts. For Dr. E. Christian Kopff, the past matters — and it matters a lot.
That's why the LCMS Lutheran has spent the last 40 years studying and teaching about the ancient world as an associate professor of Classics at the University of Colorado in Boulder, a state university with more than 29,000 undergraduate and graduate students.
"The most important things in our society go back thousands and thousands of years," he said, "whether it's democracy, science, the Bible. … We are part of a great tradition, and we ought to know it."
The Bible as History
Kopff's specialty is in ancient Greek manuscripts, and he knows both Greek and Latin — languages he sometimes teaches in the school's Honors Program. He also teaches a course he designed called "Introduction to the Bible."
Unlike other courses on the Bible that are mostly meant to help students understand biblical references in the works of writers like John Milton and William Shakespeare, Kopff teaches his course from a historical perspective. Students read passages from the Old and New Testaments alongside parallel texts like the Babylonian creation story, the Code of Hammurabi and letters from Pliny the Younger.
View photo gallery: Dr. E. Christian Kopff
The Bible "was written in historical time, and there are historical parallels to a lot that's in it," Kopff said. "The result is that [students] get a feeling that this is a real document that is part of history as well as having religious and ethical significance."
His classes draw a wide range of students. Some know the Bible well; others have no understanding of the Bible.
"Something that our society has gotten across to people who don't know anything about the Bible is that they are all made-up stories," Kopff said. "They are quite flabbergasted to discover that there's rather good historical evidence for numerous parts of the Bible. The Assyrians, the Egyptians do mention people in the Bible. And the evidence on the New Testament, because that's the time of the Roman Empire, is quite good."
Confronting the Questions
Many college subjects include topics that can be challenging for a Christian — whether it's radioisotopes in chemistry or evolution in biology — and Kopff readily acknowledges that the study of the Classics is no different. He has had to confront some questions that have challenged his own faith, both in the classroom and during independent research.
"They do bring up questions of faith. They do challenge you. They do make you think about it," he said. "Teaching the Bible means there are students who ask questions … and very often, good questions."
"How can anyone really believe this?" and — when examining the lives of biblical people like King David — "Should this really be a model for us?" are common questions asked in his classes.
Even so, Kopff sees more opportunities than problems. What he wants above all else is for students to take the subject seriously and examine the evidence before making up their minds.
"What I never tell them is that all reputable scholars think this or that. Because the fact is, reputable scholars sometimes think things for which the evidence isn't very good," he said. "I don't force my own beliefs on students, but I do try and make sure they understand that there are open issues and they should look at both sides of these issues. I want them to look at the evidence and make up their own minds."
Role in Campus Ministry
In addition to challenging his students to think critically inside the classroom, Kopff also takes an active role at University Lutheran Chapel (ULC), the Synod's LCMS U campus-ministry chapter at the University of Colorado, by serving as an elder.
Kopff started attending the chapel after his children left the nest. At the moment, he is the only faculty member involved with the campus ministry.
"It helps me keep in touch with students on another level other than teaching," he said. "Seeing them outside of that context teaches me things about them that I need to know and that I want to know."
"The most important things in our society go back thousands and thousands of years, whether it's democracy, science, the Bible. … We are part of a great tradition, and we ought to know it." — Dr. E. Christian Kopff
It also gives him the opportunity to engage and encourage students on issues of faith in a way that he can't do during class. Sometimes students even seek him out for guidance on personal matters because they know he is a Christian.
"It was very meaningful to me to have Professor Kopff attend the ULC with us," recent graduate Raymond Cox wrote by email. The Classics major and member of Holy Cross Lutheran Church in Highlands Ranch, Colo., took one of Kopff's classes in addition to regularly attending the campus ministry with him.
"It was also very wonderful to have him there to add this knowledge of antiquity to discussions about the day's readings," Cox continued, noting that Kopff's presence at ULC inspired him to combine his study of Greek with the Bible by following along in his Greek New Testament each week.
"LCMS college students and campus-ministry workers aren't the only ones on our nation's university campuses," said the Rev. Marcus Zill, director of LCMS Campus Ministry and LCMS U. "There are a lot of LCMS faculty and other campus personnel who are teaching in the classroom and intricately involved in campus life. They are extremely valuable to the cause not just because of the support they can give to local campus-ministry efforts, but precisely because they are on the front lines in engaging the world in the incubator of ideas."
What keeps professors like Kopff excited about engaging new students on the study of these topics year after year?
"The past really matters," he said. "This is where my beliefs certainly affect the enthusiasm and the commitment that I have to teaching."
Learn more:
---
Calling All Professors
Are you a faculty member at one of America's colleges, universities or community colleges? LCMS U wants to hear from you! The Rev. Marcus Zill, director of LCMS Campus Ministry and LCMS U, is working to establish a network of Lutherans involved in higher education.
"It is our hope to provide ways to not only encourage college faculty and staff to get involved in local campus-ministry outreach as much s possible, but also to encourage them in their vocations and connect them through LCMS U so that they can learn and grow from one another," Zill said.
Email Zill at marcus.zill@lcms.org to join the network.