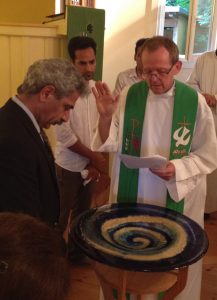 By Roger Drinnon
Ongoing violence in the Middle East has led to a mass exodus of refugees — an estimated 4 million people have been forced to leave their homes in Syria alone. Others have fled Iran, Afghanistan and other Middle Eastern countries due to persecution by militant groups like the Islamic State.
Opportunities in Germany
Hundreds of thousands of refugees are streaming into Europe, and many of these asylum-seekers are looking for sanctuary in Germany.
The Selbständige Evangelisch-Lutherische Kirche (SELK), the Synod's partner church in Germany, has been caring for refugees for some time now, and one of its congregations recently garnered international media attention for its ministry of mercy and spiritual care through the Gospel.
"We have about 860 members; more than 600 of them are former Muslims who have become Christians during the last [few] years," said the Rev. Dr. Gottfried Martens, pastor of Trinity Lutheran Church in Berlin-Steglitz.
"About 100 more people from Iran and Afghanistan are in the process of preparation in order to receive Holy Baptism during the next couple of months."
Martens said as the ministry grows, it also brings some logistical challenges, especially in providing for the physical needs of the refugees.
"We have to provide food and everything which is needed for living for asylum-seekers whose asylum process has not started yet and for those who live here in our church hall, so that they cannot be deported," he said.
Support from the U.S.
In response to the global refugee crisis, the LCMS embarked on a mercy and human-care effort, which was announced Sept. 20.
"The need is real. The opportunity is evident. The Lord's mandate is clear, 'Be merciful, even as your Father is merciful' " (Luke 6:36), said LCMS President Rev. Dr. Matthew C. Harrison. "The Gospel empowers us: 'For you know the grace of our Lord Jesus Christ, that though he was rich, yet for your sake became poor, so that you by his poverty might become rich' " (2 Cor. 8:9).
After consultation with the SELK and LCMS missionary staff in Europe, the Synod established a restricted-use fund to receive donations from those who are compelled by the situation to offer financial help and who want assurance that their donations will be used exclusively for this kind of LCMS mercy ministry and human-care effort.
"Given the magnitude and implications of these world events, we see this as a long-term body-and-soul ministry opportunity," said the Rev. John Fale, executive director of the LCMS Office of International Mission.
"Our Lord's mercy is 'blind mercy,' loving our neighbor as we serve Christians and non-Christians with the Gospel and merciful acts of love. We want to extend Christ's mercy and reach out with the comfort of the Gospel to all who are in need by enabling our SELK and other partners as best we can."
Learn more