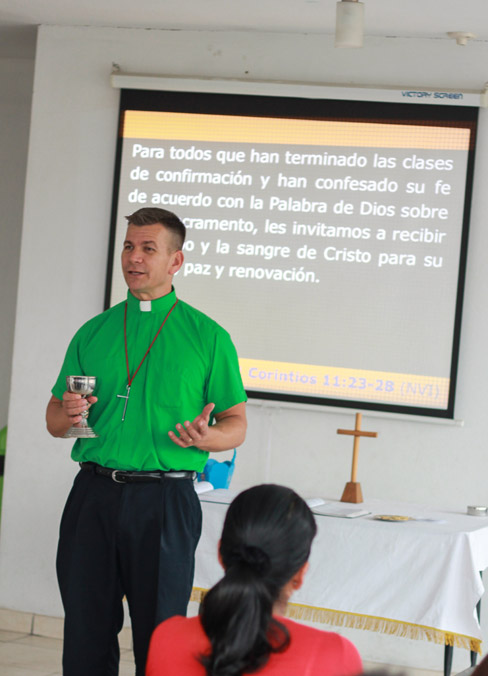 by Rev. Ted Krey
Several churches, an orphanage and a seminary constructed. Properties rented to hold church services. Schools supported. Teachers educated. Missionaries encouraged.
It is an amazing list and just one example of a partnership that has been forged in six different countries, made possible by God's grace, involving multiple Synod entities working alongside LCMS missionaries and partner church bodies abroad.
Three years ago, the LCMS South Wisconsin District partnered with LCMS missionaries in the Dominican Republic. This partnership included supporting Brian and Jeanette Keller, a couple who led and oversaw short-term mission teams from the district and across the Synod. They helped build the first Lutheran church in Santo Domingo. This mission plant later moved out of a garage into a new sanctuary. It is being served by the first Dominican Lutheran pastor, the Rev. Willy Gaspar, a graduate of Concordia Seminary in Buenos Aires, Argentina. He preaches the forgiveness of sins won by Jesus on the cross and distributes God's Word and gifts.
But there is more to this story. Gaspar was brought into the church by Walter Ries Jr., a Brazilian Lutheran pastor.
It was a multitude of partnerships, from Wisconsin to Brazil, that made this possible.
Purposeful Connection
Forums, or "foros" as they are known in Latin America, have been created to provide a platform for LCMS entities in the United States to plug into the mission of the church abroad.
Missionaries, partner churches and the LCMS as a whole greatly benefit from this purposeful connection that supports the preaching of the Gospel.
"It is such a blessing to have our home churches and districts sit at the same table with us and assist us in coordinating and supporting our work and caring for us," says Deaconess Katie Ziegler, an LCMS missionary serving in the Dominican Republic.
LCMS missionaries directly benefit from the variety of people, groups and institutions that come alongside them. These brothers and sisters in Christ strengthen and care for our missionaries in their preaching of repentance, Jesus and the forgiveness of sins that is ours by faith in Him.
While there are many ways in which districts, congregations and LCMS Recognized Service Organizations (RSO) collaborate for the sake of supporting the mission of the church, one of the ways these many entities are brought together is in forums, created for the sake of planting churches.
Preaching the Gospel is the means by which our Lord brings hardened hearts to repentance and faith in Him. Supporting this preaching and teaching by missionaries or partner churches is a critical task. These partnerships come together to assist in bringing human and financial resources behind missionaries and partner churches in their proclamation of our Lord.
Forum Mechanics
Forums work like this:
A strategic plan for church planting is written by LCMS missionaries or partner church body.
Forum members meet with missionaries and local partners on location, where the work is taking place.

Day 1: Project reports are presented. Partners and potential partners engage and learn more.

Day 2: Worship and tour of mission sites and projects occur.

Day 3: Major partners oversee strategy meeting with missionaries and/or the partner church body to hold them accountable to the plan.

The strategy is reviewed, future forums are planned and new partners are sought.
These partnerships seek support from partner churches, LCMS auxiliaries, districts, congregations and individuals.
Forums at Work
At this time, seven LCMS districts are currently committed or are contemplating commitment to work in six Latin American and Caribbean countries.
In the Dominican Republic, the English District plays an important role in the partnership, as do the 15-plus LCMS day schools that support the work of the Lutheran school teachers in the country. Individual LCMS members also provide short-term service in their vocations as musicians, physical therapists, professors and pastors. This has directly contributed to the life of the church by filling in where needs were identified by missionaries.
The forum in Uruguay involves four Lutheran church bodies: the national Lutheran church in Uruguay, the Evangelical Lutheran Church of Brazil — as well as the Lutheran Hour Ministries center in Brazil – Concordia Seminary in Argentina and the LCMS.
This is a work that can only be done and is being done together as the una sancta, the one, holy Christian Church!
In Peru, 15 LCMS congregations support the work in sending short-term teams year after year and have established long-term relationships in the country. The Central Illinois, Southeastern and North Wisconsin districts also are at the table in Peru, providing support and dollars that are helping expand church plants.
Lutheran Hour Ministries, an auxiliary of the LCMS, has the distinction of being the only partner that works alongside the LCMS in every one of the six existing Latin American forums.
The LCMS' other auxiliary, the Lutheran Women's Missionary League, has been active both in Peru, collaborating with mercy work, and in the Dominican Republic, where it has funded the construction of a group home for children with disabilities.
Bethesda Lutheran Communities' out-going Executive Vice-President Dr. Jack Preus speaks of the benefit to Bethesda as an RSO of Synod in being a long-standing member of the foros.
"Bethesda has been immeasurably blessed through its participation in the foro in the Dominican Republic," he says. "It has enabled us to work alongside our missionary team to plant churches and enhance the lives of people with intellectual and developmental disabilities there, which in turn has revitalized our work back home."
Blake Warren, a member of Faith Community Lutheran Church in Las Vegas, speaks of his enthusiasm: "The foros have offered an opportunity to meet and build friendships that have a lasting impact, which have lit an internal fire to become more involved in supporting the team in any way possible."
He and his wife, Liz, are considering full-time mission work in Latin America.
New forums are being forged, and many opportunities still exist to partner with missionaries and church partners in Latin America.
LCMS regional directors from around the world visited the forum in the Dominican Republic in October 2014. They are now contemplating the types of partnerships that might work in their regions.
Please consider yourself invited to one of our next forums or even new to a new one. Together, your Synod, your missionaries and your partner churches seek to make known His Name to an ever greater circle of people, tribes and tongues through the preaching of His Word and the giving of His gifts.
The Rev. Ted Krey is LCMS regional director of Latin America and the Caribbean.
Watch a video: lcms.org/video/foro
Learn about the region: lcms.org/latinamerica
Follow the work: facebook.com/LCMSLAC
Won't you join hands with us?
To learn about forums, or "foros," contact the Rev. Ted Krey at ted.krey@lcms.org
Forums planned for 2015:
Belize: March 6 or 13 (still to be determined), Oct. 24-25
Chile: May 18–20, Dec. 6-8
Dominican Republic: Feb. 27-March 2, Oct. 9-12
Peru: May 16-19, Dec. 4-6
Spain: March 6-8, June 5-7
Uruguay: March 26-29, Sept. 3-6