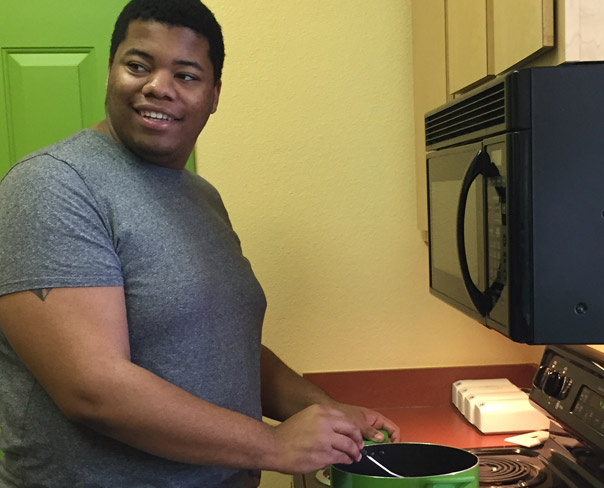 by Megan K. Mertz
Every year, some 1,300 young people in foster care turn 18 and "age out" of the system in Texas. At this time, they usually have to leave their foster home and strike out on their own. But without a support system, these young people struggle to become self-sufficient and often end up homeless, in jail or sleeping on friends' couches.
In the summer of 2013, Michael became one of this number. The young man, whose last name is being withheld to protect his privacy, entered foster care at age 8 and spent the next 10 years bouncing between nearly 15 foster homes and residential centers.
After graduating from high school — a feat only 50 percent of youth in foster care accomplish — he went to college. But after two difficult semesters, Michael moved back to Austin, Texas, where he lived out of his car and worked at a fast-food restaurant. Every evening, he either moved between his friends' houses or slept in his car.
That's when Michael heard about the BeREAL Supervised Independent Living program, which helps 18- to 22-year-olds transition from foster care to adult life. Lutheran Social Services of the South (LSSS), a Recognized Service Organization (RSO) of the LCMS, started the program in September 2014 in response to a growing need in the community.
BeREAL provides each resident with a fully furnished apartment and a stipend for utilities and groceries. A case worker helps residents set and work toward short- and long-term goals. Residents are required to work, attend college or do a combination of the two.
The program currently has eight residents, including Michael, although Program Director Sarah Crocker said they plan to add about 12 more in the next few months.
This summer, Crocker also hopes to begin a mentorship component that will pair volunteers from Redeemer Lutheran Church in Austin with BeREAL residents. Mentors will meet regularly with residents to provide support and guidance in navigating everyday situations, such as riding public transportation, getting a driver's license or opening a bank account.
Crocker said she saw the great need for transitional services like this while working as a social worker in prisons. She was struck by the fact that nearly 90 percent of the inmates she worked with had been in foster care.
"It makes sense to stop that cycle before it starts," she said. "We provide support, hope and guidance before young people enter these lifelong systems. This is the first program of its type in Austin; there's no one else doing what we're doing."
In 2014, the LCMS gave the BeREAL program a $30,000 grant. The program currently relies on grants like this, although LSSS staff members hope to make the program self-supporting in a few years.
BeREAL also has formed an important partnership with a company that owns several apartment complexes in the area. The company is lenient with the application requirements for BeREAL residents and gives the program a substantial discount on rent.
The program offers "an opportunity to truly serve the least of these, and it provides the residents with the opportunity to hear the Gospel of Jesus Christ," said Dr. Kurt Senske, LSSS president and chief executive officer. "By working with these students day in and day out, there are numerous opportunities to witness through example and by our words.
"We're not only providing the earthly hope of a productive life, but also the eternal hope that only our Lord and Savior can provide," Senske continued.
For Michael, the program has been life changing. He now attends a local college, and he hopes one day to attend law school. Upon graduation, he will join the 2 percent of young people in foster care to graduate from college.
"This program is probably the biggest blessing I could've ever received," Michael said. "My goal for the future is to continue in school as planned, and this program gives me the amazing opportunity to save up some money … . I feel like my future is pretty bright."
Megan K. Mertz is managing editor of Lutherans Engage the World and a staff writer for LCMS Communications.