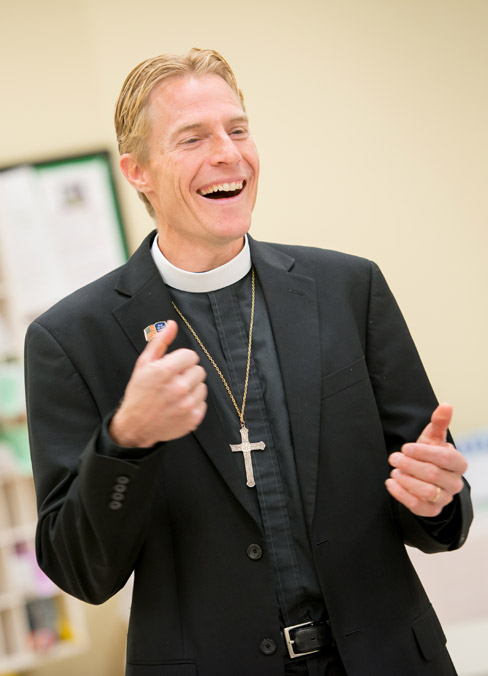 by Megan K. Mertz
Pray. Examine the demographics. Find a core group of supporters. Secure a place to meet. Plan outreach. Invite the community in.
These are the basic steps to planting a new congregation — something the North Atlanta Circuit of the LCMS Florida-Georgia District knows a thing or two about.
In the last five years, the circuit has planted about a dozen new mission starts. It also has raised up a number of men for the pastoral ministry, including five Koreans who will work on planting their own Korean Lutheran congregations as soon as they finish their studies.
In 2012, nine congregations of the circuit came together to form the Kairos Network, a church-planting group from the confessional Lutheran perspective. The name comes from Paul's words in 2 Cor. 6:2: "Behold, now is the favorable time [Greek: kairos]; behold, now is the day of salvation."
In the Community
Living Faith Lutheran Church in Cumming, Ga., and its pastor, the Rev. Timothy Droegemueller, have been a "spark plug" in this church-planting effort, according to the Rev. Douglas Kallesen, district mission executive.
When Droegemueller came to Living Faith in 2006, the congregation — a mission start planted four years earlier — was on the verge of closing.
But all that turned around. The congregation outgrew two different locations and built a new building, which was dedicated in October 2014. It also began hosting Living Faith Korean Lutheran Church, a Korean mission led by Pastor Chang Soo Kim.
Kim organizes job-training classes to help Korean immigrants find jobs after coming to the United States. The mission offers classes on sewing, computer skills, English grammar and conversation, and medical billing and coding. So far, 27 graduates of the medical billing and coding program have found jobs in local hospitals.
"Christ has completed all things on our behalf … There is no reason for us to sit back and keep this to ourselves. It's time to proclaim the Gospel." — The Rev. Timothy Droegemueller
"We don't refuse anyone who wishes to attend these classes," Kim said by email. "Many of the people who attend these classes have also joined our church."
Kim also teaches weekly Bible and catechism classes. One of his goals is to address "misperceptions" within the Korean community about the Lutheran denomination, which is not well-known in South Korea where most of the immigrants once lived.
Through these outreach programs, Living Faith's Korean mission has grown from just six members to more than 35.
Kim also has recruited five Korean pastors to go through the colloquy process to become LCMS pastors. One is preparing to start a Korean-language outreach to abuse victims in Georgia, while a second pastor is working to start the first Korean LCMS church in Dallas.
"Many times, our plans and our ideas fall to bits, but we rejoice because we know that the Lord will continue to work," Droegemueller said. "It all starts with trust in the Word alone to do what it says. Life keeps spilling out from the font and altar, and we just keep going out."
In Neighboring Communities
In the past few years, Living Faith has planted two daughter congregations of its own nearby: St. John the Apostle Lutheran Church in Buford and St. Peter Lutheran Church in Dahlonega. Droegemueller also served as the field-work supervisor for the Rev. Aaron Reinking, a 2012 graduate of the Specific Ministry Pastor program at Concordia Theological Seminary, Fort Wayne, Ind., who now oversees Christ the King Lutheran Church in the nearby town of Commerce.
Christ the King — which currently meets in a rented space in a strip mall — is a plant of two congregations in Athens, Ga., and it's one of six mission starts supported by the Kairos Network.
Reinking admits that planting a new church is hard work. He had to find a place to meet, negotiate the rent and acquire Bibles, hymnals, an altar, even chairs — all the things an established congregation takes for granted. He even works as a teacher during the week to make ends meet.
But he does it all because he believes that "people need churches in their own communities," a concept he observed firsthand as a field worker at Living Faith.
"We are a congregation of mission," Reinking said. "We're not about protecting our turf. We want this church to grow and become self-sustaining. But then we're going to look into other areas because we want to establish other congregations so more people can hear the Gospel."
On the National Level
To assist this church-planting effort, the LCMS gave a $7,000 grant to the Kairos Network to help new church plants in the area. The grant will provide $1,000 each for seven new church plants.
"The grant showed such great trust," Droegemueller said. "It gives people the little bit of help they need for Bibles or hymnals or catechisms or a place to rent to start work in a new community."
Kallesen's goal for these mission starts is to see them become full-fledged, chartered LCMS congregations.
He looks for a certain set of benchmarks when evaluating whether the time is right for a mission start to become a chartered congregation: the mission start is fully functioning in its capacity to conduct worship, provide the Word of God through education, provide fellowship opportunities and carry out witness to the community and demonstrate the ability to become self-sufficient in the future.
"It's a circuit-district project, but the circuit is helping to do the real heavy lifting," Kallesen said.
Through the Kairos Network, the congregations of the circuit were rallied to provide more support than would otherwise be possible from one congregation acting alone.
"The network is vital because it just won't allow us to leave the mission of our Lord Jesus Christ alone. It also keeps reinforcing for us the very things that people in this world actually need, like life in God's holy Word, Baptism, Absolution, the Lord's Supper and the preaching of the cross," Droegemueller said.
"When we realize the biblical treasures that should be poured out on all Christians, we can't help but move out. The network also puts us in a regular habit of considering how to reach new areas and communities."
In addition to his work with the circuit, Droegemueller is involved in the Synod's new church-planting initiative. He is part of a group working to create resources to share with members of the Synod, and he will participate in an upcoming roundtable event on church planting.
"Christ has completed all things on our behalf," Droegemueller said. "There's nothing we can lose. We've got our identity in Baptism. Our sins are forgiven. We're at the Lord's table. There is no reason for us to sit back and keep this to ourselves. It's time to proclaim the Gospel."
View the photo gallery: photo.lcms.org
Megan K. Mertz is a staff writer for LCMS Communications.