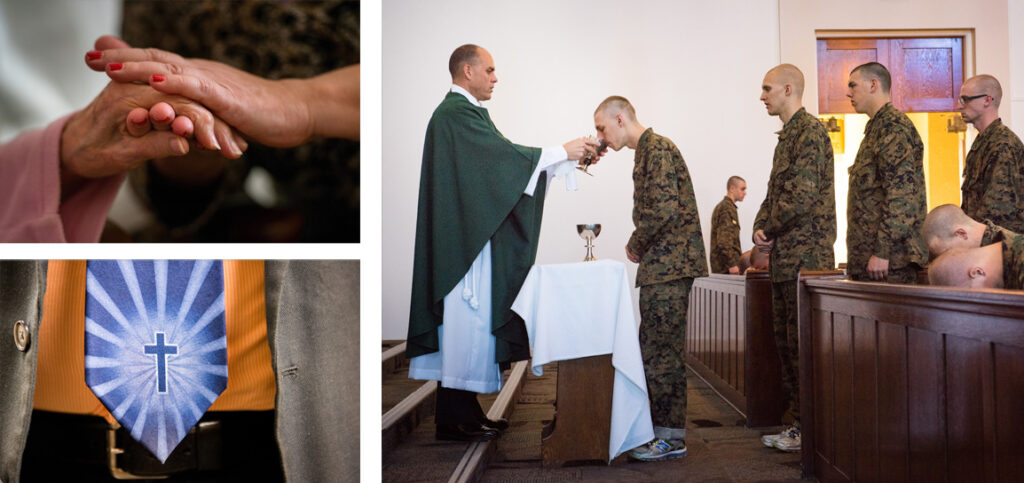 by Roger Drinnon
Picture the injured soldier, the terminally ill patient or the accident victim struggling with imminent death and reflecting on life's sins, wondering if God will forgive. Then imagine a chaplain delivering the comforting message of the Lord's forgiveness during life's most challenging moments of fear and despair.
As LCMS Ministry to the Armed Forces (MAF) chaplains provide spiritual care for our men and women serving in the military, the Synod's Specialized Pastoral Ministry (SPM) chaplains also minister to those with specific needs: the sick, the imprisoned, the aging, the troubled, the conflicted and the isolated.
"Our LCMS chaplains serve wherever their flock is. That includes places like Afghanistan, Belgium, Djibouti, Guam, Kuwait, Okinawa, Spain, hospitals and 'Wounded Warrior' units," said Chaplain Craig Muehler, the Synod's MAF director. "Our chaplains are in every clime, living with the people they serve. They are making differences in the lives of their people by offering them the comfort of the Gospel of Jesus Christ in combat, in suffering, in loneliness and in their life challenges."
Muehler said amid the rigors of military service, including recurring deployments to dangerous combat environments in the Middle East and elsewhere, chaplains often are the only resource service members have for confidential counseling and for hearing "the life-changing Good News of Jesus Christ to assist them in their life's struggles."
"One will never truly know how many of our service members were saved from suicide, divorce, assault or moral injuries because they were able to receive confidential pastoral care from their chaplain," said Muehler, a recently retired U.S. Navy captain who previously served at the Pentagon as deputy chaplain of the Marine Corps.
Like MAF chaplains, SPM chaplains minister to people in particular life situations where the need is great.
"There are four general areas of SPM. One is institutional chaplaincy in settings like prisons, hospitals, nursing homes, hospice and mental-health agencies," said the Rev. Joel Hempel, interim director of SPM. "Secondly, there are emergency-services chaplains — mostly fire and law-enforcement chaplains. A third group includes pastoral counselors — these are part-time or full-time ministers who have received additional post-seminary training to work in a pastoral counseling center or in a parish. The fourth area is clinical pastoral education. There are only a handful of these colleagues still active. They teach pastoral care and counseling to those who want to become chaplains or who want to become increasingly competent in pastoral care to enhance their parish ministry."
Hempel said contexts for SPM chaplains also include centers for those recovering from substance abuse, managing developmental disabilities and hospice services.
"SPM chaplains have unique opportunities to reach out to people with the Gospel," he continued.
"For example, if you're in hospice ministry, you're visiting with people who are dying, talking with family members, listening for any kind of spiritual or emotional brokenness or maybe the need for reconciliation with a loved one," Hempel said. "Carefully and respectfully, you attend to the pain, which unsurprisingly often leads to unresolved issues in their relationship with God. Others are more immediately open in expressing their struggle with guilt or anxiety about life after death. Opportunities often present themselves for people to confess their sins and receive God's merciful forgiveness through Christ."
"Hospital ministry gives us a chance to make contacts with everyone," said the Rev. Doug Nicely, chaplain at Memorial Hospital in Belleville, Ill. "[SPM] chaplains get 'called out' more often than not when there are serious problems with patients and their families."
Nicely said prayer with families, especially after the death of a loved one, is an important part of his ministry.
"It is an honor to serve our Lord and to pray with almost everyone I meet," he said.
Hempel said as institutional chaplains often operate amid the challenges of pluralistic and ecumenical settings, it solidifies their Lutheran identity by helping chaplains define both who they are and who they are not, while teaching them how to reach people who are outside of the LCMS, including people of other faiths as well as those who are non-religious or even anti-religious.
"If you go into this ministry, you have to have the personality and the aptitude to function (as a Lutheran) in a non-congregational, multicultural setting," he said. "You have to like a challenge, need minimal affirmation, want to be with people when they are most vulnerable and hurting, and love seeing the Spirit of Christ at work!"
As Christian military members face restrictions in their freedom to exercise their faith in an increasingly secularized military, Muehler said LCMS chaplains remain dedicated to the Word of God.
"Our LCMS chaplains continue to be the salt of the earth in these challenging times. They remain faithful, because they are men of integrity who take their ordination vows seriously," he said. "They boldly proclaim the Gospel of Jesus Christ to those entrusted to their care. They work within the military by cooperating without compromising their Lutheran Confessions or their conscience."
View photo gallery: Ministry to the Armed Forces
View photo gallery: Specialized Pastoral Ministry

Print page