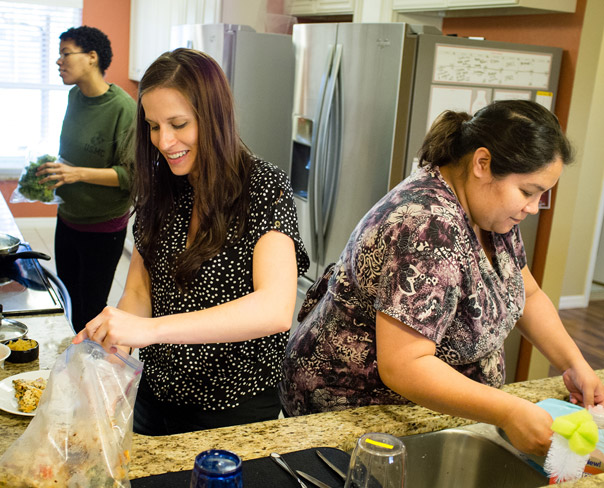 by Megan K. Mertz
In August 2014, Lillian was pregnant, alone and on the verge of homelessness. When she was fired from one of her two jobs because of the pregnancy, she didn't know how she was going to make ends meet for herself and her unborn son, due in late March.
In desperation, the young woman, whose last name is being withheld to protect her privacy, went to a local crisis pregnancy center, which referred her to Redeeming Life Maternity Home in Sanford, Fla.
Now, just a few months after moving into the maternity home, Lillian said she has undergone a total "transformation."
Redeeming Life's Resident Director Rachel Woolery helped her set goals, seek counseling and successfully appeal for reinstatement in her undergraduate-degree program, from which she had been forced to drop out. Now Lillian is looking forward to her college graduation in December.
Lillian is one of 13 women in the midst of crisis pregnancies who have lived at Redeeming Life since it opened in November 2013. The home currently has four adult residents and one baby, with three more babies due this spring.
The home provides a respite from the world — a safe place where residents can reflect on who they want to be, learn important life skills and work toward goals for the future.
Each week, Woolery meets one-on-one with the residents. During their stay, residents learn about time management, parenting and financial literacy. They also receive regular prenatal care and are expected to work or volunteer, if they aren't yet able to get a job.
Some of the residents come from abusive homes, Woolery said, so it's important for Redeeming Life to model a healthy family environment. Every evening, she and the residents gather together to cook dinner, keep the house clean and have a Christ-centered devotion.
"It's a very intense and personal ministry," Woolery said. "When you say you are going to be their family, you've got to meet them where they are."
Woolery and Sheryl DeWitt, Redeeming Life's executive director, also encourage the residents to attend the adult instruction class at the Lutheran Church of the Redeemer, which is just across the street from the home.
For Lillian, the class helped her understand principles of the Christian faith and make friends at the church. This past December, she was confirmed and became a member of the congregation.
"It's the very first time that I've become a member of a church," she said, calling the love she has received at both the home and the church "life-changing."
Lillian also is proud to report that while living at the maternity home, she's been able to save money to provide a financial safety net in case of emergency.
"I feel like I'm a different person. I'm a lot more capable, I believe in myself, I have stronger faith," she said. "I still have moments of anxiety, but I know that things are going to work out for us."
Despite the daily ups and downs of the ministry, Woolery and DeWitt find encouragement in the small things: sonogram photos, news of a resident's unexpected debt relief and the many other ways God is working in their lives every day.
"There are days when it's overwhelming," DeWitt said. "But we're growing, we're learning, we're loving these women the very best we can, and we're trying to honestly reflect the love that Christ has showered upon us."
Learn more:
• Read about Redeeming Life's founding: reporter.lcms.org/2013/planting-seeds-of-life
• View the photo gallery: photo.lcms.org
• Visit Redeeming Life's website: rlom.org
Megan K. Mertz is managing editor of Lutherans Engage the World and a staff writer for LCMS Communications.