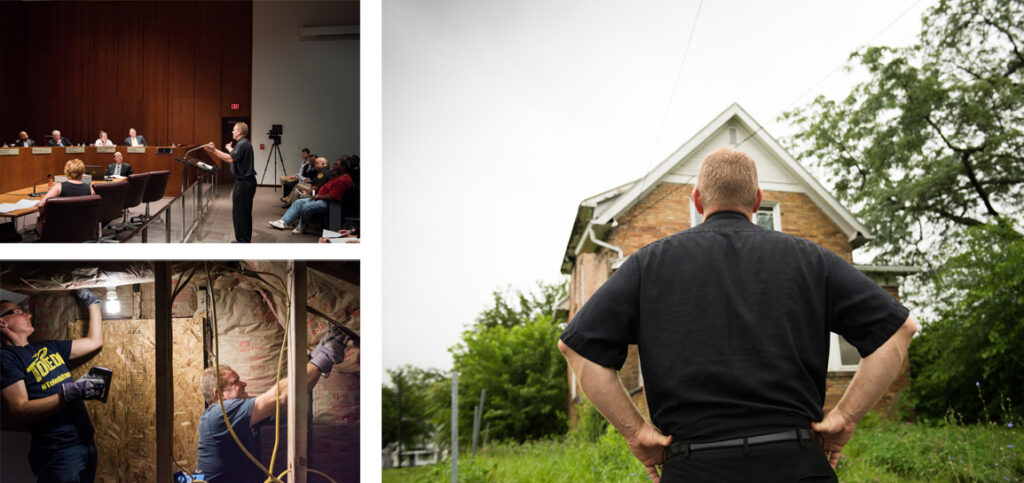 by Erik M. Lunsford
The Rev. Peter M. Burfeind, pastor of Holy Cross Lutheran Church in Toledo, Ohio, and campus pastor at the University of Toledo, counted the days until the end. His congregation was almost out of money. They were worshiping on the university campus and living off the proceeds of the sale of their church building from 10 years ago. Burfeind needed a lifeboat, and he needed one fast.
On a Friday this past March, a Toyota dealership offered him a job selling cars. Maybe this was the way out, he thought, a curtain coming down after years of being a parish pastor. Burfeind asked the dealership for a few days to make his decision.
Two days later, on Sunday, former LCMS English District Bishop Rev. Dr. David Stechholz was visiting Good Shepherd Lutheran Church in Toledo, where Holy Cross members attend when Burfeind has weekend duty as an Army Reserve chaplain. After church, the bishop visited with a handful of Holy Cross members, and they alerted him to the urgency of their situation.
Burfeind's oldest son — he has three sons and two daughters ranging in age from five weeks to 17 years — made an impassioned plea for the bishop to visit the ministry. Another member handed him a newsletter showcasing the ministry's inner-city work.
The bishop became convinced this was a congregation fit for renewal, but the clock was ticking.
Seeing a perfect opportunity for the Synod's new church-planting initiative to work, the bishop contacted the Rev. Bart Day, executive director of the LCMS Office of National Mission, and the Rev. Steve Schave, director of LCMS Urban & Inner-City Mission and LCMS Church Planting.
The Hand of God at Work
Day and Schave suggested that Burfeind participate in a new domestic-missionary pilot project, one combining inner-city work with campus ministry.
"For the last two years," Burfeind said, "the problem was I didn't know I was going to be here. My eyes were set elsewhere. Now I can finally focus. As a domestic missionary, I can focus on ministry."
Burfeind currently works in three ministry areas. As campus pastor, he's engaging students to join the campus ministry through projects like Engineers in Christ, which pairs students with inner-city and regional service projects requiring technical skills. This spring, they built an access ramp for an elderly homeowner in Appalachia. He loves LCMS U, which connects and supports Lutheran students in college. He also witnesses to international students in their hunger for spiritual education. His second ministry is related: He witnesses to international students in their hunger for spiritual education.
Photo gallery: Domestic missionary Rev. Burfeind
Third, Burfeind uses Bible studies and training events to link ROTC members and military veterans to a chapter of Operation Barnabas —the Synod's network of care to the nation's military members, families and veterans.
The fourth ministry fits like a puzzle piece in the community as it looks to help revitalize inner-city neighborhoods through community partnerships and future internship opportunities for college students.
Schave, a vocal proponent for urban and inner-city ministry and the necessity of planting new missions, said there is a critical need for missionaries in domestic inner-city mission fields.
"There can be no doubt that the major cities of the United States are some of the greatest mission fields on the planet," he said. "We expect our churches in the margins to feed the hungry, clothe the naked, give shelter to the homeless. But quite often, our churches are starving and feel left out in the cold."
On a cloudy day in July, Burfeind visited the Junction community in Toledo with community advocate Alicia Smith. They walked together, surveying vacant homes for a potential new church building. The neighborhood is a mix of businesses and residences on the margins of the city. In several houses, Burfeind navigated between piles of trash and moldy furniture. He sees possibilities everywhere, whether it's the foundations of a building or a future ministry idea.
The LCMS Office of National Mission continues to develop pilot projects that benefit pastors like Burfeind, while also enabling witness and mercy work to take place in some of the U.S.'s most difficult situations.
"We have an opportunity," Schave said, "to support international mission work in our backyards, to care for the least and to bring Christ to places that are literally groaning for the Gospel."
In the meantime, Burfeind, who hopes to become the first network-supported domestic missionary, will start fundraising. He plans to visit different churches in search of awareness and donors, and he calls the cooperation between the field and the Synod "extremely encouraging and supporting."
It's a radical departure from being a parish pastor, but it's a new adventure.
"Everything I'm doing here, I love it. I love inner-city work, I love campus ministry; it's everything I love doing all rolled into one," he said.
Reflecting on a day that involved community surveying, speaking at a county planning commission meeting and repairing a young mother's inner-city home, Burfeind knows the importance of working in the domestic mission field.
"We need to be here," he said.
View the photo gallery: lcms.org/photo/burfeind
Erik M. Lunsford is the staff photojournalist and a staff writer for LCMS Communications.