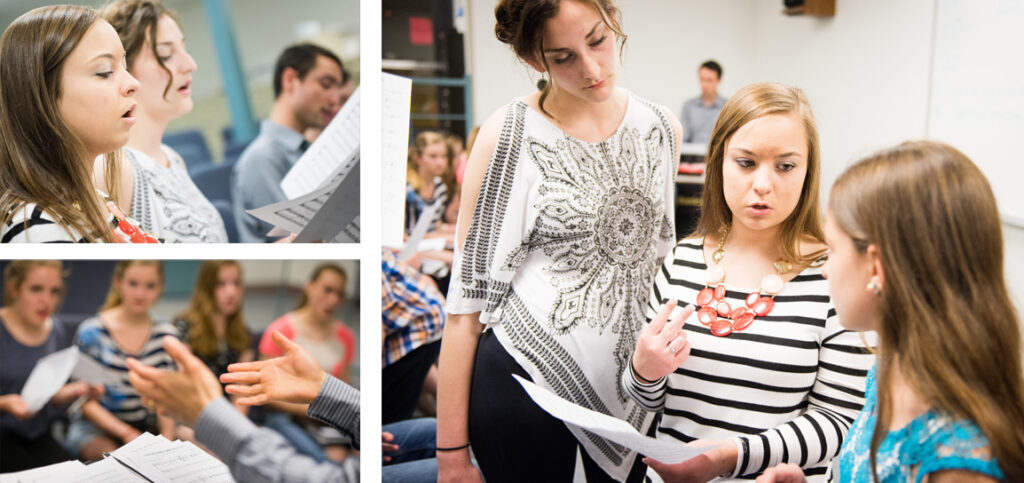 by Adriane Heins
Lizzie Meyers and church music go together like chorales and choirs. Or orchestras and overtures. Or maybe even metronomes and melodies.
The 2015 graduate of Neuqua Valley High School, Naperville, Ill., and member of Trinity Lutheran Church, Lisle, Ill., not only loves notes, interludes and song, but she loves the distinctive way that music can bear witness to Christ both to those of and outside of the faith, bridging "the gaps between people, whether that be an age gap, distance gap or otherwise," she explains. "Working together for a common goal of glorifying God through music is such a beautiful experience to be a part of as well as to witness!"
Starting Young
Meyers grew to love music thanks in large part to her church's director of worship, Jim Marriott, who started a youth choir — named Evangelii — by "walking around to confirmation classes, offering kids chocolate in exchange for us showing up 30 minutes early each week to sing in a choir," she recalls.
The first week, only four seventh-graders participated. But over time, "more kids joined and our age range grew.
"Lizzie sings not only with her voice, but with her heart, soul, mind and strength. Her entire existence is one big song of praise in response to God's grace and love." — Jim Marriott, director of worship at Trinity Lutheran Church, Lisle, Ill.
"There was a lot of time when we did not sound the best, sang very simple music and were just an average children's choir," Meyers admits. "Through the friendships built in the group, however, the choir became a safe haven, a fun place and a spiritual home for now 30 people, ranging in age from fifth through 12th grade."
Those relationships, built through practice and song, have already borne fruit. "Our older students are such models of patience and God's love as they engage in relationships with the younger kids, whether it be mentoring them musically or simply being a friend," she explains. And the younger students "continually impress us with their maturity and hard work as they learn difficult music and also think about very real ways to use their faith in this world."
Six years later, this choir of 30 students tours annually, sings at nursing homes, has started a chamber choir and leads workshops to assist "smaller churches either without a current program or lacking in funding to begin their own choirs or at least give kids in other communities a taste of choral worship," Meyers notes. The group even sang at the 2013 LCMS National Youth Gathering in San Antonio.
Student (and Servant) Leader
Meyers' own involvement has grown right along with the choir. She now serves Trinity as the executive director of Evangelii, the choir that gave her her start. "Never have I been more in my element than when I am leading this inspiring group of people toward praising our God through music and being His witness to others in the world," she says.
She also works as the part-time worship publications specialist for the church's traditional worship site. But although Meyers is now a leader herself, she's quick to note that it's due to the care shown to her by those around her.
"In thinking about what makes our choir different, I think about the way that Jim [Marriott] leads. He humbly gave up much of his leadership to a 15-year-old girl … while also spending a lot of time to mentor me into the position," she notes. "I love this leadership because it does not ask much of students but really draws out natural, God-given abilities and puts them to use in the church," reminding adults and youth alike that "the cycle of leadership is alive and well because it is not based upon any one person but on … God's plan for His use of our choir."
Marriott wouldn't have it any other way. "In her time of ministry as the executive director of Evangelii, Lizzie has demonstrated a Spirit-inspired gift for leadership," he says. "She humbly and graciously approaches leadership in a manner that prioritizes relationships, fosters buy-in and visions a group of people toward a common goal."
Simply put, "Lizzie gets what leadership is all about," Marriott explains. "As a musician, Lizzie knows and demonstrates the joy of sharing the Gospel through music. Lizzie sings not only with her voice but with her heart, soul, mind and strength. Her entire existence is one big song of praise in response to God's grace and love."
Growth in the Faith
That's why, whether leading Evangelii or helping prepare materials for Sunday morning, Meyers continues to love the way in which the music and those singing it point people again and again to Jesus. "Though the numerical growth [of Evangelii] is incredible," she says, "the spiritual growth is absolutely astounding.
"Each week, we see a community of youth praising God through music and strengthening their faith in this way. I have seen so many choir members take their beliefs and ask healthy questions and desire to know more … all because of the way music affects their relationship with Christ."
Adriane Heins is managing editor of The Lutheran Witness and editor of Catechetical Information for LCMS Communications.
What People Don't Know About Church Musicians
People may not know that church musicians, in all of my experiences with them, have proven to be incredibly humble people. Most musicians receive applause and lots of credit for their work. Church musicians, however, give all glory to God. The other thing that people may not know about us is how welcoming we are. Churches are always looking for more to join the choir, the bell choir, or start a children's choir with the song "Jesus Loves Me." Our voices and instruments are gifts from God that we get to use to make a joyful noise! We would love to welcome even more people into that form of worship. — Lizzie Meyers