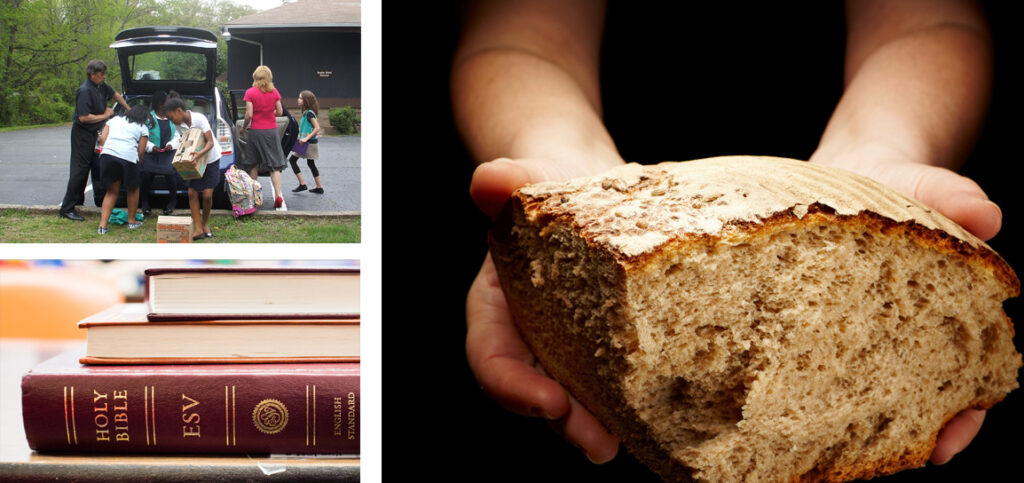 by Melanie Ave
Concordia Lutheran Church in Triangle, Va., has a small and largely aging population. It's located in a poor neighborhood in one of this country's richest counties.
On any given Sunday, about 35 people can be found in worship.
In 2005, the congregation prayed for God's guidance on how to serve the community. What grew from those prayers was the Concordia Food Ministry, which now provides food and clothing to about 100 families once a week.
It's a big ministry by a small congregation.
"We shouldn't be able to sustain," said Pastor John McElvain. "We haven't, actually. God's done it. He provides. It's amazing. I always say it's the five loaves and two fish, and we get to see it every week.
"Somehow, He makes it happen. I just get to watch it and go, 'Wow.'"
Church volunteers bag food at 4:30 p.m. Wednesdays. At 5:30 p.m., the church holds a weekly devotion service of the Word before the food distribution, which occurs from 6-7 p.m. Each family that shows up receives four bags of groceries. Tucked inside is a colorful card with a Scripture passage and the sermon text for the week.
"We're food for the body and food for the soul." — Pastor John McElvain, Concordia Food Ministry, Triangle, Va.
In addition to food and clothing, the ministry also provides Bibles, materials from Lutheran Hour Ministries and Concordia Publishing House's "Portals of Prayers."
The ministry receives prayer requests weekly.
The ministry's goal is to clearly proclaim the name of Christ and reach out with care for His people, McElvain said. Ministry leaders and volunteers try to foster relationships with the families that come each week and steer them to understand that all they receive is from the bounty of God's open hand.
The ministry doesn't require any special screening or income guidelines for families to participate.
"To be in need can be a somewhat humiliating experience," McElvain said. "We don't question. It's just God's blessing that we distribute. We're just serving to meet people's needs and reaching them with the Gospel."
On a Wednesday in mid-November, 57 people attended the pre-distribution service and 153 families — representing 457 individuals — received groceries.
"We're food for the body and food for the soul," McElvain said.
The food ministry has many partners.
Concordia Food Ministry works with the Capital Area Food Bank, and a local grocery store supplies the pantry with baked goods and produce. Another organization, New Hope Housing, also gives the ministry baked goods periodically. Thrivent Financial provided the ministry with funds from the "Care Abounds in Communities" program. Other congregations in the circuit collect food and clothing and to donate it to the ministry. Concordia Lutheran Church members collect food, clothing and have special offerings to support the ministry.
In 2014, the LCMS awarded the ministry $16,200 in grants.
"Concordia Food Ministry is designed in such a way that it is really more than a service of only providing nutritious food to people who are in real need in the midst of hunger," said the Rev. John Fale, associate executive director of LCMS Mercy Operations. "They are also providing opportunities to feed their souls with the Bread of Life through worship, pastoral care and Bibles."
Learn more:
• concordialutheranva.org
• facebook.com/concordiafoodministry
Melanie Ave is a staff writer and the social media coordinator for LCMS Communications.