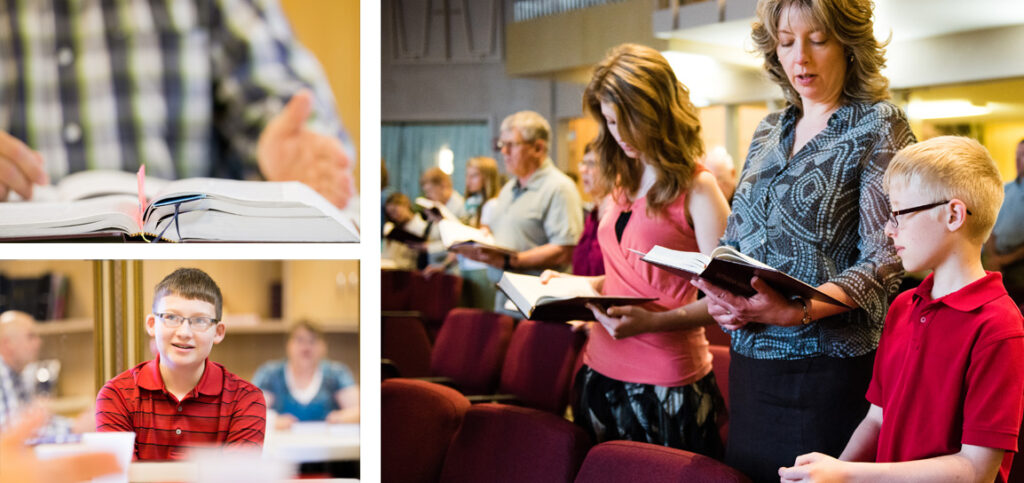 by Roger Drinnon and Mark Blanke
As we look for better ways to teach the Gospel and the Lutheran Confessions to adults and children alike, it's no surprise to find the Bible helps.
Jesus was THE master teacher. He was often referred to as "rabbi," which means "teacher." We have more stories of Jesus teaching than we do of Him preaching. He asked probing questions that were focused on the life of the learner. He used words and stories that His learners could relate to and understand. He often didn't give answers. Instead, He posed questions or told parables that often left His disciples asking more questions. His process of preparing His disciples was made up of many "service opportunities" and life experiences. He welcomed children to be with the crowd as He taught.
Note how the focus is always on the learner, not the teacher, to instill a deeper level of understanding of the Word. Modern educational methods are beginning to echo this type of teaching method for adults and youth.
Luther and Education
Martin Luther also elevated the importance of education and used many effective educational strategies. The Small Catechism initially was published as posters that could be hung in a church to help educate people visually. He recommended the use of language that could be understood by the learners. He recommended a standard format for what was to be taught, and he planned for an educational process that was built on prior learning.
Luther saw education as intimately connected to the church, helping the saved to live out their vocations. With the use of the Small and Large Catechisms, Luther sought to develop what we would now call a "scope and sequence" for education in the church — using goals and objectives to prioritize learning. Regarding his support and encouragement for education in the church, part of Luther's preface to the Small Catechism should provide a good understanding on the importance he placed on education in the church:
But those who are unwilling to learn the catechism should be told that they deny Christ and are not Christians. They should not be admitted to the Sacrament, accepted as sponsors at Baptism, or practice any part of Christian freedom. They should simply be turned back to the pope and his officials, indeed, to the devil himself [1 Corinthians 5:5]. Furthermore, their parents and employers should refuse them food and drink, and notify them that the prince will drive such rude people from the country. ("Luther's Preface" from Luther's Small Catechism with Explanation, Pages 248-249)
The line between pedagogy (child teaching) and andragogy (adult teaching) is now blurred, as younger people have the aptitude and appreciation for higher learning methods previously reserved only for grown-ups. However, this makes youth education evermore challenging.
Confirmation, Not Graduation
One parish re-examined its youth confirmation classes upon the realization that after Confirmation Day, youth also were "graduating" from the church — clearly not the intent of confirmation.
"After many years celebrating the Rite of Confirmation, we found that while we had the pictures of our youth on our wall with their confirmation gowns, the vast majority had simply graduated from church," said the Rev. Kenton Birtell, pastor at Mount Calvary Lutheran Church in Holdrege, Neb. "Something needed to change, so we started over. We wanted our youth to live out the promises they made in their confirmation."
Parental Involvement Essential
Birtell said changes were made based on well-defined learning objectives, the need to look beyond confirmation and the realization that parental education and involvement were essential to success. He said relationships among the youth also were essential to youth learning and supporting one another.
Teaching methods at his parish include repetition, incremental learning, multimedia classes, discussions and placing some responsibility for learning on the students.
"Each summer, our junior high youth attend 'Basics Camp,'" said Birtell. "In this camp, we teach the Six Chief Parts of the Christian faith in a hands-on, interactive manner. Each lesson has clear objectives … . We bring in guest speakers, and youth meet with mentors, pray, watch video clips, join in small discussion groups, build relationships and explore the basics using their eyes, ears and all their senses."
Birtell said parental involvement benefits both youth and parents in the longer term.
"Each year in the fall, our sophomores along with their parents go through the basics of the Christian faith prior to Confirmation Day. This has been incredible," he said. "Not only do our youth go through the basics of the Christian faith again, but their parents are by their side. Then, when our youth are ready to graduate, we go through the basics yet another time and work to connect them with a campus ministry or new congregation as they prepare for 'Commissioning Sunday.' On this Sunday, our seniors receive a special blessing from their parents and are commissioned to go and serve as the salt and light of the world wherever they may be led."
A recent study conducted jointly by the Institute for Religious Education at Concordia University, Nebraska and the LCMS Office of National Mission found that effective educational practices don't just benefit individuals; they also benefit the churches that implement them.
Children and youth were more likely to participate in congregations that set written goals for educational practices. More adults participated if churches had teacher training for adult leaders and if the church articulated expectations for participation.
The Lutheran tradition is one that elevates the importance of education. As congregations look for ways to enhance the ministry that has been entrusted to them, it is worthwhile to consider the efforts being made within congregations like Mount Calvary as possible benchmarks. What steps could be taken to enhance the effectiveness of your educational efforts? Even small efforts can yield benefits for a congregation and its members.
Roger Drinnon is manager of Editorial Services for LCMS Communications.
Dr. Mark Blanke is director of the Institute for Religious Education, a professor of Education and DCE program director at Concordia University, Nebraska, Seward, Neb.
Update on "Explanation" of Luther's Small Catechism Revision Project
The 2013 Synod convention called for a revised "Explanation" section of Luther's Small Catechism with Explanation from Concordia Publishing House (CPH) due to "many changes in the understanding of morals, civil law and natural law in church and society" that have developed since the Explanation was last revised in 1991.
In keeping with Resolution 3-13A, a drafting committee has been at work on this project for more than a year. A major proposal of this committee, which was approved by the LCMS Commission on Theology and Church Relations (CTCR) and the president's office, is that the revised Explanation would feature a four-part "template" for each section of the Small Catechism.
An initial field-testing survey was made available through May 15. Next, a roughly yearlong drafting process will begin under the oversight of the CTCR.
Learn more: lcms.org/convention/catechismexplanationupdate