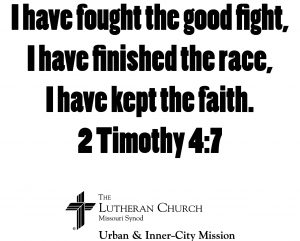 Runners, take your mark. Get Set. Go!
     Rev. Steve Schave, the director of LCMS Urban & Inner-City Mission (UICM), and with other volunteers from the International Center, to promote wellness, are ready to hear those words as they participate in the Ragnar Relay Chicago from June 12th-13th. The relay is a very unique race. Ragnarians will start the race in Madison, WI on Lake Monona and go for over 200 miles to the center of Chicago. Each runner will be running three legs of the relay. The runners may be running in the heat of the day with the hot sun beating on them or during the night under the stars. But no matter when they run, their team will be with them cheering them on as they follow in vans. As their website says, the race is basically, "Run. Drive. Sleep? Repeat" but if you would like more information on how it all happens, go to https://www.ragnarrelay.com/ragnar.
     Pastor Schave has been training and running races for a few years now. He first started to support the Wounded Warrior Project by running in a Tough Mudder, which is a twelve mile military obstacle course. After working with homeless veterans in Cincinnati, he wanted to help make a difference for those whose wounds are not always just physical. Now, Pastor Schave wants to raise awareness for Big City Mission, https://www.lcms.org/bigcitymission. For the Ragnar Relay Chicago, he is running three legs over a forty-eight hour period for about twenty miles, from city to city. Watch for their t-shirts going down some country road or city street. The t-shirt will have the team name, "No Sleep till Chi-Town."
Their inspiration for the race comes from 2 Timothy 4:7, as will be seen on the back of their t-shirts.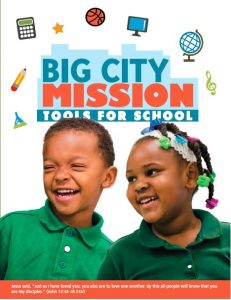 St. Paul used running a race as a picture for our lives in the Gospel with the finish line in heaven. What is unique about this race is that it is already won for us by all that Jesus did by his death and resurrection. So now as we run the races of this life, we are certain to win as we have the sure hope of salvation. This message of hope is something we can share with school children who live in urban high needs areas. With this message of hope only found in Christ, these young people can also run the races of their lives all the way to heaven.
 Big City Mission wants to keep fighting the good fight and finish the race and keep the faith to help our LCMS urban schools. You can join in this race by learning more at: https://www.lcms.org/bigcitymission.