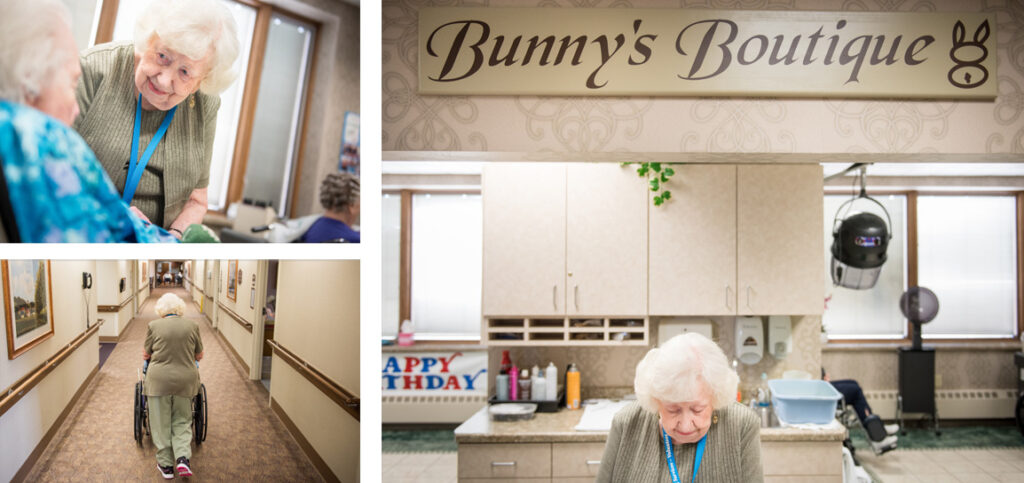 by Megan K. Mertz
"We're called to be servants; that is something God expects of us," said Ruth Martens, a great-grandmother and member of St. Peter-Immanuel Lutheran Church in Milwaukee.
And serve she does. During her 19 years as a volunteer at the Lutheran Home, a skilled-nursing community in Wauwatosa, Wis., the 89-year-old Martens has worked in the gift shop and beauty shop, led bingo games, taken residents to the doctor, helped with the organization's mailings, visited residents one-on-one and pushed a lot of wheelchairs.
The Lutheran Home, a Recognized Service Organization of the LCMS, was founded in 1906 as a home for retired and indigent pastors and teachers. Today, the organization continues to provide faith-based care to its 175 residents, who come from many different backgrounds. Some 330 people like Martens volunteer with the organization, providing an extra level of friendship and support.
Finding Her Fit
Although Martens doesn't live at the Lutheran Home, she serves there every Wednesday. Currently, she works in Bunny's Boutique, where she transports residents to and from their appointments, keeps the beauty shop tidy, and assists the beautician and manicurist by taking out curlers and removing old nail polish. Sometimes she even sings to residents who seem to need a little cheering up.
"I love every moment," she said. "I love talking to people and making them happy."
 "God's gifts weren't being used because I thought they weren't good enough. But you don't have to have any special gifts." — Ruth Martens
But years ago when Martens saw the request for volunteers in the Sunday bulletin, she didn't think she was qualified to help out at the Lutheran Home. She spent most of her adult life as a housewife and mother of four daughters, and her only work experiences were at several part-time secretarial jobs.
When she mentioned this to another member who was sitting next to her in the pew that day, the woman called the Lutheran Home and set up an appointment for her to meet with the volunteer coordinator right away.
"I went with my husband, and both of us ended up volunteering," Martens recalled. "I'm sure God was working through the lady sitting next to me. When I said I didn't have the talents, she did something about it."
Over the years, Martens has served God in many different ways, and she continues to volunteer at St. Peter-Immanuel's food pantry. A few residents of the Lutheran Home even save their paper grocery bags — which are constantly in demand at the food pantry — for her.
"My problem was that I never thought I had anything wonderful to give back," Martens continued. "God's gifts weren't being used because I thought they weren't good enough. But you don't have to have any special gifts."
Enriching Lives
"Since 1996, Ruth has volunteered a total of 6,100 hours and has made a huge impact on the lives of our residents," said Michelle Mittelsteadt, director of Volunteer Services for the Lutheran Home. "Ruth brightens our residents' day with her friendly, helpful manner, along with her radiant smile.
"Even though our nursing staff is caring and hardworking, they cannot do everything for our residents. That's why volunteers like Ruth, who give so generously of their time, are able to enrich the lives of the residents," Mittelsteadt continued.
Martens thanks God for having given her the opportunity to serve the Lutheran Home all these years. She said she's gotten so much more out of the experience than she ever put in, including abundant joy and the realization that she already had skills to use in God's service.
"There is just no limit to how much joy it brings to do something for another person," she said.
Despite the challenges that come with getting older, Martens is determined to reach 20 years of service at the Lutheran Home.
"I take it one day at a time, but I am willing to work as long as I can. There are plenty of opportunities to serve that I can still do," she said.
Volunteer at an RSO Near You
Would you enjoy mentoring a refugee, assisting a food pantry or resale shop, providing office support, tutoring English or being a friend to a person in a retirement community? The Synod has 176 Recognized Service Organizations (RSOs) all around the United States. RSOs are independent, nonprofit organizations that foster the mission and ministry of the church, whose program activities are in harmony with the Synod and who agree to respect and not act contrary to the doctrine and practice of the Synod. These organizations often are looking for volunteers, and the available opportunities are as diverse as the services they offer.
Visit lcms.org/rso/directory to find a listing of RSOs in your area.