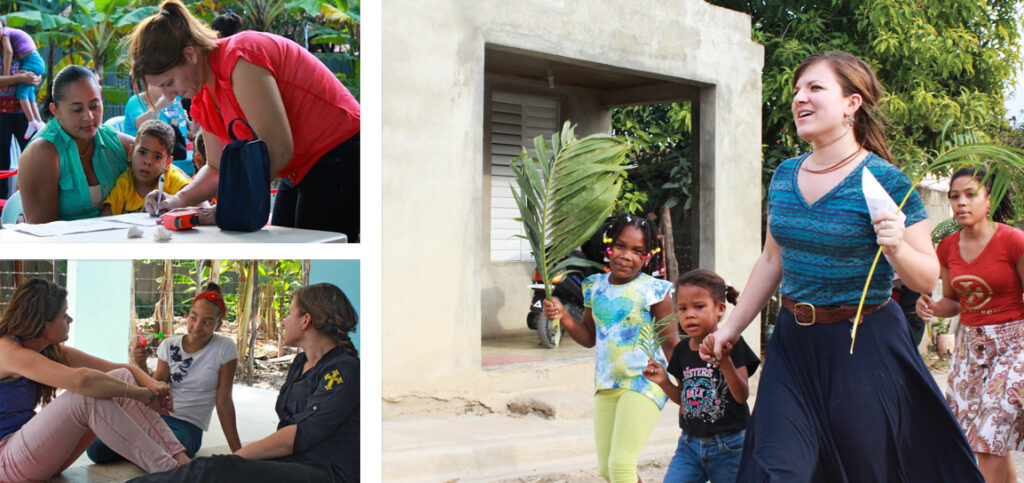 By Adriane Heins
People know the name "the Seven Sisters." That little phrase often refers to the chalk cliffs in Ireland or the cluster of stars called the Pleiades. But in Latin America, seven women have found that they are sisters in Christ, bound together by a common confession of faith in Jesus and humble service to those around them.
This time, it's not because of a geographic location or the ordering of the stars. It's because all seven are deaconesses.
Hear and Respond
"God instituted the pastoral office to feed and sustain the Church," explains Deaconess Rosie Adle, an online instructor for the distance deaconess program at Concordia Theological Seminary, Fort Wayne, Ind. "As Christ is loving us and forgiving us through the pastors tending to the Word and Sacraments, we, His Bride, are fueled for a purpose. The deaconess is trained to understand this in a special way."
It means that each of these deaconesses (from the Greek word for "servant"), many of whom received graduate-level theological training from that seminary, "is equipped to hear and respond to the needs of her neighbors in the congregation and in the community," Adle explains. "She is also prepared to encourage all of the baptized to care for others from the fullness of God's grace."
That ability makes deaconesses instrumental on the mission field, where a desire to hear the Gospel often goes hand-in-hand with caring for a physical need.
"Just as Mary brought Jesus into the world caring for Him, nurturing Him, loving Him, so also Mary stood at the foot of the cross, looking to Him as her Savior and trusting in Him," says the Rev. Ted Krey, regional director for LCMS mission work in Latin America. "So deaconesses today nurture, care and bring others to Jesus, all the while themselves, like Mary, steadfastly fixing their eyes on Jesus."
Deaconesses are, he believes, "integral in the work of mercy, bringing others to Jesus, showing them in their body, whether it's people with disabilities, the elderly, sick, children. They care and show compassion, just as our Lord does throughout the Gospels."
It's why there are seven serving as missionaries in this region alone.
A Historic Shift
Their service in Latin America, and specifically to those in need of Christ's care, comes at a fitting time.
"Today, another historic shift is occurring. Christianity is shifting away from the Global North (primarily Europe and North America) to the Global South (Africa, Asia and Latin America)," notes LCMS President Rev. Dr. Matthew C. Harrison.
So, who are they? And what work is the Lord causing them to do at this unique time and place?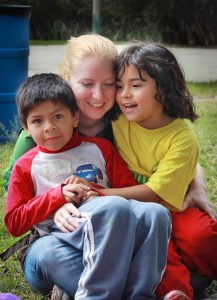 Caitlin Worden lives in Lima, Peru, and directs Castillo Fuerte (A Mighty Fortress Mercy House), where underprivileged children learn about Jesus. Cherie Auger, along with her husband, the Rev. Edward Auger, guides diaconal formation and mission efforts in Nicaragua.
The other five reside in the Dominican Republic. Gail Ludvigson is writing curriculum for Latin American diaconal-training programs. Rachel Powell identifies mercy needs in the community while teaching and encouraging Dominican deaconess students.
Christel Neuendorf serves as missionary care provider for Latin America, overseeing the mental, physical and spiritual care of the missionaries in the area. Danelle Putnam works in the church in Santo Domingo and also cares for disabled children living in a group home in Santiago. Kathryn Ziegler makes diaconal visits and assists with training Dominican deaconesses for service in their own church.
Their service is varied and unique to their God-given gifts and talents.
Yet Auger is quick to note, "A deaconess is not defined by what she does but who she is. A deaconess is a Christian born in Baptism, enriched by the Word, fed at the altar and called to serve using her God-given talents."
It's a fact the seven women remind each other of regularly. "I know that although we serve the Lord's people in a variety of capacities and in distinct cultural contexts, we have been called and equipped by the same Holy Spirit," Powell says. "There is a sense of support in serving with sisters who experience similar joys and struggles on the foreign mission field."
'Let's Go to Them'
"The deaconess does not pick up the slack of the pastor but of the parish," Adle says. "Through word and deed, she says to all who are fed, 'Come on, everyone. We have so much! Let's notice those who lack, and let's go to them. We can give food to the hungry. We can visit the lonely. We can pray for those who suffer. Let's share Christ's great love with all, as He is ever filling us.'"
Krey watches the seven deaconesses in Latin America do just that … and on a routine basis. The "deaconesses are quick to bring [hurting people] to the pastors, who give them the saving Word of Jesus, forgive sins, administer the Lord's Supper," he observes. "It is essential that we have these women who work with us in building churches, establishing mercy houses, making visits, caring for the lost — and also the household of faith — in body and soul."
It doesn't mean their service is easy. Mission work combined with deaconess formation has taught Ziegler an important lesson.
"I am just as broken as the people I serve," she admits. "I learned that it is all talk until you yourself — in all humility — must fully lean on the blood of Christ."
But while the location and face of Christianity may be shifting and changing, the seven sisters in Christ remain confident, sure in the promises of their Savior who was Himself quick to show mercy to His hurting children.
Indeed, "the changing face of global Christianity is not to be feared but to be embraced in the confident hope that our Lord will work a blessing from it both for the Church and the world, as people hear the Gospel of Jesus," Harrison encourages.
And as He does, seven women will continue to serve Him and their neighbors in countries down south, knowing "that we all have a mutual goal, and that it takes many shapes, sizes and walks of life to continue down that path," Ziegler says, "but it only takes one headship, one Lord and one Savior of all."
Learn more: lcms.org/latinamerica
Adriane Heins is managing editor of The Lutheran Witness and editor of Catechetical Information for LCMS Communications.
Deaconesses
+ LCMS deaconesses are women who are professional church workers, trained to share the Gospel of Jesus Christ through a ministry of works of mercy, spiritual care and teaching the Christian faith.
+ Phoebe, named in Rom. 16:1–2, was a helper to Paul and others. She often is considered the first deaconess.
+ Women can receive undergraduate deaconess training at Concordia University Chicago, River Forest, Ill., and graduate-level training at Concordia Seminary, St. Louis, and Concordia Theological Seminary, Fort Wayne.
The Deaconess Motto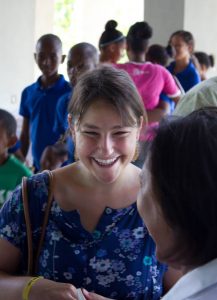 What is my want? I want to serve.
Whom do I want to serve?
The Lord in His wretched ones and His poor.
And what is my reward?
I serve neither for reward nor thanks
but out of gratitude and love.
My reward is that I am permitted to serve.
And if I perish in this service?
"If I perish, I perish," said Queen Esther.
I would perish for Him who gave Himself for me.
But He will not let me perish.
And if I grow old in this service?
Then shall my heart be renewed as a palm tree.
And the Lord shall satisfy me with grace and mercy.
I go my way in peace
casting all my care upon Him.