(RNS) — A pending Supreme Court decision about same-sex marriage is expected to dominate the annual meeting of the Southern Baptist Convention (SBC) with panels and guides on the topic amid prayers for the nation.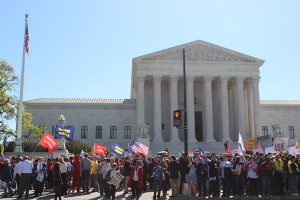 Consider:
In a rare departure from usual business, the two-day annual meeting of the SBC will conclude June 17 with a panel discussion on "The Supreme Court and Same-Sex Marriage: Preparing Our Churches for the Future."
On June 9, the denomination's Ethics and Religious Liberty Commission issued "Protecting Your Ministry," a guide for Southern Baptists and other evangelicals in an age of lawsuits related to sexual orientation and gender identity. It will be distributed at the meeting in Columbus, Ohio.
Prominent Southern Baptists, including Dallas pastor Robert Jeffress and Southwestern Baptist Theological Seminary President Paige Patterson, were among dozens of leaders who signed this week's open letter to the Supreme Court asking the justices "not to force us to choose between the state and the laws of God."
The developments come as the SBC announced that it continues to face declines in membership. Its LifeWay Christian Resources said on June 10 that SBC churches lost more than 200,000 members — dropping from 15.7 million members in 2013 to 15.5 million in 2014 — the largest one-year decline since 1881.
In the open letter to the high court, which appeared that day in a full-page ad in The Washington Post, Southern Baptists joined Catholic, Protestant and Jewish signers in saying they would obey God and not the court if its ruling clashes with their stance in favor of traditional marriage.
"[W]e will not honor any decision by the Supreme Court which will force us to violate a clear biblical understanding of marriage as solely the union of one man and one woman," they stated. "We affirm that marriage, as existing solely between one man and one woman, precedes civil government."
The 44-page legal guide to be introduced at the annual meeting includes checklists for churches, schools and other ministries to ensure they have "the broadest religious liberty protections under the law" — including statements of faith, religious employment criteria and facility-use policies.
"Abrupt changes in the culture about marriage and sexuality have catapulted the Christian view of marriage and sexuality into a collision course with the sexual revolution," wrote Ethics and Religious Liberty Commission President Russell Moore in the guide, co-produced with Alliance Defending Freedom, an Arizona-based conservative Christian legal organization.
At the annual meeting, SBC President Ronnie Floyd will lead an entire evening session that has been dedicated to "a national call for prayer."
He emphasized the prayer time and the discussion of the high court as "key moments" in the meeting.
"The Supreme Court may rule on this issue within days of or during our convention in Columbus," he said. "Regardless of the outcome, our churches need to be prepared."
— Adelle M. Banks
© 2015 Religion News Service. Used with permission.
Posted June 12, 2015