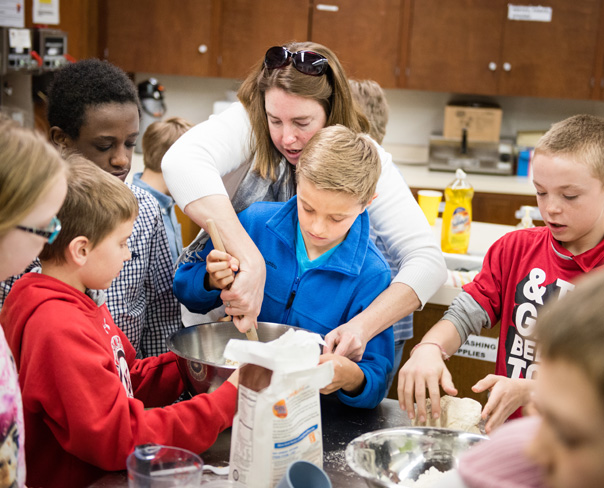 by Mark Hofman
The last Steward's Corner article ("Tackling God's Mission 'On the Cheap'") drew attention to our pastors and missionaries and how much the LCMS invests in quality servants each year. It didn't take long to hear from people who read that piece and asked, "Mark, what about teachers and other church workers? Why did you fail to lift them/us up?" Guilty as charged.
We have a number of categories of professional church workers in our Synod, and there is a good chance I'll neglect one or more groups whenever I try to list them. I'm rostered as a teacher, as are my wife, some relatives and a few friends. If there is one thing I've come to respect about pastors, teachers, directors of Christian education, directors of Christian outreach, church musicians and all other workers, it's that they each could rightly call themselves a "missionary."
When my congregation called our current pastor, a self-study revealed that most members came into the church — and into the Christian faith — through our day school. Our son was thrilled when one of his preschool classmates was brought to the baptismal font, and my eyes filled with tears at his kindergarten graduation when his entire class shared the Gospel with family and friends (some of whom are unchurched) through several songs taught to them by their teachers.
Although my wife is not currently teaching, she continues to steward the Gospel of Jesus Christ through volunteering. Vacation Bible school, the school's parent-teacher association, Sunday school and various church and school events provide an outlet to serve, lead and still teach. At the LCMS International Center, ministry areas are blessed by more than two dozen men and women who regularly give of their time and talents in our Volunteer Connection program. Dozens of other volunteers serve and support the funding of missionaries and their work through selfless service to Mission Central, the Synod's "not normal" miracle-facilitating donor care center in Mapleton, Iowa.
Volunteers support Gospel-centered mission and ministry locally, regionally at the circuit and district levels, at the national level, and through service to Recognized Service Organizations and auxiliaries like the Lutheran Women's Missionary League and Lutheran Hour Ministries. Ushers and altar guild members, elders and property committee members, folders and stuffers of newsletters and mailings, kitchen helpers, youth group leaders, board and church council members … the ways people engage in the life of the church are truly mind-boggling.
If we could place a monetary value on the hours donated by volunteers, it might shock us in a very good way. It has even been said that volunteers aren't paid because what they contribute — passion and joy — is simply priceless. Even more importantly, taking the time to volunteer — even if one is a paid, professional church worker — gives evidence that the LCMS is a potent force for the Gospel as we walk alongside one another in the faith, hope and unquenchable joy found only in Jesus Christ.
So, for every person reading this who volunteers as a way of stewarding the Gospel of our Lord using the most precious of His resources — your special talents and your time, regardless of age or life experiences — thank you. The effects of giving yourself as a living sacrifice are truly immeasurable.
Mark Hofman, CFRE, MBA, is the executive director of LCMS Mission Advancement.