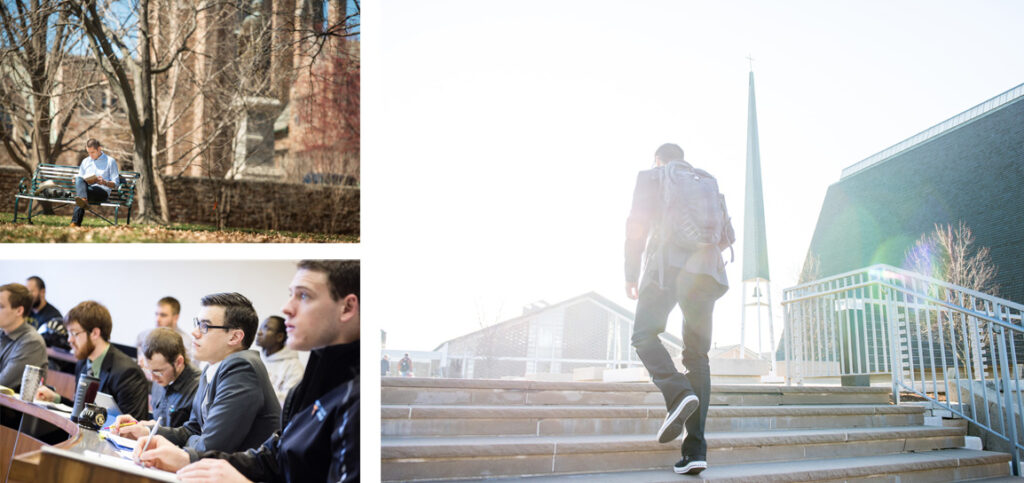 He's a Clark Kent look-alike, a millennial from Worland, Wyo., who likes comics and won't turn down a cup of good coffee. His name is Jacob Benson, and he's studying to be a pastor at Concordia Theological Seminary, Fort Wayne, Ind.
Benson considered becoming a pastor while in college, where he noticed that "religious movements, especially Christianity, were compartmentalized to the point that the voices of actual adherents were muffled."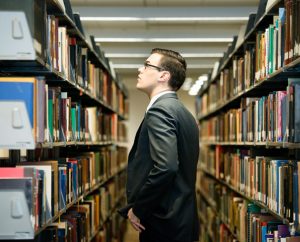 He expressed his frustration to his father, along with his desire to blend true theological dialogue with teaching and mercy work. "He told me that sounded a lot like being a pastor, and I told him that was the stupidest thing I'd ever heard," Benson recalls. "Two years later, I'm at the seminary."
The Rev. Marcus Zill, director of LCMS U, the Synod's campus-ministry arm, also was formative in Benson's life. "When we first met," Benson recalls, "I had shoulder-length dreadlocks and would rather debate whether or not Paul actually wrote the letter to the Ephesians than hear anything he had to say about Jesus or the Church."
But Zill "slowly shepherded me back to orthodoxy and in the process became like an older brother to me … . The patience he showed in dealing with my ignorance, unbelief and apathy was the exact loving kindness that a shepherd should show to his flock."
Intense and Rewarding
Benson's days are now "intense but incredibly rewarding." Structured around the daily prayer offices, his seminary life involves eating in the cafeteria, studying in the library, doing plenty of coursework and engaging in conversation with classmates and instructors.
"There's no barrier between profs and students," he says. "The professors are all ordained, and there's an amount of respect that goes along with that, but because they're all pastors, they truly care about the students and the future of the Church and want to get to know us and care for us in any way they can."
Even better than that? Seminary formation intentionally shapes his day around time spent in prayer and the study of God's Word. "Placing worship — especially receiving the Lord's Supper — alongside academic training for the Office helps implant in us the idea that book knowledge can never exist outside of the context of a rich, Christ-centered devotional life," Benson notes.
It's fitting, then, that his future congregation and its members are among those for whom he prays daily. "I pray that they will be patient with me," he says. "I know that my future congregation will have a lot to teach me, especially in my first few years out of seminary."
And he hopes they'll know one other thing about him as a pastor, and all of his classmates, too: "We're regular human beings," he says simply. "We do what we do because we're motivated by the sacrificial death of Christ Jesus."
Every Day a Sunny Day: Joshua Palmer
Joshua Palmer of Tuscon, Ariz., is, first and foremost, husband to Krissy and father to Juliet, John, Charlie, James, Patrick, Joshie and Isaac. While his wife and kids, he says, "make every day a sunny day for me," it also seems keeping tabs on seven little ones will suit him well for shepherding a very different kind of flock one day. Perhaps that's why he's studying to be a pastor too, at Concordia Seminary, St. Louis.
For Palmer, the desire to be a pastor is simple: "I basically can't think of a better way to spend my life than spreading the Good News that Jesus died on the cross to save you from every last sin you've ever committed, and that now you are fully accepted as God's child to bask in His love, which will never change or end."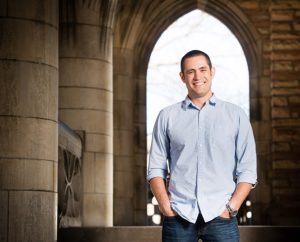 Palmer's background varies from that of some of his classmates. "My mom and dad raised me in a little Baptist congregation that had a burning desire to spread the Gospel all over the world," he recalls. "We had missionaries in all the time to tell us about the progress they were making translating the New Testament into the language of some remote tribe in Papua New Guinea. I like to joke that my mother thought that the highest calling in life was to be a missionary who was eaten by cannibals, but a solid second place was to be a pastor."
Together, he says, his parents "showed me how powerful the Word of God was, both in their lives and by placing a strong emphasis on learning and memorizing the Bible."
And the Word works. Now at the seminary, Palmer's days are packed full, making him thankful for the uniquely Lutheran education he's received.
"More and more seminaries in America are no longer requiring that students learn Greek and Hebrew," he explains, "and I think that's a real problem. I'm thankful that Greek and Hebrew were stressed during my seminary career, as they help me daily to understand the Bible better."
The other game-changer? Vicarage year.
"You get two years of theological training first, which is a necessary prerequisite to shape your thinking. But then you get thrown into the life of a congregation and are given real responsibilities there for a whole year," he notes. "It's then that the Holy Spirit can subtly teach you a thousand things you may never learn in a classroom, as well as the humility necessary to handle God's Word and His people."
Tremendously Humbling
And the day for this is coming. Palmer's seminary formation will soon be complete, and he'll receive his first call to serve the Lord's people.
"It is tremendously humbling to think that God will be working through me," he says, "using my hands to baptize His people and to feed them Communion, for example. God will be using me to proclaim His Word. And He will expect me to care for His people just as He does. It's a colossal responsibility."
And yet, with that responsibility comes great joy. Palmer is already looking forward to teaching people about the Bible.
"I love that moment when the Holy Spirit suddenly makes a truth about God clear to one of His people. Watching their face light up is like watching the sun come out on a rainy day," he says.
It's a simple joy, made all the more rare by the fact that "we live in a culture that is becoming more and more hostile to the preaching and teaching of the Gospel," he says. "I pray that God will guard and protect the minds and souls of His people … and I pray that God will keep me from giving any offense except the offense of the Gospel."
Single and married. Fresh out of college and second career. St. Louis and Fort Wayne. In and by both, the Lord is forming and shaping His servants — men like Benson and Palmer — for lives of service to Him and to His Church. And as He does, He reminds the rest of us — those in the pew —that He really does do all things well.
Adriane Heins is managing editor of The Lutheran Witness and editor of Catechetical Information for LCMS Communications.
Learn more: