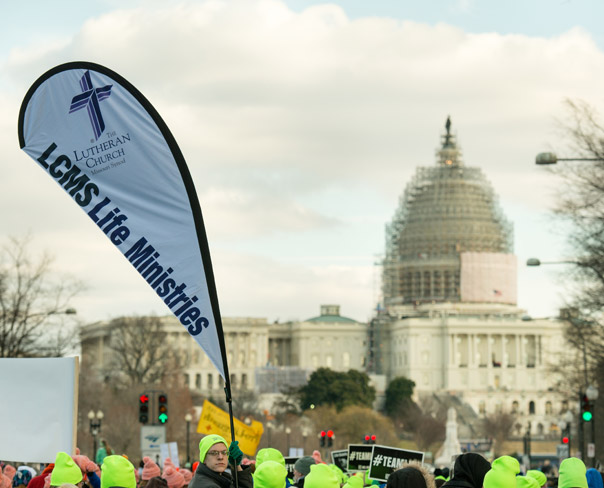 by Adriane Heins
"It's easy to be lulled into a sense of complacency, assuming that our religious liberties won't be curtailed that much in our lifetime or that, if they are, we won't really feel the impact," admits Barb Below, assistant to LCMS President Rev. Dr. Matthew C. Harrison.
For many Lutherans, curtailing a person's ability to feed the homeless or an LCMS congregation's right to determine who gets to use its building may seem far-fetched.
And yet, watch the evening news or crack open the Wall Street Journal and you'll find that "our world is different from just even 10 to 20 years ago," Below observes. "I'm not trying to be dramatic. This is a current, real threat that we must take seriously. While we pray that our freedoms aren't diminished at all, we also proactively think about future generations and about the challenges they will face if we don't make the case for our values and ideals already now."
Free to be Faithful
The LCMS hasn't been idle. Working alongside other organizations like Alliance Defending Freedom, the Heritage Foundation and the Becket Fund for Religious Liberty, the LCMS launched "Free to be Faithful" in 2012. It's an initiative that educates and raises awareness about the increasing intrusions by the government and culture into the realm of the Church.

The initiative's focus is three-pronged: (1) support the sanctity of life from conception to natural death, (2) promote and encourage one-man/one-woman marriage for life, and (3) defend and champion religious liberty for all.
In a time when Christian morals and values are gradually becoming more unpopular in the public square, quietism or allowing others to speak on one's behalf can be tempting.
But the "laypeople in our Synod, and a growing number of church workers, are increasingly voicing concern. … Laws, regulations, executive orders and court decisions are increasingly working to silence the right of Christians to live and act under the Gospel of Christ," notes Mark Hofman, executive director of LCMS Mission Advancement.
And now, more than ever, it's personal.
"They are affected in their homes, their schools, their businesses and vocations, and in the public square with a push to be silent in confessing the Gospel in word and deed," he explains. "And these baptized people are looking to their church body for help, counsel and resources that will allow them to act."
The Lutheran Center for Religious Liberty
Now, however, the LCMS is primed to give an even bolder confession in an even bigger way. Since 2012, LCMS Mission Advancement has steadily been raising funds to build a permanent office — the Lutheran Center for Religious Liberty — inside the Beltway.
Its purpose will be to monitor and protect First Amendment rights — guaranteed by the U.S. Constitution — in the public square.
It will not, notes Harrison, "tell people how to vote." Instead, "it will provide an LCMS voice at the table with other Christians and citizens of good will."
"The planned office in Washington is intended to serve as both the eyes and ears of the church," Hofman says, "seeking to understand what is going on in the kingdom of the left where it improperly crosses over into the kingdom of the right."
The office, which will operate independently of but in coordination with the LCMS, will seek to equip Lutherans and Lutheran organizations to (1) engage federal and state officials through advocacy and defensive legal strategies; (2) educate future generations about serving God through vocations in government, law and public policy; and (3) connect with Lutherans involved in government affairs.
"The LCMS Board of Directors is extremely pleased to approve the creation of a legal entity that will establish an LCMS presence in Washington, D.C.," notes the Rev. Michael Kumm, chairman of the LCMS Board of Directors. "The Mission of the Lutheran Center of Religious Liberty will be to advocate the positions of the LCMS.. . We, as a Board, in conjunction with Synod legal counsel, are making sure that this entity is properly authorized and created to benefit the Synod at-large. It pleases us to be able to assist in this way to further promote and proclaim the Lutheran Confession of faith."
"There is a great deal of interest and excitement about this," Harrison says. "It's time to act. Many others have been carrying our water for years. It's time to show up and support them."
Providing What Is Needed
Free to be Faithful — including the planned Lutheran Center for Religious Liberty — exists to meet the needs of Lutherans asking for help in doing what they do best: confessing the faith in a world that's not eager to hear it.
Both can and will "hear the concerns of God's people and then work to provide what is needed — resources, education, conversation — to equip God's people to act in ways that are faithful to His Word," Hofman explains. In short, they will "supply what laity and church workers are saying they currently lack."
And as the Supreme Court edges ever closer to a spring ruling on the definition of marriage and as legislation curtails the way in which churches show mercy to others, the LCMS moves diligently forward, keeping an eye on the cultural and governmental changes while looking forward with joy and excitement to establishing a permanent presence to do the same in Washington, D.C.
There, "the Lutheran Center for Religious Liberty will be a tangible reminder that we must always speak the truth in love — both now and in the future," Below says, "especially when it comes to defending our right to do so in the first place."
GET INVOLVED
1. Find common ground with your family members, friends, co-workers and those in the public square to discuss these issues. An example might be: "I know that you as a mom are concerned about your kids. I'm concerned about children too, and especially the thousands of preborn children that die every day as a result of abortion."
2. Give a financial gift and create a permanent Lutheran presence in Washington, D.C. "Every gift is important in the establishment of the Lutheran Center for Religious Liberty!" reminds Martha Mitkos, director of Campaigns and Special Initiatives, which includes Free to be Faithful.
3. Subscribe to the Free to be Faithful quarterly newsletter to get additional information on the work of Free to be Faithful and the Lutheran Center for Religious Liberty. Email infocenter@lcms.org to subscribe.
4. Visit lcms.org/freetobefaithful to download and make use of free resources that help you bear witness to Christ as you speak about and support life, marriage and religious freedom.