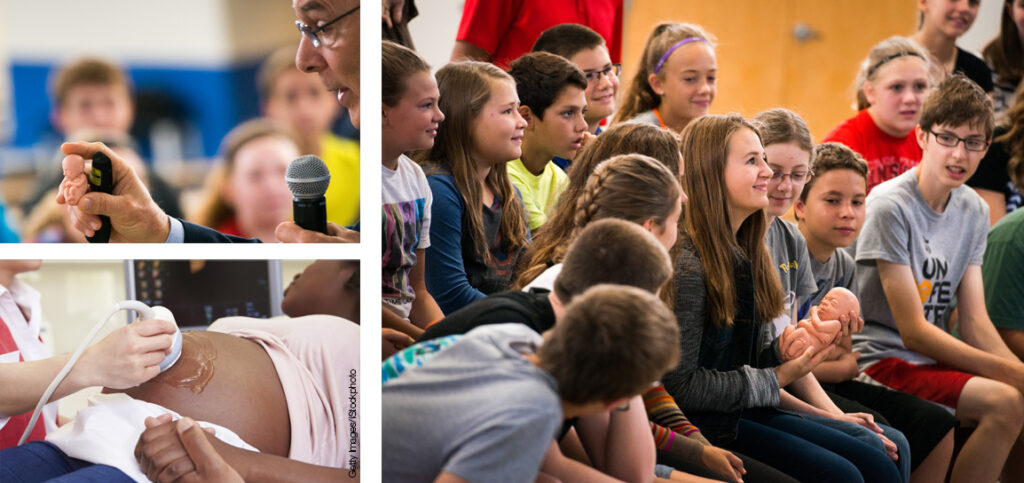 By Roger Drinnon
[toggle title_open="Magazine layout view" title_closed="Magazine layout view" hide="no" border="yes" style="default" excerpt_length="0″ read_more_text="Read More" read_less_text="Read Less" include_excerpt_html="no"]View on issuu.com | View on scribd.com[/toggle]
LCMS Life Ministry's free ultrasound curriculum, titled What is This? Looking at Life in the Womb, is being sought after not only within the LCMS but also among non-LCMS faith communities across the country. The curriculum is unique in that it brings ultrasound technology into middle- and high-school classrooms to highlight the sanctity of human life.
Interest in the curriculum comes as no surprise. In the last year, Americans have seen the now-viral Center for Medical Progress undercover videos, which graphically show Planned Parenthood's horrific organ-harvesting practices and its commoditization of organs and tissues taken from aborted babies.
"So far, [the curriculum] is being used within the LCMS, the [Wisconsin Evangelical Lutheran Synod], the Catholic and Methodist communities, by home-school families and in at least one public school," said Tracy Quaethem, project coordinator for LCMS Life Ministry, which is part of the Synod's Office of National Mission (ONM). "The curriculum shows middle- and high-school students in classrooms, youth groups and confirmation classes that even at the smallest stage, human life is created by God and must be protected and defended."
She said as of Sept. 24, 700 copies of the curriculum were sent to requesters, and requests continue to roll in each day.
Origins of the Curriculum
Quaethem served as interim director for the ministry after Dr. Maggie Karner, former director of LCMS Life and Health Ministries, was diagnosed with brain cancer in April 2014. Stephanie Neugebauer succeeded Karner as the new director Sept. 21.
While working as an ultrasonographer for ThriVe St. Louis, a local pregnancy-resource center, it was Neugebauer who originally approached the LCMS with the idea for the curriculum about two years ago.
"The idea for the ultrasound curriculum came to me while a student at the seminary. I was asked to write an appeal to action for fellow leaders in the ministry, and I chose the topic of the unborn and abortion," said Neugebauer, who holds a 2014 Master of Arts degree in Practical Theology from Concordia Seminary, St. Louis.
"I decided to take my assignment seriously, and quickly realized this was an actual need for our church body. I contacted [ONM Executive Director] Rev. Bart Day, who in turn put me in touch with Maggie Karner, and the idea quickly became a reality. In less than two years, we were able to produce this ultrasound education curriculum."
Dr. Kathleen Kremer, an assistant professor at Concordia University Wisconsin, Mequon, Wis., and the Rev. Jonathan Clausing, currently an LCMS missionary to Eastern Africa, were instrumental in developing the curriculum.
"For me, science — and actually all of learning — is discovering God's creation. Designing a curriculum to look at one of God's most wonderful creations, human beings, was a privilege, an intellectual endeavor and spiritually inspiring," Kremer said.
"Importance was also placed on making this curriculum relevant for the 21st-century learner by utilizing the skill of argumentation — making a claim and then providing the reasoning to either accept or refute that claim using supporting evidence. This evidence is supplied by the six modules as students explore and discover the intricacies of human life, understand its value and [are made to] be in awe of our Creator God."
"Those who assist expecting mothers in pregnancy-resource centers have long known that once a mother sees the image of her baby during an ultrasound, she is far less likely to choose abortion for that baby," Clausing said. "The curriculum allows middle- and high-school students to have a similar visual experience and to think carefully about what they are seeing, so they will know and be able to articulate intelligently and confidently that each life in the womb is indeed a human life."
Additional Resources
Every LCMS school that orders the curriculum also will be eligible for a Lutherans For Life (LFL) presentation featuring a set of "fetal models" that show life-size unborn babies at four gestational ages: 12 weeks, 20 weeks, 26 weeks and 30 weeks. Schools may keep the models, which are provided by LFL through its "Owen's Mission" project and a grant from LCMS Life Ministry. As a tangible visual representation, the fetal models help students understand the value of each life from the moment of conception.
"[Congregations can] work with our teams and chapters to get these materials into every Lutheran school in the U.S., in order to raise awareness and help students and teachers to be Gospel-motivated voices for life," said Lori Trinche, mission and ministry coordinator with LFL.
Quaethem said due to the immense popularity of the curriculum, LCMS Life Ministry plans to develop another module for use in elementary classrooms.
Learn more
About the Curriculum
The What is This? Looking at Life in the Womb curriculum includes six modules:
"What Does Human Development Say?"
"What Does the Ultrasound Say?"
"What Does Scientific Reasoning Say?"
"What Does History Say?"
"What Does the Word of God Say?"
"What Do You Say?"
It also includes an eight-and-a-half-minute video of actual ultrasounds of an unborn child videotaped on location at ThriVe St. Louis. Viewers learn about prenatal development — from the first trimester (seeing the heartbeat and movements of the arms and legs), to the second trimester (seeing facial features, eyes opening and closing), to the third trimester (seeing individual toes and fingers).
In the video, Stephanie Neugebauer says she wishes "everyone knew how powerful a tool ultrasound technology is: It can truly change lives. It can transform hearts. It can change minds. It can save babies."
To order the free curriculum, email tracy.quaethem@lcms.org.
Roger Drinnon is manager of Editorial Services for LCMS Communications.