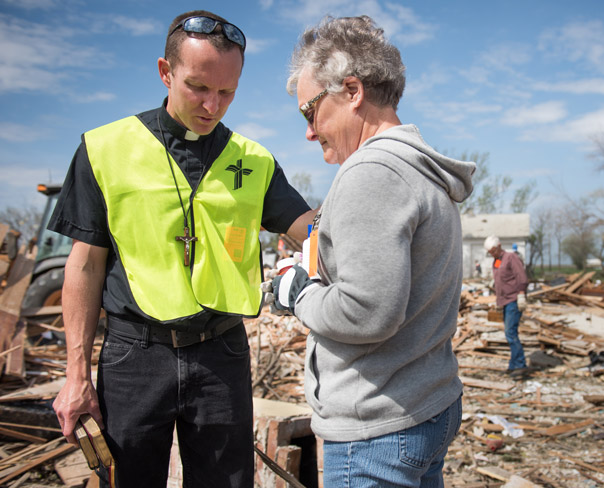 By Megan K. Mertz
Homes suddenly ravaged, people injured, possessions destroyed — those who have experienced a disaster often call the situation "surreal." Yet, that's also when many victims realize help is available.
The Lutheran Church—Missouri Synod comes alongside them during these times of tragedy to provide Gospel-centered care for both body and soul. In fact, the word Synod means "walking together" in Greek, and nowhere is this more evident than in the wake of a disaster.
LCMS districts and individual members — in coordination with the Synod's Disaster Response ministry — bring the love and mercy of Christ to those who are hurting. But unlike organizations that come and go, the LCMS walks with them for the long haul.
In South Dakota
The Rev. C. Brian Bucklew, pastor of a dual parish in rural South Dakota, was on vacation with his family on May 10 when he got a call that turned his life upside down.
"A tornado hit Delmont. The church and parsonage are gone," said one of his trustees from Zion Lutheran Church, Delmont, S.D.
During the next hours and days, Bucklew waited anxiously for updates about his congregation and its members. He learned that 13 Sunday school children had been in the church basement making Mother's Day cards when the EF2 tornado hit. They escaped unharmed and even helped free a member from the rubble of her collapsed home across the street. The homes of five Zion families were severely damaged, and his own home in Zion's parsonage was destroyed.
But "God's providence and protection is amazing," he said, because no one was killed.
"It's great to be reminded that you are part of the whole Body of Christ. We're not alone in this at all." — The Rev. C. Brian Bucklew
Bucklew arrived in Delmont two days later, and he said he and his wife can still vividly recall the "haunting" crunching of broken glass under their feet as they surveyed the damage. The roof of his 100-plus-year-old church building was gone, and the sanctuary was filled with toppled bricks and other debris.
But even in the midst of great devastation, Bucklew says he also found great comfort.
Even before Bucklew was able to return to Delmont, the Rev. Ross Johnson, director of LCMS Disaster Response, had arrived on the scene to assess the situation and pray with devastated residents. The Rev. Scott Spiehs, LCMS South Dakota District disaster-response coordinator, and District President Rev. Scott Sailer also came alongside Bucklew to pray with him, encourage him and give practical advice about starting the recovery process.
"The Synod and Pastor Spiehs helped us walk that first week, helped us think about a temporary rebuilding," Bucklew recalled.
LCMS Disaster Response and the district set up a fund for donations for Zion. Even so, Bucklew was inundated with work teams, donations, cards and other items from people all over the country. Even months later, he said he was still getting calls every day.
"It's great to be reminded that you are part of the whole Body of Christ," he said. "We're not alone in this at all."
Until the church is rebuilt, Zion members have been attending Sunday morning services at Bucklew's second parish, Emmaus Lutheran Church in Tripp, S.D., just 13 miles away.
"Like any congregation, we had our fights over stuff that was really not that important — sometimes even over that building," Bucklew said. "But in that first week, I saw a beautiful unity in the Body of Christ in all those parishioners. They worked so hard and with so much unity to get hymnals out, Bibles out … . It was encouraging to remember that it wasn't the building that kept us together. As beautiful and wonderful a gift as that was, it was Christ, and He's going to keep us together with His Word and Sacrament."
Although Bucklew expects rebuilding to take at least another year, recovery was well underway by September. New concrete had been poured in the parsonage, and Zion members were reviewing plans for a new church building. Bucklew was even able to re-establish a presence in the community by setting up a temporary office in a customized trailer provided by LCMS Disaster Response.
"I've had some people [in Delmont] tell me that they've been meaning to come back to church," Bucklew said, "to which we say, 'We're not going anywhere. We'd love to see you.'"
In Illinois
Although Stephen Born has never lived through a natural disaster, he has become something of an expert on responding to them. In the last two years, the Springfield, Ill., resident has helped with recovery following four tornadoes and a flood.
Born, who has a degree in mortuary science and is a certified grief counselor, volunteers as regional disaster-response coordinator for the LCMS Central Illinois District (CID). In this capacity, he trains and helps lead more than 400 LCMS members who are part of the district's Lutheran Early Response Team (LERT), a program of LCMS Disaster Response that equips individuals around the country to provide Christian care in times of disaster.
"You can be too young [to join LERT], but you can never be too old," Born said.
LERT members serve in many different ways following a disaster. In addition to cleaning up debris, they serve food to volunteers and residents, work at the registration desk and man the first-aid station. LERT members also provide a listening ear to distraught residents — a simple, yet important service that Born has discovered is needed in all disasters.
"Sometimes they want to talk, but most of the time they just want you to be there," he said. "They just want to feel like they're not alone."
In the CID, disaster response is very much a team effort. Born coordinates with the district and LCMS Disaster Response to determine what is needed for support and recovery in the aftermath of each disaster.
"They guide us and lead us so we're more efficient," he said. "We could not do what we do without their support."
Less than three months after the district's first 28 LERT members were trained in 2013, the CID sent the team to Washington, Ill., to respond in the aftermath of a Nov. 17 tornado.
"I drove to Washington as the regional coordinator, but when I arrived I immediately became a grief counselor," Born said. "I went to the shelter, and over 300 people were there. They had nothing. They were barefoot. Some still had glass in their feet. I was pulled in all different directions. All I did for hours was talk with families."
The team continued to return to the town every Saturday for eight months.
This past August, Born saw some of the fruit of that long-term work in Washington. During a LERT training event that took place on the two-year anniversary of the tornado, a woman from the town came up to him.
"I just want to let you know the reason I joined [LERT]," she said to Born. "You guys had a huge impact on my family and in my community. … I saw this LERT training, so I joined Our Savior [Lutheran Church]. Now I want to be a part of that."
Learn more