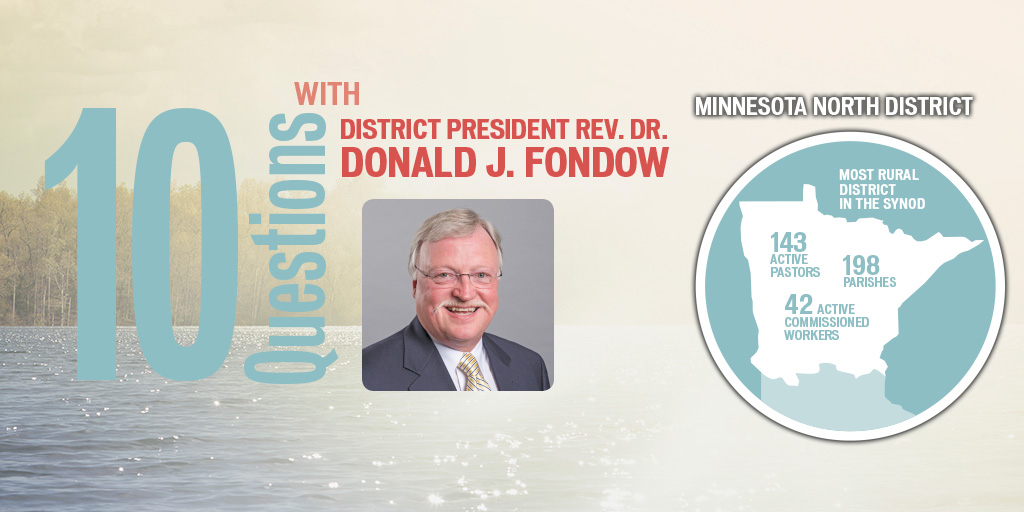 by Pamela J. Nielsen
What's the vocation of district president like? We talked to the Rev. Dr. Donald J. Fondow, president of the LCMS Minnesota North District, to get the answer firsthand.
1. What is your greatest joy in serving as district president?
The privilege of working with and serving faithful people of God: the congregations and ministries, rostered church workers and district staff. It's a joy to follow in the train of those who have gone before us in this part of God's kingdom, people whom He used to bring us to where we are today.
2. What is your greatest challenge?
It is a significant challenge to assist congregations and called workers to deal with conflict biblically and confessionally. There is a great need to help our people see what it means to be the Body of Christ. Another challenge is assisting rural/small-town congregations as they deal with the reduction of family farms and a declining population base. Outreach and stewardship need attention. There is a tendency to make survival No. 1 and forget the real mission of the Church. That's why it's so important to be in the Word and see how God keeps His promises.
3. What is the main role of a district president in regard to the pastors in his district?
I see my role as trying to be Aaron-like in holding up the prophet's hands [the rostered church workers]; like Barnabas in encouraging the workers, congregations and other ministries; or like Moses in conducting oversight according to the Word of God and the Synod Handbook and civil law [ecclesiastical supervision].
4. What misperceptions do people have about the role?
Some think that once a pastor is elected to become a district president, he stops being a shepherd and becomes a bureaucrat who is no longer in touch with life in the parish. Also, a district president is neither a savior nor an enemy.
5. How do you handle the demands and stresses of the job?
The Word of God and the Sacraments sustain me. I am thankful for the love of my wife and family; the blessing of friends; the tremendous support of our district vice-presidents, board of directors, circuit visitors, members of the [Council of Presidents]; and the kindness of fellow church workers and congregational members.
6. What are you most excited about in your district?
I am excited about the ministry that has begun among the Anyuak [African immigrants] at Trinity in Sauk Rapids, Minn. The Lutheran schools in our district are truly mission outposts, as over half of the children enrolled are not members of an LCMS congregation. Our district camp recently dedicated a Creation Science Environmental Learning Center. Our members and rostered workers have a heart for mission and support projects in Kenya and Liberia.
7. What one thing do you want people to know about district presidents?
District presidents are men of God who are here to serve Christ and His Church, and our desire is to be of help.
8. When you hear that a pastor or parish is facing a struggle, how do you approach the situation?
When I was first elected, I sat down one night and composed a list of conflict situations in the district. My list totaled 35. Shortly thereafter, I was asked at a circuit pastors' meeting what my vision was for the district. My first response was: "It's difficult to see if you're buried in mud." I proposed to our district BOD that we establish a congregational care counselor position. The goal is to direct the focus upon the power of the Word of God and seek reconciliation through a process of Bible study and mediation. My greatest concern is that confession and forgiveness predominate and the grace of God is received and given.
9. If someone visited your part of Minnesota, what one place would you tell them to see?
Since we are the land of 10,000 lakes, I would recommend that you start with the great lake of Superior. But don't stop there.
10. What do you like to do when you get a day off?
Whatever my wife would like to do! I enjoy sporting events, traveling, reading, and sometimes it's just good to rest.
Deaconess Pamela J. Nielsen is associate executive director for LCMS Communications.