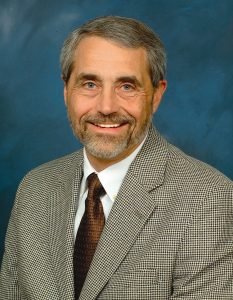 by Megan K. Mertz
Since Professor Ben Freudenburg came to Concordia University, Ann Arbor, Mich., (CUAA) 10 years ago to start the Family Life Education program, more than 130 future workers have been trained to go into churches and communities to provide preventive education to help families weather the storms of life.
Freudenburg — a husband, father of two and a certified director of Christian education — also is the director of the Concordia Center for the Family and the founder of Family Friendly Partners Network, a ministry that helps raise the capacity of churches to have strong family ministries.
1. Why is teaching the faith at home so important?
The church has an hour or two on Sunday, maybe another hour during the week. But that's not nearly enough to shape [children's] values and hearts and grow the faith given them at Baptism.
2. What is the family's role in faith formation?
The family is one of the institutions God created to produce faithful generations. God gave parents a biblical mandate to teach the faith to their children. If the family is not thriving, it is less likely to produce another generation of godly men and women.
3. And the church's role?
The task God has given to the church is to help parents have all they need in order to fulfill the biblical mandate as the primary teachers of faith to their children.
4. What do you see happening in society today?
Research indicates that in every generation there are fewer Christians. It is predicted that only about 4 percent of millennials will be Christ-followers as they enter the adult world.
5. What pressures are families facing as they try to pass on the faith?
The real pressure is to conform to the culture's view of marriage and family instead of to Christ. How do we help individuals walk with Christ as they watch TV and use digital tools? How do we help families resist the pressure to conform to a nonbiblical standard like living together before marriage?
6. How can the church support families?
A lot of people believe that when they get married, they have what they need to be good husbands, wives and parents. But it's really a learned skill. … We need to put into place programs that are meeting needs in teaching the faith, home discipleship, marriage enrichment, good parenting skills and an understanding of human sexuality from a biblical view.
7. What are some ways parents can reinforce faith?
Make faith a natural part of conversation. Do simple things like family faith talk at the dinner table and saying prayers together. We seldom sit down as a family anymore, so it's really hard to implement. We must make time for spiritual formation and conversation.
8. How does CUAA's Family Life Education program prepare future workers to serve families?
Just like a teacher is prepared to teach math or science to students, family life educators are prepared to do preventive education to help build into families the strengths needed to survive the storms of family life. Every family meets many challenges; [the difference] is whether they have the resources necessary to be an even stronger family when the storm is over.
9. Why is this so important?
God gave us a Savior, Jesus, to take the punishment for our sin so we could be in a relationship with Him. But there's more: He gave us faith at our Baptism to believe it. And He didn't stop there; He gave us the possibility to be in godly families and churches to nurture that faith. As the stability of our Christian families continues to be threatened, the church needs to help the family be all that God wants it to be.
10. Do you have a favorite Bible verse?
I have many. My mother instilled in me "I can do all things through him who strengthens me" [Phil. 4:13] and "I am with you always, to the end of the age" [Matt. 28:20]. That's the one I grab onto when things get really tough. Every day in my own devotions, God brings new passages to life that give me hope.
Learn more:
Megan K. Mertz is managing editor of Lutherans Engage the World and a staff writer for LCMS Communications.