by Adriane Heins
The following article first appeared in the November–December 2014 issue of Lutherans Engage the World. Read the "Update" section below to learn what has happened since its original publication.
---
"We're willing and ready to go out and beat the bushes."
The Rev. Dr. Carlos Hernandez's voice proves he means business. "We go into their homes and ask them how we can care for human beings with human needs, waiting for the Holy Spirit to move them," he explains. "And often He does. Whenever we share the Gospel, people say, 'Really? Salvation by grace? It's a free gift?' Some people cry."
Beating the bushes is easy, because Hernandez, director of LCMS Church and Community Engagement, isn't doing it alone. Partnerships between congregations, districts and the Synod are making in-roads across the country.
"By invitation, we assist districts or congregations that are interested. Usually, it's a double partnership, because the district is often already helping the congregation," he explains.
St. John's Lutheran Church in Beardstown, Ill., is one such example of a lay-led joint venture. "The congregation is in a community that has, over the last 20 years, become increasingly Hispanic," says Hernandez. "The members of the congregation said to the pastor, 'We really need to reach out to the growing Hispanic population in this town.' The pastor agreed, but he also knew the church didn't have much money."
When the Rev. Doug Evenson mentioned this obstacle, one lay member took it as a challenge. He simply asked, "How much does it cost?" recalls Hernandez. That's when the congregation "brought up the idea of a partnership — both in terms of finances and as a mission development — between the congregation and the district and the Synod."
The ball was already rolling. Using the Synod's Gospel Seeds model — where congregations focus on mercy, finding out from their neighbors what human-care needs the church can help them meet, which leads them to opportunities to bear witness to Christ — Hernandez and congregation members got to work. "You can't just put up a sign and say, 'Y'all come,'" Hernandez says. "When I met with the congregation in Beardstown, I asked them, 'What Hispanics do you know? Do you know Spanish?'"
The congregation made a lengthy list of names and then started knocking on doors. "We asked them, 'We're from St. John's. We're reaching out to the Latino population. What are some of the needs you see in our community?'" Hernandez recalls.
Starting conversations through acts of mercy sets Lutherans apart from other groups who knock on doors, he notes. "We start with mercy and then bear witness according to the Holy Spirit and then move to life together as He draws them into the Church."
What Do Lutherans Believe?
The congregation offered the Latino community the use of their gym, which was no longer in use since the church's school closed. Then the church started English-as-a-Second-Language (ESL) classes. "People were drawn in quickly," Hernandez recalls.
Then a woman from the community named Maria Guijosa offered her help, both in translation and in locating local and county services families could make use of. Before long, "St. John's became a Hispanic center for people to inquire about human needs," Hernandez observed. "And then they started asking the same question they always ask: What do Lutherans believe?"
The Rev. Pablo Dominguez, pastor of a Hispanic mission in the LCMS Central Illinois District, was quickly on the scene, visiting every couple of weeks while simultaneously leading a Bible class. Soon, though, the congregation members pushed for even more: "Can we get a vicar?" Hernandez recalls them asking. "We need someone here for them every day!"
And they did. Jason Gullidge, a vicar from Concordia Theological Seminary, Fort Wayne, Ind., who is still learning Spanish, now assists with a variety of Hispanic ministry opportunities, like hosting "Sunday School to our community and our members, and every other Saturday, a gathering similar to a church service (religious movies, songs, a message and a prayer), led by Pastor Dominguez," Gullidge says, with plans for more in the works.
Acts of Mercy
Ultimately, Gullidge and Evenson believe this partnership enables them to "share the Gospel of Christ through acts of mercy while helping with daily needs."
The Central Illinois District is now putting funds on the table in addition to what the congregation gives while the Synod's Hispanic Ministry staff continues to offer time, counsel and expertise. This tri-fold partnership "allows new ideas to be shared, resources to be increased and our work to be synchronized around the world," explains the Rev. Bart Day, executive director of the LCMS Office of National Mission. "All of this means the Gospel is proclaimed to the ends of the earth, and Lutheran churches grow as the Word is taught and the Sacraments are administered. Walking together in our life together is a tremendous witness to the world of our shared mission."
And as for that witness? "I've never seen this much love and excitement in reaching out to Hispanics in all my years," acknowledges Hernandez. "It's an amazing thing."
Adriane Heins is managing editor of The Lutheran Witness and the Journal of Lutheran Mission.
Learn more
---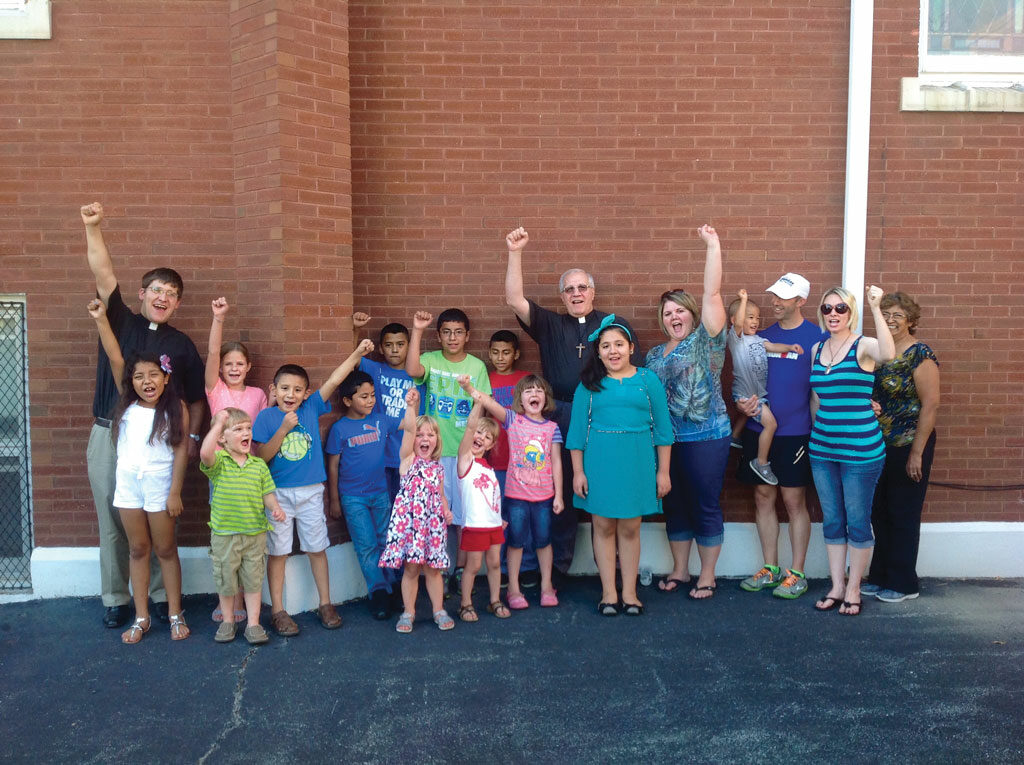 Update
Almost two years after this story was originally published, Hispanic ministry is still in full swing at St. John's Lutheran Church in Beardstown, Ill.
The church now has a core group of Latinos who attend regularly, and as many as 50 come to the various events.
The congregation also has been able to expand its programs to meet the needs of the community, thanks to dedicated members who volunteer their time. In addition to ESL classes and worship opportunities, St. John's also offers Bible studies, an exercise class for mothers, a resource library and a computer lab where people can learn English, prepare for citizenship or study for the GED test.
Guijosa also continues to be an important partner in this ministry. She drives people to the hospital or doctor when needed and translates for them. She also lets the pastor and vicar know who to pray for and visit at the hospital. Often, they are the only clergy to visit.
St. John's has had two different vicars who have helped Dominguez provide consistent outreach to the Hispanic population, and its third vicar was installed June 12.
"Congregational member support is a powerful factor in the long-term stability and growth of a Hispanic ministry," Hernandez says. "Thanks to lay Lutherans who love the Lord so much they want to share the Gospel with others, the Hispanic ministry in Beardstown is here to say, all glory to God!"