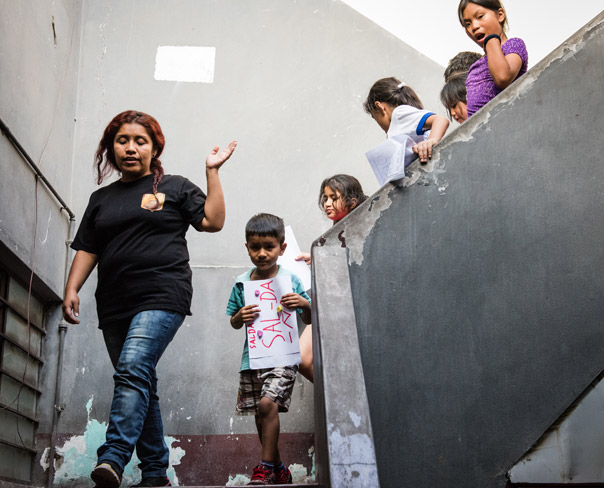 by Daniel Fickenscher
At Castillo Fuerte, a mercy house operated by LCMS missionaries in Lima, Peru, dozens of kids are being fed through the addition of a soup kitchen, while the kitchen's chef also is being fed with the bread of life.
In May 2014, Jeancarlos Ramirez Zevallos attended Coffee and Conversation, an English outreach program organized by the Rev. Mark Eisold, LCMS career missionary to Peru.
There, he learned about how Castillo Fuerte — which means "Mighty Fortress" in Spanish — was providing mentoring, tutoring, Lutheran instruction and a Christian refuge for children of the impoverished La Victoria district of Lima.
Ramirez began volunteering at Castillo Fuerte, and he met with a representative of La Victoria to discuss the needs of the local children. With many parents working in the local market all day for low wages, he learned that many of the children went without lunch after school ended at 1 p.m.
He saw an opportunity to use his culinary skills — honed during four years of culinary school and eight years of working in restaurants — to help Castillo Fuerte increase its service to the community.
Ramirez brought the idea of adding a soup kitchen to the Rev. Joshua Gale, LCMS missionary and pastor of the Lima congregation, and Deaconess Caitlin Worden, LCMS missionary and director of Castillo Fuerte.
In March, the new afternoon meal was served for the first time. For a symbolic price of only one sol (about 30 cents), 25 to 30 kids now enjoy favorite Peruvian dishes before attending educational lessons and chapel services at Castillo Fuerte every weekday afternoon.
As Ramirez's involvement in the mercy house increased — transitioning from a volunteer to an employee — so did his involvement in the church, located just one floor below the mercy house.
Ramirez asked Gale numerous questions about the faith. As Gale responded, Ramirez's interest in the Lutheran church grew, until eventually he attended his first service at Castillo Fuerte's church.
Right away, Ramirez noticed a difference. He no longer felt judged or like he needed to work for his salvation.
"I remember the first time that I attended a Divine Service here in La Victoria," Ramirez said. "It had a big impact … it changed the way that I was thinking of the Divine Service."
In August, he became the first confirmed member of the congregation.
Thanks to the soup kitchen, Gale said attendance has increased and more families have become connected to the church. During a recent activity, children even referred to Castillo Fuerte as their "second home."
"The [soup kitchen] has allowed us to be involved with them and their families to where they feel at home here, a place built around our altar and pulpit, meaning they feel at home where God's gifts are given," Gale said.
With two new Castillo Fuerte locations set to open in Lima in early 2016, even more children, volunteers and staff will be able to find this sense of Christian community and refuge in the Lutheran church.
Daniel Fickenscher is the Synod's communications specialist for Latin America and the Caribbean.
Learn more: lcms.org/peru
Photo gallery: Castillo Fuerte