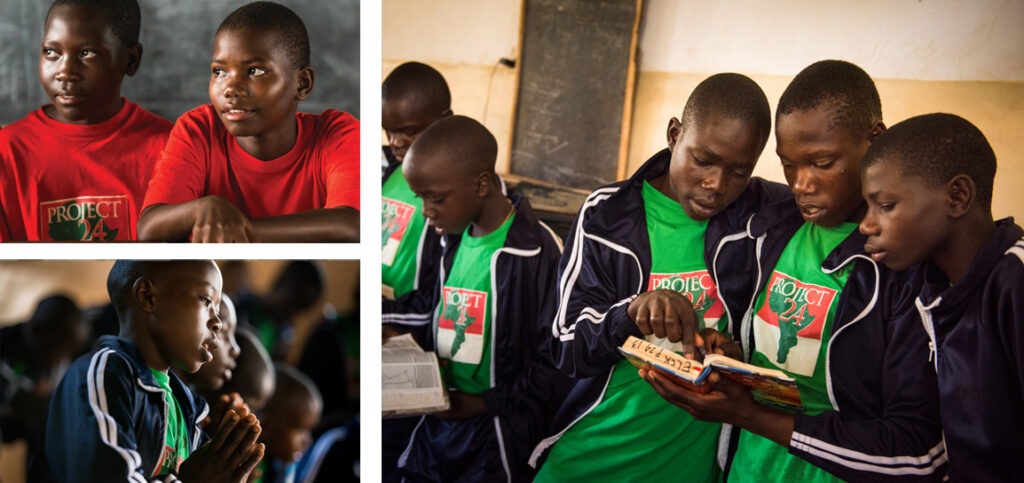 By Erik M. Lunsford
Under the shadow of a chiseled cross built in a church on a quiet compound near Kisumu, Kenya, boys in matching navy-blue tracksuits stand in line, bow their heads, clasp their hands and sing, their liturgical-sounding voices defying their lanky bodies.
These are the boys of the Othoro boarding-school facility, one of four primary school boarding facilities in Kenya operated with assistance from The Lutheran Church—Missouri Synod. Now the Synod's new initiative "Christ's Care for Children: Kenya" provides the opportunity to sponsor children like the boys from the Othoro school.
"The project has as its primary focus the clear proclamation of the Gospel into the ears of our children such that they can become the ambassadors of the Gospel to their families, clans and communities," said the Rev. Shauen Trump, LCMS area director for Eastern and Southern Africa.
The boarding-school sites were built as part of Project 24, a partnership between the Evangelical Lutheran Church in Kenya (ELCK), the LCMS Office of International Mission and various LCMS individuals and organizations.
The schools provide a Christ-centered, loving, caring and safe environment for vulnerable children who might otherwise not be able to attend school or who might be at risk for dropping out of school. Children also receive free tuition, medical care and meals.
Each day, children are immersed in Scripture through catechism study, Matins and Vespers.
It "steeps young people in the faith while providing a home away from home where they can access primary school education that would otherwise be out of reach," Trump said.
John Kissinger Nyang'au, an energetic and sharp man with a fiercely warm smile, serves as the project's director. He's the proverbial "right man for the job."
On a recent car ride to the Othoro site about an hour from Lake Victoria, he talked leadership, management, accountability, transparency, collaboration and teamwork.
Kissinger said the project's ultimate goals are to "bring children to Christ, promote healthy care and nurture talents" and to do these things in ways that are accountable to the donors of the project.
Off a muddy road within the city of Kisumu and through a soccer field stands the Tumaini girls' boarding-school facility.
Young ladies cook chunked, moist cornmeal ugali — a Kenyan staple notoriously good at defeating hunger — in a large pot over a crackling wood fire.
Others launder clothes in buckets, twirl their mosquito nets back into knots above their bunk beds and laugh together over a game of jump rope.
They memorize Scripture verses and join in singing activities. There is a sense of familial camaraderie among the girls, whether eating together or studying Luther's Small Catechism under the tutelage of a pastor from a neighboring ELCK parish.
The thought of boarding schools may conjure vivid thoughts of far-off facilities where children leave home and return only after graduation.
Yet, this unique project sends students home to their family or clan during school holidays and organizes friendly "Catechism Club" competitions between sites.
The students bring home what they have learned, and many share it with their families or communities.
"In designing the Christ's Care for Children project, we modeled their daily life at the school boarding facility on that of a seminary campus with constant immersion in the Word, strong confessional Lutheran mentors and a daily schedule built around the rites of Matins and Vespers," Trump said.
Back at the Othoro site, the boys meander home past the resident cow munching grass on the soccer field. Two boys walk together with their arms over each other's shoulders, a sign of friendship. By noon, they had been nourished in both body and soul.
"We want to ensure," Trump said, "that God's littlest ones grow up with full bellies, a dry roof over their head, every chance at academic success and, most importantly, God's grace-filled Word resounding in their ears."
Learn more:
Erik M. Lunsford is manager of Photojournalism for LCMS Communications.