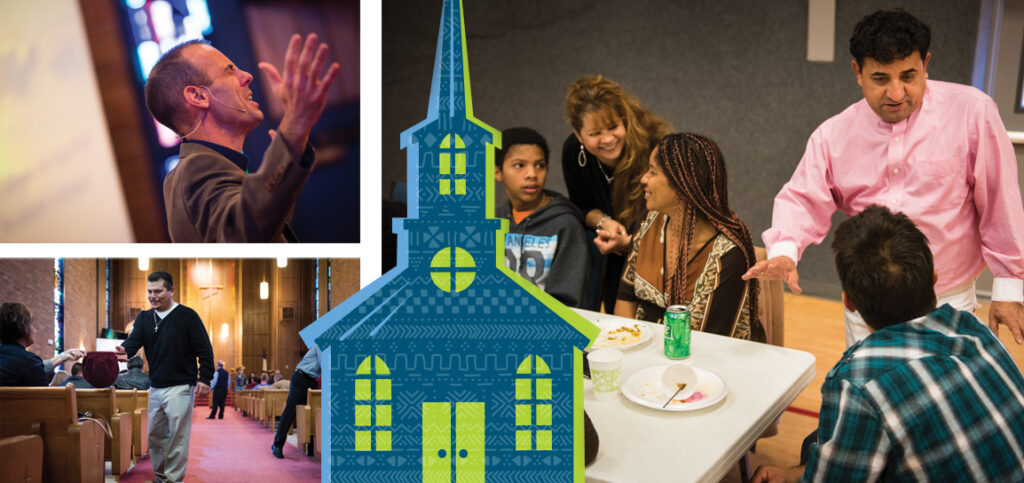 by Adriane Heins
"Orlando, a church member, noticed a group of Hispanic men walking down the sidewalk as he drove by," the Rev. Brandon Martin recalls. "He pulled over … and then offered them a ride and a meal in his home."
The men, he discovered, were new in town, factory workers struggling to assimilate into Arkansas after leaving Puerto Rico.
Orlando and Martin spent time in Bible study with the men, and "the very next day, Orlando picked them all up and brought them to church, where three found a home," Martin explains. "Even as they wait to bring their own families here from Puerto Rico, these three men have been embraced by our family of faith and incorporated into our ministry."
Their need is not uncommon.
"Many Hispanic families are hurting," Martin says. "Some in ways that are evident: physical or relational needs. Others in ways that are hidden, so focused on the American dream that they don't recognize their spiritual emptiness. They need guidance, they need real community, but above all they need the forgiveness and the freedom of the Gospel."
Enter Salem Lutheran Church in Springdale, Ark., where Martin serves as associate pastor and leads the church's Hispanic congregation — Iglesia Luterana Cristo Para Todos, or Christ for All Lutheran Church.
On any given Sunday at Salem, visitors and members will observe two languages, 10 nations and three Divine Services. Yet, it's still one church. That, Martin says, is true convivencia (life together)!
"In most other settings, and even in the church, these differences often cause division," he says. "We have our challenges, yet there is a genuine love and warmth in this congregation that flows from our faith in Jesus Christ."
Bridging Backgrounds
Started in 2002, Cristo Para Todos grew under the pastoral care of Brazilian church planter Rev. Tardeli Voss.
Later, the congregation "came to Salem Lutheran Church … seeking primarily a space to worship and reach out to the community."
Before long, the two were "joined together into one multiethnic church," Martin explains. Since then, "our gracious God has developed a multiethnic Gospel partnership that bridges cultures, backgrounds and languages."
"We are blessed with an ever-increasing population of Hispanics in the United States," agrees the Rev. Bart Day, executive director of the LCMS Office of National Mission. "The opportunities abound to connect these people to the Body of Christ. Key in making these connections will be reaching outside our usual boundaries and outside our typical boxes."
God's service to His people through His gifts of Word and Sacrament are the first line of defense in breaking down those barriers. Three Divine Services are held each week at Salem: one in Spanish at Cristo Para Todos and two in English.
"Our Spanish worship service is uniquely Lutheran and uniquely Hispanic," Martin explains. "It is a Christ-centered celebration of Word and Sacrament where broken people gather to be made whole in the Gospel. There is both great reverence and deep emotion."
One such emotion is joy, observed weekly during the sharing of the peace.
"Most Anglo congregations shake a few hands with the people around them and quickly move on," he notes. But Cristo Para Todos members "take the time to greet every person — often with a hug. It takes a while, but it's our way of saying, 'Welcome home. You belong here.'"
A regularly held bilingual service for both congregations also helps members "recognize and celebrate our common bond in Christ," he explains. "There are always moments of humor, tension and delight as we determine when to begin — American time or Latino time? — and how to share the peace — do I hug those people?"
But as with any family, those situations give way to discussion and growth. "We are learning and growing," he notices, "as a family of faith." Convivencia!
Blessings and Challenges
Like any LCMS congregation, Cristo Para Todos still has its own unique set of challenges.
"How do we continue to actively develop cross-cultural understanding and appreciation so that we can serve together and share facilities without divisions?" Martin wonders. "How do we incorporate into the church second-generation Hispanics who live between two worlds and languages, often preferring English while identifying themselves as Latino?"
Other challenges present more practical needs: "How do we equip parents to be spiritual leaders in their homes when they cannot read or write the same language as their children?" he questions. "How do we develop disciples among families in transition? And how do we use our family connections throughout Latin America to share God's Word beyond our borders?"
But fed by Christ's Word and Sacraments, the members of Cristo Para Todos are strengthened not only to face those challenges but they also are emboldened for the work of caring for their own community with Christ-centered compassion.
"Using the Spanish version of Gospel Seeds [a program of the LCMS that assists congregations in meeting their community's underserved needs], we train congregations intent on reaching out to Hispanics to walk alongside them in their physical mercy needs, as Pastor Martin's congregation is doing so well," explains the Rev. Dr. Carlos Hernandez, director of both LCMS Hispanic Ministry and the Gospel Seeds program.
"When we care for people's human, physical needs, like Jesus did in healing the sick and feeding the hungry, the Holy Spirit touches hearts and opens opportunities to share a verbal Gospel witness."
The congregation takes part in "Project Compassion, which serves the critical needs of our community," Martin says, and also offers an English-as-a-Second-Language program and the use of its Family Life Center for youth sports and other activities. "Our English classes serve one of the greatest needs of our Hispanic neighbors while also providing a loving community that shares the Good News of Jesus."
The cherry on top?
"Every fall we host the Festival of Nations, a celebration of the cultures within our church," Martin explains.
Thanksgiving celebrations recently included "a bilingual service and an international meal. In addition to turkey and the works, we also savored pupusas, pozole and arroz con pollo. … Lutheran potluck at its best.
"I am convinced," he says, "that convivencia is much richer when Hispanics are involved!"
God-Given Opportunities
As cultures, languages and Lutherans continue to convene at Cristo Para Todos, Martin sees continual opportunities for prayer: "that the Lord of the harvest … will raise up bilingual laborers in Northwest Arkansas and throughout the United States" and that "God would open our eyes and hearts to the millions of immigrants and their children in our midst."
And as for convivencia? Martin gives thanks for it … and that "God has brought the nations here, including millions from Latin America, and given us the opportunity to show mercy, give witness and enjoy life together."
Adriane Heins is managing editor of The Lutheran Witness and editor of Catechetical Information for LCMS Communications.
Learn more: