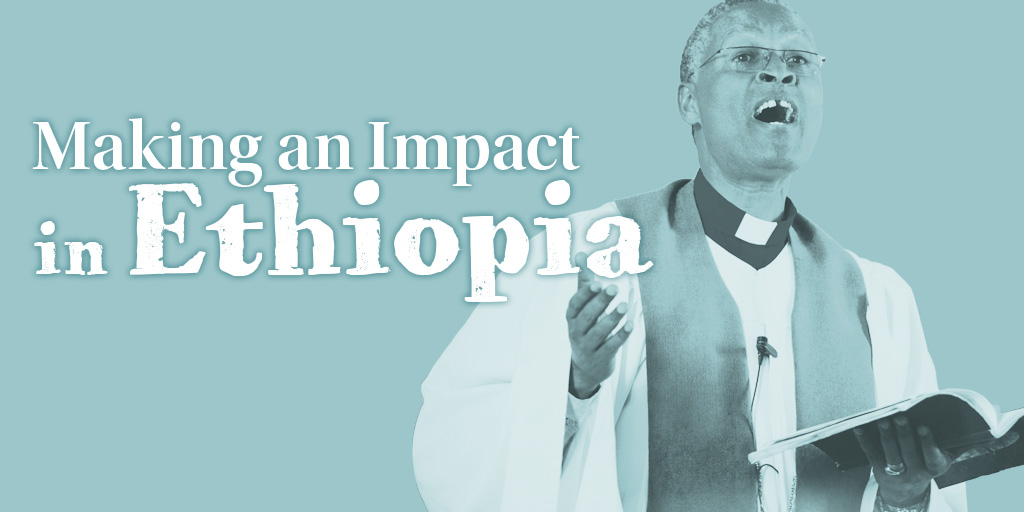 by Robert V. Roethemeyer
The partnership between The Lutheran Church—Missouri Synod and the Ethiopian Evangelical Church Mekane Yesus (EECMY) is a great illustration of the impact of the Global Seminary Initiative (GSI).
Scholarships to Study Here
GSI scholarships awarded through LCMS seminaries support those who are studying in the U.S. to serve as leaders and professors in their home countries. Some examples include:
Deaconess Tadelech Shumblo received her Master of Arts from Concordia Theological Seminary (CTSFW), Fort Wayne, Ind., last summer. She returned to Ethiopia with a two-year plan to build an awareness of diakonia (mercy) within the EECMY during the first year and to offer training in it the second year. This past year, working out of the national office, she also helped coordinate mercy work with those affected by the drought in Ethiopia.
Abdi Tadesse leads the Christian-Muslim Relations track of the Bachelor of Theology program at Mekane Yesus Seminary (MYS) in Addis Ababa, the capital city of Ethiopia. He began his study in the Ph.D. program last summer. One track of CTSFW's Ph.D. in Missiology focuses on missions to Muslims — a perfect match for the teaching that he does at MYS.
Lalissa Gemechis is working on the proposal for his doctoral dissertation. He worked for 12 years at the EECMY central headquarters as the university students' ministry coordinator and in the Children and Youth Ministry Department before being selected to study in the U.S. When he returns as a professor at MYS, he will have been greatly strengthened in his biblical and confessional identity.
Scholarships to Study There
GSI scholarships awarded through MYS make it possible for 6o students to study in the M.A. in Theology program. These are not ordinary students. A few are the very top graduates from the Bachelor of Theology program, while most are pastors with 15 to 20 years of service. Of these, some are teaching or leading regional seminaries; some are serving in leadership roles in one of the 24 synods (comparable to the LCMS' districts); and others are pastors of congregations in Ethiopia's largest cities, such as Addis Ababa, Hawassa, Hosanna and Nekemte.
Faculty from Here to Teach There
During the past two academic years, LCMS professors and pastors with advanced degrees have taught courses in the M.A. in Theology program, providing needed faculty at MYS while Ethiopian faculty like Tadesse and Gemechis are studying in the U.S. This year, the GSI supported the travel of two professors from CTSFW; three from Concordia Seminary, St. Louis; one from the LCMS Office of International Mission; two from our partner seminary in Novosibirsk, Russia; and a pastor from Canada with a doctorate in theology.
Pastors' Conferences
In February, the GSI helped host a pastors' conference in Shinyanga, Tanzania, for pastors and deaconesses of the Evangelical Lutheran Church in Tanzania. In April, the initiative also funded a conference for LCMS and Ethiopian pastors.
Books from Here to There
The Synod's professors did not travel to Ethiopia empty handed. Through the coordination of the Chemnitz Library Initiative, enough copies of The Lutheran Study Bible and the Book of Concord were sent so that all the M.A. students could add these essential texts to their pastoral libraries before graduating. Additionally, more than 100 newer academic titles from Concordia Publishing House were added to the seminary's library collection.
"Every person trained through GSI has an impact on 30 to 50 other people each time they teach," said the Rev. Dr. Albert B. Collver III, director of Church Relations for the LCMS and GSI administrator. "In terms of investment, GSI provides some of the best returns on the investment, getting the Gospel out to more people than is first apparent. The people trained because of GSI train additional professors, teachers and future pastors who, in turn, do likewise. GSI is Gospel multiplication!"
Learn more
The Rev. Robert V. Roethemeyer is a GSI professor and director of Library and Information Services and vice-president of Strategic Planning and Mission Execution for Concordia Theological Seminary, Fort Wayne, Ind.

Print page