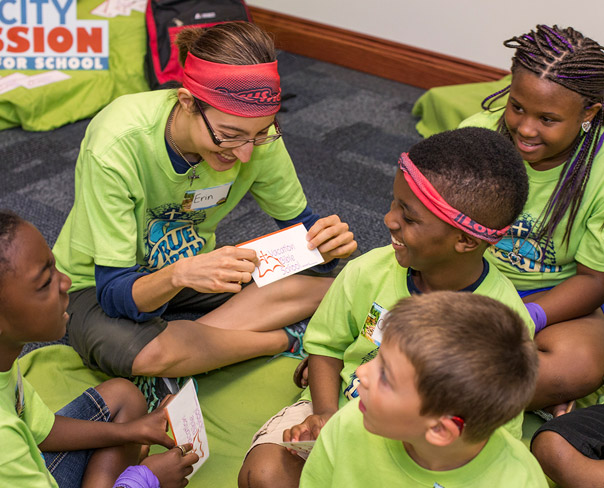 by Megan K. Mertz
Forty-five LCMS schools in urban areas all over the country recently got some surprising news: They were nominated by their district education executive to receive a grant of approximately $2,200 from LCMS Urban & Inner-City Mission (UICM).
The grants were made possible by children in 38 states who brought in their nickels, dimes and dollars for "Big City Mission: Tools for School" — the mission project included in Concordia Publishing House's 2015 "Camp Discovery" vacation Bible school program.
More than $92,000 was received from 260 churches and groups, and the LCMS added extra funding to bring the total up to $100,000.
The grants will support Gospel proclamation efforts at urban Lutheran schools by helping them provide tangible care to students through things like lunches, school supplies, playground equipment and tuition assistance.
One of the schools to receive a grant was Christ the King Lutheran School in downtown Chicago, which has 35 students in preschool through eighth grade.
Geraldine Brazeal, Christ the King's principal, said she was "elated" to hear the news.
"We have a lot of children in the school who come at 6 a.m. and usually stay until 6 p.m., but not all the parents qualify for child-care initiatives. If they weren't here with us, they would be home alone," she said. "Rather than turn people away that need our after-school program, we plan to use part of the funding to assist those families that would not be able to attend."
She said the remainder of the grant will be used for the violin program, which prepares future church musicians to attend better high schools and qualify for college scholarships.
"Our mission is to reach out to those who don't know Jesus Christ," she continued, noting how the school makes it a priority to accept unchurched students and then involves those families in worship at Christ the King Lutheran Church at least once a month.
The school has a Baptism rate of about 25 percent, Brazeal said, because "the Lord provides … and God works through all that the staff are doing."
"I cannot thank our donors enough for their overwhelming response in supporting urban missions through Big City Mission," said the Rev. Steven Schave, director of UICM and LCMS Church Planting, who was responsible for distributing the funding.
"Lutheran education through our urban schools is one of the greatest ways for us to reach out to the families in our inner-city neighborhoods and to show we care," Schave continued. "People in these communities are very interested to see how you care for their children and elderly residents, and offering a good education speaks volumes.
"And of course, the ultimate goal is to bring these families into the life of the church and to teach the faith to the students. An education is life-changing, and when it is centered in the Gospel, it is truly transformational."
Learn more: lcms.org/citymission

Print page