by Roger Drinnon
As district and local disaster responders continue recovery efforts following flooding across the Midwest in late December, two St. Louis-area congregations have partnered with LCMS Disaster Response to help nearby communities rebuild.
Flooding from swelling waterways like the Missouri, Mississippi and Meramec Rivers impacted communities surrounding St. Louis and throughout Missouri. Prior to the storms, some insurance companies purportedly had identified certain residents as being ineligible for or not requiring home flood insurance.
"It is hard to witness the effects of flooding on families and communities," said the Rev. Dr. R. Lee Hagan, Missouri District president. "However, we always stand ready to serve our neighbors in need and to speak about the hope that is ours in Christ Jesus."
Hagan said hundreds of Missouri families have severely damaged homes, and at least 100 homes were totally destroyed by the flooding.
Generosity Reaches Flood Victims
As disaster responders from the affected districts and LCMS Disaster Response assessed the flood-stricken regions to help where needed most, the Synod approved disbursement of more than $120,000 in grants and other aid for immediate relief in the hardest-suffering communities and congregations.
Affected LCMS congregations across the Midwest received grants not only for helping those within their congregations but also for ongoing relief work in their surrounding communities.
LCMS Disaster Response also distributed $6,000 in $100 gift cards to affected congregations across the Midwest to help people in their communities with basic necessities.
"Thanks to all the people who are being so generous in the wake of these events, the LCMS Disaster Response team is able to come alongside districts and congregations as they minister to the communities hurt by these storms," said the Rev. Bart Day, executive director of the Synod's Office of National Mission. "Grants like these can't happen apart from the generosity of people living out our Lord's command to 'love your neighbor.'"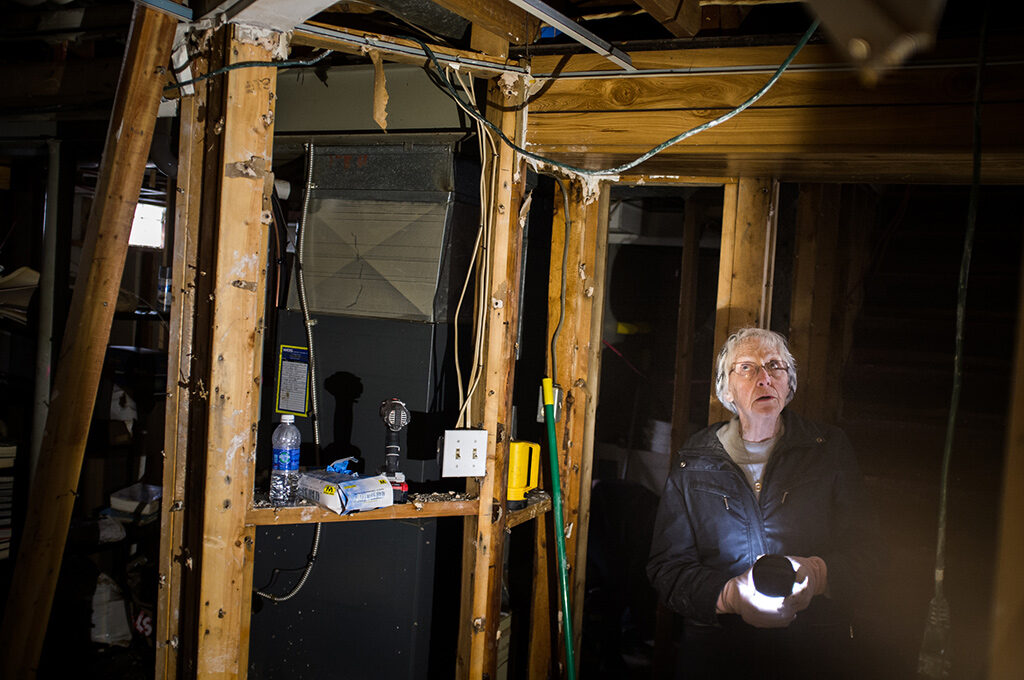 Eureka
Among those grants, St. Mark's Lutheran Church in Eureka, Mo., received $20,000 from the Synod to continue flood-relief work in Eureka and its neighboring communities. The congregation also received a $5,000 grant for its own disaster-response trailer, plus an additional $4,000 to purchase much-needed equipment and supplies for the trailer.
"The need is great and goes far beyond restoring homes. People are emotionally devastated, which is an enormous opportunity for us to reach their hearts," said the Rev. Robert Liebmann, associate pastor at St. Mark's. "The work of restoring people's homes puts us into their lives at a time when they are very open to the Gospel. We have the opportunity to listen to them, pray with them and share the love of the God who not only wants to restore their homes, but restore their hearts, lives and relationships with Himself."
Liebmann, who goes by "Pastor Bob," said his congregation already has assessed and prioritized the needs in local communities and has negotiated a significant discount at a local home improvement store to make the grant money go even further. He said as he gets to know more neighbors in the area, he is inspired by their resiliency in the aftermath of tragedy.
"The impact of losing your home, your property and mementos of the past cannot be overstated. When faced with these losses, the reaction can be to shut down and grieve, but many did not," he said. "They returned to their homes and went to work … They tore out ruined carpet, flooring, drywall and insulation; repaired the electrical systems and furnaces; cleaned out ductwork; and within a couple weeks of regaining access to their home, some were ready to rebuild."
Pacific
New Beginnings Lutheran Church in Pacific, Mo., was given a $10,000 grant to continue flood-relief work in Pacific and its surrounding communities. Like St. Mark's, New Beginnings also received a $5,000 grant for its own disaster-response trailer, plus an additional $4,000 to equip and supply the trailer.
"Around 300 homes and businesses were flooded within our city, so we organized some disaster-response teams and went into our community and started 'mucking out' homes and preparing homes for rebuilding," said Travis Torblaa, mission and ministry director at New Beginnings. "Now, we've branched out to Fenton, Missouri, to help the flood victims in this area as well. We are going into these homes every day, taking out all the [moldy, flood-damaged] debris — carpeting, flooring and walls right down to the studs."
Synod Works Alongside Local Responders
About 30 volunteers came together from the Synod's International Center (IC) in St. Louis and from New Beginnings Jan. 14 to "muck out" a house in a low-lying area of Fenton that suffered significant flooding.
"LCMS Disaster Response Director Rev. Ross Johnson and I had been meeting with the local churches in Eureka and Pacific," said the Rev. Michael Meyer, LCMS Disaster Response manager. "They were sending out small teams to help flood victims in the area, so we met with [Day] to see if we could organize a workday for the LCMS and get some volunteers from the IC, because some of these places are in our backyard, within five to 10 miles of the IC."
"LCMS Disaster Response has been a tremendous blessing for us — both with resources and educating us how we can help others in the recovery process and also financially — we now have the funds for the recovery process," Torblaa said.
Liebmann echoed Torblaa's sentiments.
"Early on, Pastor Ross Johnson showed up with a pickup truck full of supplies we really needed to effectively serve our community. He brought a generator, power-washers, [industrial vacuums], crowbars, hammers, shovels and other equipment," Liebmann said. "They have also been wonderful with advice and encouragement as we work. LCMS Disaster Response has been a wonderful support in our efforts to love our neighbors."
"LCMS districts and congregations are the leaders in responding to these crises," Johnson said. "Thanks to the kind, caring support across the Synod, LCMS Disaster Response is able to train and support districts and congregations while also building on their capacity not only in responding to a congregation's needs but also in extending Christ's mercy by providing body-and-soul care to entire communities."
Learn more:
Roger Drinnon is manager of Editorial Services for LCMS Communications.